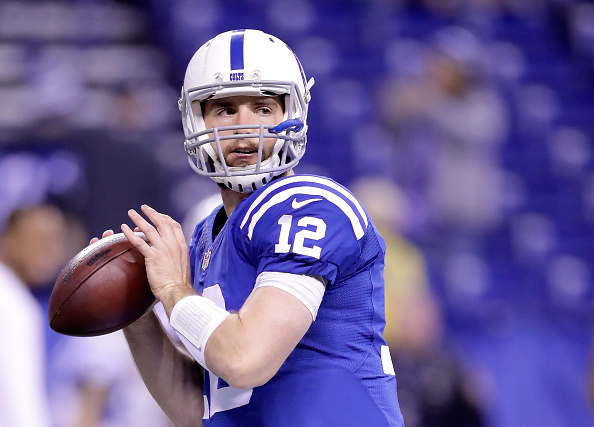 The NFL playoffs have proven to be an unpredictable few weeks. This past season was no exception. From the playoff returns of the Bills and Jaguars to the rise of the Minnesota Vikings and was capped off with the Philadelphia Eagles winning it all with their backup quarterback Nick Foles against none other than Tom Brady. This upcoming NFL season should be another year of unexpected turns and surprises.
Who will be the new faces of the playoffs and who will rise the ranks to the Super Bowl? Here are three AFC and three NFC teams who missed the playoffs that will make it in 2018-19.
6 Teams Looking to Return to the NFL Playoffs in 2018-19
AFC
1. Indianapolis Colts
The Colts haven't made much noise in the NFL since the healthy days of Andrew Luck so it might seem hard to imagine them making it to the post-season in what is a very tough division. The reason that the Colts have a real shot lies in the finally healed up shoulder of quarterback Luck. Luck has been out of actions for upward of two seasons now but finally looks ready to return to the field in 2018. Now that he is healthy, the Colts can put him behind their revamped offensive Line. The line includes newest rookie Quenton Nelson who is touted as a pro bowl caliber player out of the draft. With their offence back in check, the Colts can focus on getting back to the post-season for the first time since 2014.
2. Los Angeles Chargers
The Los Angeles Chargers have a very solid roster. Their biggest issue toward long-term success is their aging quarterback. However, that isn't to knock the talents of Philip Rivers. Rivers and company have a very powerful offence with Melvin Gordon and Keenan Allen running the ground and air attacks.
Young players like Gordon and defensive end Joey Bosa have another year of development under them. Adding rookie safety Derwin James gives an already scary secondary a truly elite talent pool. Their division is far from easy, but they have the ability to take advantage of some unique quarterback situations with their excellent secondaries. Derek Carr is dealing with a new coach, Pat Mahomes will be starting his first meaningful football, and Case Keenum is playing for a new team giving the opportunity for plenty of errors that the Chargers can capitalize on. Hopefully, the Chargers can stay healthy and do some damage in the AFC this season.
3. Houston Texans
The Texans were an offensive juggernaut before Deshaun Watson tore his ACL. Watson was posting MVP calibre numbers and was coming off an outstanding performance against Seattle that saw him and Russell Wilson combined for 854 passing yards and eight touchdowns. Houston was also hindered by their defence and lack of QB play which saw them finish with a record of 3-4 when Watson went down.
The Texans defence should be greatly improved this season, especially with the addition of Tyrann Mathieu. Mathieu is an all-pro calibre safety who will excel with the change of scenery. He will get to play against some tough quarterbacks in Luck, Marcus Mariota, and Blake Bortles. The Texans defence will also be getting a returning J.J. Watt. These two additions alone will overhaul their defensive performance from last year to this year. If their roster can stay healthy, the Texans can make a serious push for the playoffs and have a shot at going deep.
NFC
1. Green Bay Packers
The Packers had a very up and down year last season and it all stems from a matchup against the Minnesota Vikings. During the game, linebacker Anthony Barr hit Aaron Rodgers and fractured his collarbone. Rodgers would not return to that game or several of the next. He would return late in the year to try and keep the Packers playoff hopes alive, but it was for not as it took them till the final minutes just to beat Cleveland. This showed Rodgers was less than 100% and Green Bay was soon eliminated from playoff consideration.
Now with Rodgers back and a solid running back committee, the Packers look to return to the post-season. Their biggest loss was Jordy Nelson who's connection with Rodgers was unmatched. However, Davante Adams has emerged as one of the league featured pass catchers and already has his own chemistry with Rodgers. Especially in the end zone. This combined with their newest rookie additions of Jaire Alexander and Josh Jackson will help to rebuild the Packers secondary in a hurry.
2. San Francisco 49ers
Of all the teams on this list, nobody has flipped their roster the way the 49ers have. The list of talent they added in one off-season is astounding. From acquiring Jimmy Garrapolo for merely a second-round pick to signing Richard Sherman, San Francisco has been making serious moves. One of their most underrated moves is the signing of Jerick McKinnon. McKinnon has been playing behind others in Minnesota for his whole career. First was Adrian Peterson then Latavius Murray. Now McKinnon will be the featured back in San Francisco.
The time for the 49ers to strike is now. The Seahawks are going through a renaissance and the Cardinals are waiting for the piece to fit together. If they can compete with the Rams, they can win their division and return to the playoffs.
3. New York Giants
The Giants were a very unlikely candidate to finish 2nd last in the league last year. While it might not have been ideal for Giants fans to sit through a two-win season, acquiring Saquon Barkley, as a result, seems like a solid consolation prize. Barkley has been touted as the best running back prospects in the recent memory. This puts him above Todd Gurley, Ezekiel Elliot, and Leonard Fournette who all dominated in their early careers.
Now with a two-time Super Bowl-winning quarterback, a top draft pick running back, and a returning Odell Beckham Jr., the Giants offence is ready to take over. Their defence isn't anything to feel safe about either. Damon Harrison leads the defensive line and their secondary is commanded by Landon Collins. The Giants well-rounded roster can only go as far as their coaching staff takes them. It will all ride on the shoulders of new coach Pat Shurmur.
Image Credit:
Embed from Getty Images