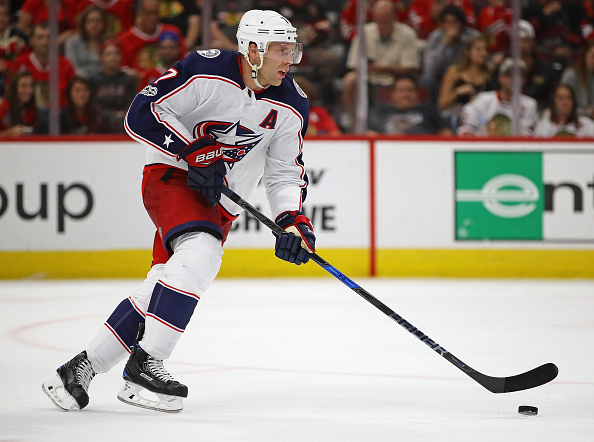 Days before NHL free agency actually kicked off, it was known this deal would become official shortly after free agency officially kicked off on July 1st. Jack Johnson came to Pittsburgh Sunday to ink his new deal and officially start his tenure with the Pittsburgh Penguins. The 31 year old veteran Defensive man was given a five year deal with an AAV of $3.25 million. The lifelong friend of Sidney Crosby did not have to wait long before finding a new home after being allowed to walk by the Columbus Blue Jackets.
Pittsburgh Penguins Free Agency: Day 1
The move is drawing the criticism of most Penguin fans, and unsurprisingly so. His numbers speak for themselves and not in a good way. Since 2007, 57 defensemen have played 10,000 minutes in the NHL. Jack Johnson's Corsi for ranks 55th. If you want to bring up his offensive prowess, well then his five on five points per 60 minutes rank 49th out of 57. He struggled mightily last season for the Blue Jackets in what was his worst season. He even wound up being healthy scratched during the playoffs. That move however is more than likely due to a contract dispute that could not be resolved.
How was this deal made?
So how did this all lead to him getting a 5 year deal with one of the true powerhouses of the league? As aforementioned, Johnson is a childhood friend of Pens captain Sidney Crosby. That however according to the team and both players had no impact on the signing. Penguins head coach Mike Sullivan and assistant coach in charge of developing defenseman Sergei Gonchar like what they see on tape from Johnson though. There is something there that they feel like they can tap into to help him succeed here. I am somewhat skeptical on the move, but I trust this current regime enough to let this play out before making irrational statements going in either direction.
The Penguins also brought back former Penguin Matt Cullen during day one of free agency. The 42 year old Matt Cullen was part of the Penguins back to back cups in 2016 and 2017 and brought stability to the bottom six. What does this signing mean? This is very interesting to me.
This move opens up a plethora of possibilities for the Penguins. They now have three capable centers vying for two center spots behind Crosby and Malkin. Derrick Brassard and Riley Sheahan occupied the 3rd and 4th line center roles during the Penguins last playoff run.
It has been widely thought the team could move Brassard to a wing position and put him in the top six. Sheahan and Cullen are also capable of playing on the wing, but I think Brassard playing on Malkin's wing is incredibly likely. Hypothetically though, could this give them the option of moving Brassard? Sheahan was a very capable 3rd line center when asked to be and Cullen can man the 4th line role. Its somewhat possible they could move Brassard to a team who view him as a center to add more scoring punch to their top 6. If the Pens want to add anymore to this team, it will take a true hockey trade with money going both ways. The Cullen signing is a low risk one that creates a ton of possibilities to this team.
Last Word
The Pens also added Jimmy Hayes, defenseman Stefan Elliott, goaltender John Muse and resigned defenseman Zach Trotman on two-way contracts. These are moves every team makes involving guys that will more than likely play the majority of the season at the team's AHL affiliate. They added to their depth with these moves which every team needs but none of these moves are likely to have a real impact on the team, at least this season. The team will look to retain Jamie Oleksiak here in the coming days, which will likely take up the majority of their remaining cap space. Jim Rutherford will continue to look at this team and his creativity should really start to show. That is all for now folks, stay tuned for much more.
Main Image:Embed from Getty Images