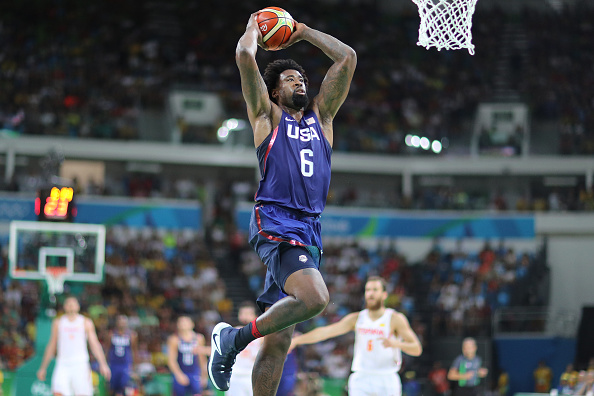 DeAndre Jordan has reportedly signed a one year deal worth $24 million with the Dallas Mavericks according to a NBA TV tweet.
DeAndre Jordan to the Mavericks brings promise and a bright future to Dallas, after what seems to be a successful draft. Dallas has had two straight losing seasons. They are in the rebuilding process.
Dirk Nowitzki their veteran helped lead them to a NBA Finals championship in 2011. Back then they had a complete team with players who succeeded at each position.
One of the players is Tyson Chandler who played center and helped anchor the team on defense and protect the paint. A presence in the paint is what Dallas needs and that is what they in return receive with Jordan; along with all the high flying lobs he can throw down.
DeAndre Jordan and the Dallas Mavericks have verbally agreed on a one-year deal approaching the $24.1 million option with the Clippers for next season that Jordan relinquished Friday, according to league sources

— Marc Stein (@TheSteinLine) July 1, 2018
Jordan deciding to join Dallas means the Mavericks will make the playoffs. Rookies Luka Doncic, Jalen Brunson, and Dennis Smith Jr. are the future of the team. All of them playing with Jordan brings forth a new future for the organization.
Dennis Smith Jr. and Jordan compliment each other with their have high flying dunks. What is ironic is the rest of the team can also thrown down high-flying dunks.
Dallas will have a winning season i think because of this move and it is Dirks' last opportunity to have a chance at winning another championship. Jordan averages a double-double in most games and brings his defensive presence.
He helps clog up driving lanes for the offense. If there is one negative trait to bring out in his game it would be his free throw shooting. However, this past season he improved and made many free throws and stepped up when the LA Clippers needed him to.
Additionally, all these players they signed creates depth on the roster. In order to make playoffs; yet alone win the NBA Finals other than winning games; depth is key.
The Dallas Mavericks have a higher possibility of having a winning season and even making the playoffs because of their depth.
Main Image: Embed from Getty Images