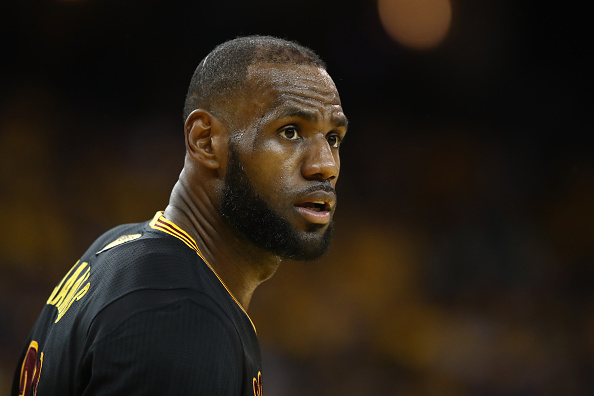 The New York Knicks are in the midst of a rebuild. However, they have a young, talented core to build around. That core will be formed by players such as Kristaps Porzingis, Frank Ntilikina, Tim Hardaway Jr., Trey Burke, Emmanuel Mudiay and their first-round pick in this year's draft. The New York Knicks are in a fantastic position for the future. Their young core and new head coach who can build chemistry.
Heading into free agency this off-season the Knicks could look to go a couple of different ways. The Knicks could try to lure in a star player to try to make the playoffs and become a destination where players want to go. They could fill out their roster with veterans and young players to have another year of rebuild before next year's loaded free agent class. The following article will break down the top free agent forwards and centers that the Knicks should pursue this off-season.
New York Knicks Free Agent Fits – Front Court
Small Forwards
LeBron James will be the biggest name in free agency this off-season. James went back to Cleveland four years ago with one thing on his mind. He wanted to bring an NBA Championship to his hometown. James accomplished that goal two years ago, as the Cleveland Cavaliers defeated the Golden State Warriors in seven games.
LeBron and the Cavaliers have had an up and down season this year. Most analysts believe that he will opt out of his contract with Cleveland, and many believe he could even leave the Cavaliers. LeBron will want to go to a team to compete for a Championship and will most likely stay in the Eastern Conference. The Knicks are in need of a small forward and James would fill that role beautifully. It is unlikely that LeBron will come to New York, especially while the Knicks are rebuilding. However, if he wanted to cement his legacy in NBA history, coming to New York and winning a Championship would do that.
Rudy Gay signed with the San Antonio Spurs last off-season. He had a nice season off the bench. Gay has been bitten with injuries in his career. This has held him back from reaching his potential. This season, Gay found his form again and even had a nice playoff series against the Warriors.
Rudy Gay could provide a scoring punch for the Knicks. He could come in and start from day one. Gay improved his defense playing under Gregg Popovich and by learning the system that the Spurs run. The Knicks could sign Gay to a one-year deal with a player option and see what he can bring to the team. Rudy Gay is a 6-foot-8, 230-pound small forward who is 31 years old.
Kyle Anderson is another intriguing free agent. He started most of the season at small forward for the Spurs due to the injury to Kawhi Leonard. Anderson played point guard in college at UCLA. He has the skills to push the ball and have the offense run through him. Kyle Anderson reminds many of Draymond Green with his skillset and his ability to play multiple positions while also defending multiple positions. Anderson would be a nice pickup for the Knicks at small forward. He fits what head coach David Fizdale wants to do.
Mario Hezonja was linked to the Knicks at the deadline as a trade candidate. He took off this season when inserted into the starting lineup. Hezonja is only 23 years old and has not reached his potential yet. He is a 6-foot-8, 218-pound small forward who is a good three-point shooter and average defender. If the Knicks choose to go after Hezonja this off-season he could build chemistry with the team's young core. Fizdale and a change of scenery could be a blessing for Hezonja. Playing with other young players who can also score and defend at a high level will help him succeed.
Paul George is the second best player on the free agent market behind James. George was traded to the Oklahoma City Thunder during the off-seaon. He paired with Russell Westbrook and Carmelo Anthony to try to dethrone the Warriors. George had a great season and paired nicely with Westbrook but the Thunder still lost in the first round to the Utah Jazz. Paul George will most likely decline his player option and hit the free agent market. George would be a perfect fit with the Knicks. They could pair him with Porzingis as well as the rest of the team's young core. The Knicks could even contend as early as next season if George heads to the big apple and Porzingis comes back healthy.
Power Forwards
Julius Randle was seen as one of the best prospects coming out of college and heading to the Los Angeles Lakers. Randle had a remarkable season putting up huge numbers and finally reaching his potential. He is a restricted free agent but if the Lakers decide to let him walk they could free up enough cap space to sign two max players. Randle would be the perfect fit if Fizdale wants to play Porzingis at the center position. Randle has the skillset of a Draymond Green type of player. He can also change the game in many different ways.
Jabari Parker has been hit with injuries in his brief NBA career. Parker had a good end to the season as well as some nice moments in the playoffs. He was a star coming out of college and has a very high ceiling if he can stay healthy. The Bucks could try to free up cap space to lure a star player, and this could see Jabari Parker moving on to create that space. Parker would be a nice fit in New York at either forward position. The Knicks could use a guy like Parker who is still young and has the potential to be a star. If Parker can stay healthy and fit in with the core of the Knicks then they could be looking at a very bright future.
This season, Michael Beasley found himself unsure whether he was coming off the bench or in the Knicks starting lineup. Beasley filled a scoring role for the Knicks that they desperately needed with Porzingis getting injured. With no idea on when Porzingis might return it would be wise for the Knicks to re-sign Beasley. He could start at power forward and provide some scoring punch. Beasley also has chemistry with the team. With Fizdale coming in, a coach who Beasley has played for before in Miami, this could do wonders for him going forward.
Centers
DeMarcus Cousins and Anthony Davis were a dynamic duo this season. However, that ended when Cousins tore his Achilles tendon. Cousins was having a big season. He was leading the Pelicans to the playoffs in the Western Conference. When Cousins went down, Anthony Davis picked up his game and put up MVP numbers to end the regular season as well as in the playoffs. Cousins will most likely be looking for a long-term deal this off-season. Coming off an injury, it is tough to predict how he will look in coming back. A Porzingis and Cousins pairing could be the league's next dynamic duo.
Clint Capela has had a huge season this year. He helped the Rockets finished with the best record in the league. Capela is a defensive monster and a rebounding machine. Capela's offensive game revolves around the pick and roll with James Harden and Chris Paul. He is a key player to their success, providing alley-oops and offensive rebounding. Capela will have teams chasing him this summer. He is young and becoming a star. Capela and Porzingis could be a deadly defensive duo. The would also complement each other nicely on the offensive end. If the Knicks make a strong offer sheet, it could be tough for the Rockets to match. They also need to keep Chris Paul and sign another free agent.
Enes Kanter was the starting center on the Knicks this season after the Carmelo Anthony trade. Kanter was the perfect fit in New York with his rebounding, scoring, defense, toughness, and heart. Porzingis and Kanter were one of the best frontcourt duos in the league. Kanter showed his heart and toughness night in and night out. David Fizdale could make Kanter into a defensive star to go along with his offensive game. Whether Kanter opts in or out of his deal the Knicks should consider re-signing the heart and soul of their team.
Main Photo: OAKLAND, CA – JUNE 12: LeBron James #23 of the Cleveland Cavaliers reacts against the Golden State Warriors in Game 5 of the 2017 NBA Finals at ORACLE Arena on June 12, 2017 in Oakland, California. NOTE TO USER: User expressly acknowledges and agrees that, by downloading and or using this photograph, User is consenting to the terms and conditions of the Getty Images License Agreement. (Photo by Ezra Shaw/Getty Images)