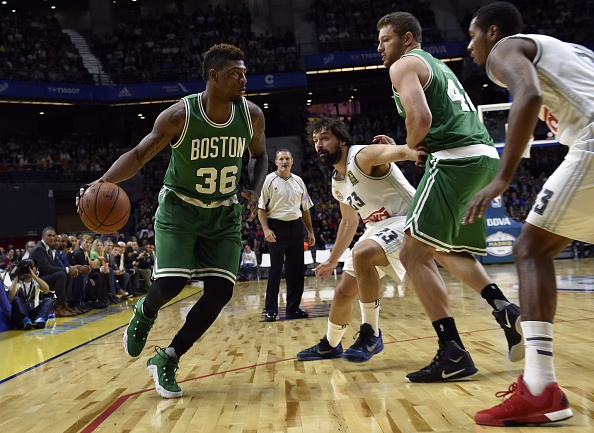 The New York Knicks are in the midst of a rebuild. However, they have a young, talented core to build around. That core will be formed by players such as Kristaps Porzingis, Frank Ntilikina, Tim Hardaway Jr., Trey Burke, Emmanuel Mudiay and their first-round pick in this year's draft. The New York Knicks are in a fantastic position for the future. Their young core and new head coach who can build chemistry.
Heading into free agency this off-season the Knicks could look to go a couple of different ways. The Knicks could try to lure in a star player to try to make the playoffs and become a destination where players want to go. They could fill out their roster with veterans and young players to have another year of rebuild before next year's loaded free agent class. The following article will break down the top free agent guards that the Knicks should pursue this off-season.
New York Knicks Free Agent Fits – The Guards
Point Guard
Marcus Smart is the type of player that any team would want. He shows off hustle, energy, relentless pursuit, and high basketball IQ. Smart is a 6-foot-4, 220-pound point guard who lays it all on the line night in and night out. Smart is one of the best defensive players in the league and doesn't back down from anyone. He is a leader on and off the court while being a great teammate.
Smart is a restricted free agent which means that the Boston Celtics can match any offer that he signs this off-season. The Knicks should pursue the guard. He would thrive under new head coach David Fizdale and in the world's greatest arena. Smart would bring energy back to Madison Square Garden and hustle back into the team.
Dante Exum – Restricted Free Agent
Dante Exum is an intriguing free agent this off-season. He is also a restricted free agent and the Utah Jazz have the right to match any offer sheet that he signs. The Jazz seem unlikely to bring back Exum next season due to the emergence of Ricky Rubio. Backup point guard Raul Neto also had a nice season.
Exum is a 6-foot-6, 190-pound point guard who is known for his defensive play. Exum is still young, at just 23-years-old. He can play either guard position at a high level. Exum still has to work on his offensive game and shot-making. Exum could come in and compete with the other young guards on the Knicks roster to make a name for himself. If Exum can work on his shooting and become a "3-and-D" type of player, he could be an important piece of a strong NBA team for a long time.
Tony Parker – Unrestricted Free Agent
Tony Parker is coming towards the end of an amazing career. With Dejounte Murray earning the starting role for the Spurs and having a career year, Tony Parker came off the bench last season in San Antonio. This led to posting career-low numbers. Parker is an unrestricted free agent this off-season and may not return to San Antonio.
Tony Parker could come to the Knicks on a multi-year deal to mentor the young guards in Trey Burke, Frank Ntilikina, and Emmanuel Mudiay. Parker would still get playing time in New York. He could even start at point guard for the Knicks, playing 15 – 20 minutes per game. Tony Parker would also be a great mentor for the young players in the locker room.
Shooting Guards
The Knicks were one of the worst three-point shooting teams in the league last season. Marco Belinelli is one of the best three-point shooters in the league. Belinelli was bought out mid-season by the Atlanta Hawks and ended up signing with the Philadelphia 76ers. He finished out the season strong and was even better in the playoffs. Marco Belinelli is a 6-foot-5, 210-pound shooting guard who can stretch the floor as well as playing average defense. Belinelli and the Knicks would be a perfect fit. He could come off the bench and would add another leader on and off the court.
Rodney Hood – Restricted Free Agent
Rodney Hood has been in the news lately, but not for the right reasons. Hood was traded to the Cavaliers at the deadline as part of their organizational overhaul. He was projected to be a big part of the team's rotation but has not seen much playing time in the playoffs. In the second round, Hood told head coach Tyron Lue that he did not want to go in for LeBron James in a blowout win.
It would not be a surprise if the Cavaliers refuse to match offers for Hood, or even pursue the idea of keeping him. Hood is an offensive weapon and above average defender. The Knicks have Hardaway Jr. as their shooting guard but bringing in Hood to possibly start or play the small forward position could be ideal. Hardaway is a better player off the bench as a sixth man.
Will Barton – Unrestricted Free Agent
Will Barton was one of the best sixth men in the league last season. Barton put up big numbers with the Denver Nuggets averaging 16 points, 4 assists, and 5 rebounds per game. Will Barton has made it clear that he wants to start in this league and he has the numbers to back him up. With that being said, the Nuggets have their backcourt of the future with Jamal Murray and Gary Harris. Barton will head into free agency with a starting position on his mind. The Knicks could offer that if they were to move Hardaway to the small forward position or the sixth man. Barton would provide a scoring punch and good defense.
Patrick McCaw is going to be an intriguing free agent this summer. Although McCaw was injured last season after a scary fall and has not played since. McCaw is still very young. He was a part of the Golden State Warriors 2017 Championship. McCaw is a great defender and has the offensive game to go with it. McCaw could wind up re-signing with the Warriors as a role player. This is a position where he has thrived. The Knicks could be a nice fit if the team were to part ways with Courtney Lee. McCaw could fill the role that Lee played, defending the best player on the other team and adding a scoring punch.
Main Photo:
Embed from Getty Images