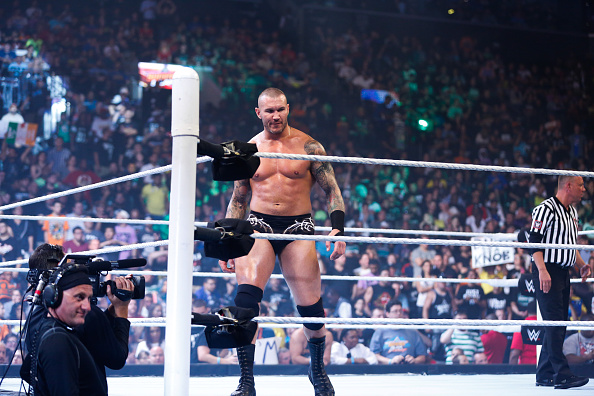 Coming just one week after the highly successful Greatest Royal Rumble, held for the first time in Saudi Arabia. The WWE superstars are ready to go into one of the fan favorites in the storylines, Backlash. This involves both the talent from RAW and Smackdown instead of only one show. Let's take a look at some of the biggest matches happening this weekend.
JEFF HARDY VS RANDY ORTON
As befits the name Backlash, all the story lines have some type of revenge scenario to them. The Jeff Hardy, Randy Orton story is rather new, with Jeff and Randy posturing with each other by basically cutting them off on the way to the ring to usurp matches. As benign as that seems, this will be a very strong played match.
All of the posturing was simply a lead up to Randy's desire to take the United States Championship away from Jeff who won and defended it in hard fought matches against Jindar Mahal. While he might still be a factor in outside interference, it won't be needed for an exciting match. Both Randy and Jeff have long well fought careers and have both fought each other and with each other. They know each other's strengths and weaknesses so this is going to be a match of endurance as well as skill.
NIA JAX VS ALEXA BLISS
For the RAW's women's title match at Backlash, Nia Jax is defending her title against her ex-best friend Alexa Bliss. This is a classic match up of someone standing up to their bully. Even though Nia is much bigger and stronger than her tormentor. Alexa was the bully in this case, she body-shamed and used her to her own advantage. After she found out, instead of allowing herself to be further mislead. Nia stood up for herself in a dominating and powerful way, ending with her gaining the women's championship.
Since then, Alexa has tried to play the heartstrings that she was the actual one who was being bullied. No one buys this of course and the crowd absolutely loves Nia and her strength and ability to now see with clear eyes and fight for herself. Without interference or an unbelievable upset, there should be no way Nia would lose her title Sunday.
SETH ROLLINS VS THE MIZ
In a match that pits a wrestler from each show for the Intercontinental Championship, The Miz vies to take back the championship he held for a much shorter time than his press releases would have said he would have. Weeks ago, general manager Kurt Angle told the Miz he is now on smackdown since the shakeup. Not only did he change shows but he lost his 'Miztourage' so we can assume he will have to do this fight on his own. One on one, he may not be a match for the wily Seth Rollins whose skill and endurance can be more than a match.  But surprises happen constantly and this match isn't a lock for either fighter, though it should be entertaining.
CARMELLA VS CHARLOTTE FLAIR
The smackdown women's championship is up for grabs on Backlash. However the winning of it by Carnella is more of the issue. Carmella won the first ever woman's money in the bank briefcase and has been holding it waiting for the right opportunity. That opportunity came after Charlotte was attacked and left barely moving in the ring.
Carmella is certainly not the first person to use the briefcase in this way. Since the stipulation is there for that very reason. But many wrestlers if they are not on the very top of the fan list, get a lot of grief for the cheap way of winning a title. Carmella isn't high on the love list. Charlotte is much higher on that scale and shows much more in ring skill. It will be interesting to see how this match plays out since Carmella is known for diving out of the ring when things get too hard. She has no qualms about being counted out and thereby keeping her title.
AJ STYLES VS SHINSUKE NAKAMURA
In a no disqualification match for the WWE Championship, there should be no shortage of cheap shots and high flying. In the past weeks since his loss to AJ Styles at Wrestlemanis, there has been low blow after low blow. Logic suggests that since Smackdown and too many people highly favored by the fans. It was time for Shinsuke to have the role of the bad guy. This is a role that he seems to be enjoying as AJ could attest to.
Since so many of the hits in the past weeks have been of a disqualifying nature. This match at Backlash will show who is the toughest by the end of the match since a quick, cheap hit won't help the win.  Both men are quick and energetic in the ring and have many skills to offer. This will not only be a match of skill but of endurance. At the end of the night, we will see who will raise the belt triumphantly.
LAST WORD
There are three other matches on the card that are non-title and also storylines in the works. These will help build up alliances and enemies for the shows going forward. One of the biggest factors to take in while watching this event is the sheer amount of strength these entertainers are showing us. Between the travel time to and from an event half way around the world. A major event last Sunday, RAW Monday, Smackdown Tuesday and then this event. All within a week. It is amazing the love and dedication they put into giving us a great show. Enjoy.
Main Photo: