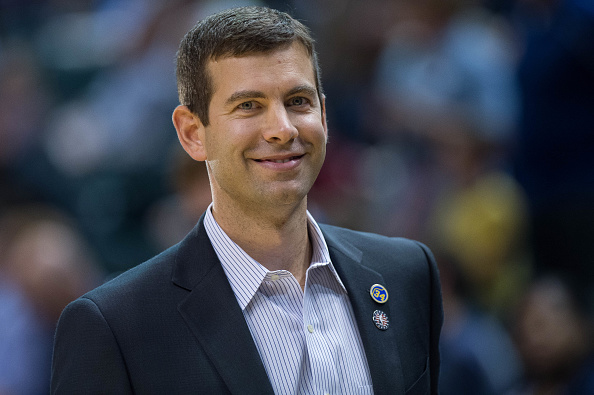 Considering that there are some NBA Hall of Fame Coaches Still Coaching, Celtics head coach is quietly carving a name for himself.With five years of coaching on his resume, Stevens has a playoff record of 16-20 and a 444 winning percentage. In this article, we'll examine three areas that separate Brad Stevens from other coaches trying to lead their team to an NBA title.
Coach Brad Stevens Is Key In Celtics 2018 Playoff Run
Relaxed Coaching Style
One of Steven's greatest attributes is the calm cool manner he possesses during games. Stevens has bought this characteristic since he was hired five years ago by General Manager Danny Ainge five years ago. In this period of time,  Stevens has compiled a 221-189 win/loss record, and an impressive .539 winning percentage. When it comes to developing players Stevens has great patience and understands each players capabilities. Some instances include Marcus Smart, Terry Rozier and most recently Jayson Tatum and Jaylen Brown.
Stevens Versus Other NBA Coaches
Comparing Stevens to other NBA coaches isn't exactly fair. But it's interesting to note that Stevens is quietly making life difficult for teams such as the Bucks and currently the Philadelphia 76ers.
Philadelphia head coach Brett Brown, for instance, has a playoff record of 6-4 and a 667 winning percentage. Brown, however, does not come close to the Celtics run the past four years which have resulted in losses to the Cavs.
This brings us to Cavaliers head coach Tyronn Lue. Lue and the Cavs have feasted on the Celtics the past four years sending them home for a lengthy summer. Boston played an exciting semifinal series last year beating the Wizards in six.
Even though the Celtics have lost to the Cavaliers three years in a row they continue to grow as a hungry, eager team that doesn't quit. As a group, the Celtics are the moulded team that's only getting better. Considering that star players Kyrie Irving, Gordon Hayward, are all out for the season Stevens should be a serious candidate for NBA coach of the year.
Main Photo: