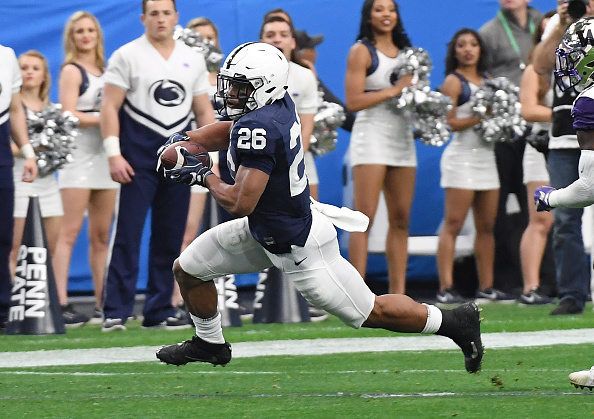 Saquon Barkley is widely considered to be the best prospect in the 2018 NFL Draft. The Penn State running back is a generational talent, and is a rare prospect with no critical weaknesses. His playmaking ability is an instant benefit to any offense. The New York Giants finished 3-13 last season, and have many needs including running back. Barkley would likely be an instant contributor and would allow Eli Manning to feel less stressed in the pocket  However, even with the support of most fans and media the Giants should pass on Barkley.
Why the Giants should not draft Saquan Barkley
The Giants contain more urgent needs elsewhere
Even with the signing of Nate Solder from the New England Patriots, New York has a major need on the offensive line. Eli has had little to no time to throw, and is almost always under pressure. Big Blue hasn't had a reliable offensive line since the Super Bowl teams from seven seasons ago. Losing both Justin Pugh and Weston Richburg, the two best on the team to free agency makes the need even greater.
It all starts up front, and without a dependable offensive line, even a talent like Barkley would not be able to get the holes he needs. Notre Dame guard Quenton Nelson is considered the safest prospect in this year's draft. A fellow Irish guard turned out to be a star in Zach Martin, the Dallas Cowboys stocked up on offensive linemen and ended up with the best starting five in football. This led to them acquiring Ezekiel Elliott, as well as provide him the space and time to excel.
This year has a extensive Running Back class
This year's NFL Draft has a quality class of running backs. New York could still draft a quality back in the first few rounds. Prospects such as Ronald Jones and Sony Michel are projected as day two selections, they are capable of starting immediately and will provide help in the backfield. Derrius Guice may go late on day one, however his power and explosiveness would provide an Ahmad Bradshaw clone. Both have shiftiness and can make people miss.
Bradshaw is the best running back the Giants have had recently, no one has come close contributing what he achieved since he signed with the Indianapolis Colts. Kerryon Johnson from Auburn could be another later round pick who could contribute, his patience reminds scouts of Le'Veon Bell. This class boasts enough talent in the backfield that New York does not need to take Barkley just because he's a running back.
Eli won't last much longer, time to acquire his replacement
Davis Webb is unproven, no one knows how much the Giants trust him. There are four QB's that are widely considered to be top ten picks. The Giants have worked out all four, Sam Darnold, Josh Allen, Josh Rosen, and Baker Mayfield. Eli Manning is 37, so this is an amazing opportunity to draft his replacement allowing the pick to learn from a two time Super Bowl MVP.
Each prospect has some weaknesses, however Darnold seems to be the top regarded. The former USC signal caller is praised for his leadership and size, as well as his ability to shed sacks and accurately throw the ball deep downfield. His completion percentage is not affected by the blitz, and with the front seven that the Philadelphia Eagles created, this would allow more opportunities for touchdowns instead of turnovers. Compared to Andrew Luck, the former Trojan would provide assurance of a reliable replacement. If Eli can groom him properly, this could become the next Brett Favre and Aaron Rodgers situation which turned out well.
Barkley is a generational talent, and he possesses the skills to become an all time great. He is considered the best prospect since Adrian Peterson. The former Nittany Lion will almost certainly improve whichever offense he ends up in. With that being said, the Giants would be best off going another direction. The fans may not agree, however this would set up the pieces essential to return to being a Super Bowl contender.
Main Image Credit: Embed from Getty Images