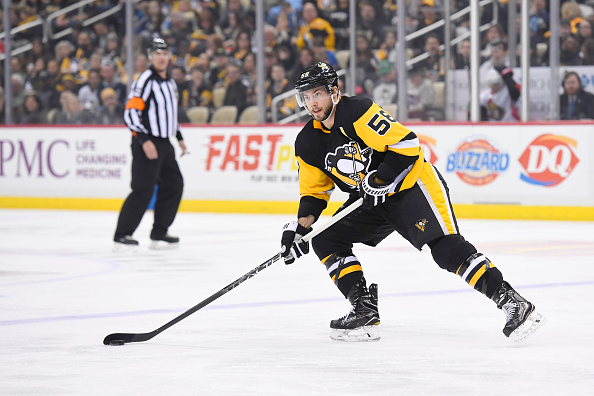 Which teams have the best shot at locking up a spot in the Stanley Cup playoffs? Who's earning a better shot at the No. 1 overall pick? The season is not over but there are a few teams who already have a shot at the title.
Pittsburgh Penguins
The Pittsburgh Penguins held on to second place in the division with a win over the Columbus Blue Jackets on Thursday in what could be a playoff preview of their first-round series. Their record is currently 46-29-6 with 98 points. If the Penguins win on Friday night, they will be locked into the No. 2 seed in the Metro and therefore cannot face the Washington Capitals in the first round.
The Tampa Bay Lightning is in position to grab the No. 1 seed (53-23-4, 110 points) after the Boston Bruin's loss on Thursday. Both teams are tied with 110 points, but Tampa owns a higher ROW by one.
The Bruins (49-19-12, 110 points) could have taken the division lead Thursday, but a 4-2 loss to the Florida Panthers keeps them in second place behind Tampa. They have been in playoffs before and can win but injuries are breaking up the lines and could mean danger for them. With their last game on April 8th, here are the options for them.
If Boston wins in any fashion they will win the Atlantic Division and play the New Jersey Devils while the Tampa Bay Lightning will play the Toronto Maple Leafs in the first round.
— If Boston loses in any fashion, Tampa will win the Atlantic Division and play New Jersey while the Bruins will play Toronto.
The Capitals finally know who they are going to play first and that is the Blue Jackets. The playoff bracket is getting interesting and it is going to be interesting to see who stays alive.
Here is what the playoffs look like:
NHL Playoffs 2018 Final bracket projection
Eastern Conference Playoff Bracket:
— Washington Capitals (M1) vs. Columbus Blue Jackets (WC1)
— Pittsburgh Penguins (M2)  vs. Philadelphia Flyers (M3)
— Tampa Bay Lightning (A1) vs. New Jersey Devils (WC2)
— Boston Bruins (A2) vs. Toronto Maple Leafs (A3)
Western Conference Playoff Bracket
— Nashville Predators (C1) vs. Colorado Avalanche (WC2)
— Winnipeg Jets (C2) vs. Minnesota Wild (C3)
— Vegas Golden Knights (P1) vs. Los Angeles Kings (WC1)
— Anaheim Ducks (P2) vs. San Jose Sharks (P3)
Main Image Credit: Embed from Getty Images