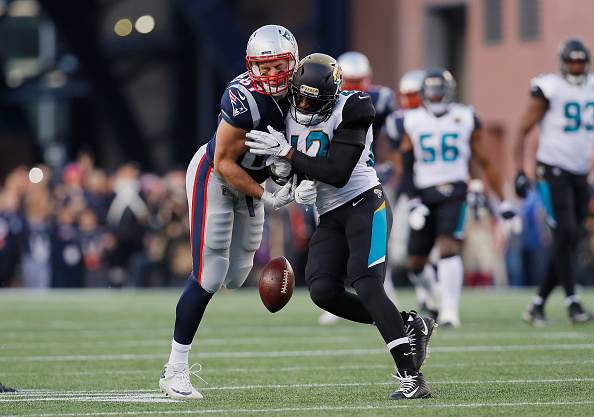 So far the 2018 offseason has been very interesting for the New England Patriots. Tuesday's deal which sent Brandin Cooks to the Los Angeles Rams for their number one 2018 pick, 23rd overall, creates a lot of possibilities for the Patriots. In this post, we'll examine three reasons why Rob Gronkowski will retire as a Patriot.
Why Rob Gronkowski will retire a Patriot
Lack of Tight Ends.
By trading Cooks to the Rams, the trade leaves many holes for the Patriots.  As of today, the only capable tight end on the roster is Dwayne Allen. In Allen's case, he is nowhere near the receiver Gronkowski is.  Last year, for example, Gronkowski caught 69 passes for 1,084 yards and 8 touchdowns. In this market, that kind of production is hard to find.
Depth wise the team has three quality receivers to go along with Gronkowski. Depending on what happens in the draft look for the Patriots to hold onto Gronkowski. Also look for the Patriots to start the season with four receivers: Julian Edelman, Malcolm Mitchell, Chris Hogan, and Gronkowski. By trading Gronkowski the Patriots would leave themselves thin in the receiving group.
Chemistry With Brady
Over the years, Patriots fans have witnessed many receivers come and go in a Patriot uniform. What separates Gronkowski from the rest is the great trust Brady has in Gronkowski.
As a Patriot Gronkowski has played in 102 total games and has caught 76 touchdowns. Playoff wise he's played in 13 games and scored 12 touchdowns on 68 receptions. Part of the reason is he's been one of Brady's most reliable receivers since being drafted out of Arizona in 2010.  By having those kinds of numbers means only one thing: a great chemistry with your quarterback.
History of Injuries
Over the years as a Patriot, Gronkowski has had a history of serious career threating injuries. One example was the 2018 AFC Championship game against Jacksonville. In this game, Gronkowski suffered a serious concussion which took quite a while for him to get cleared to play in the Super Bowl.
With a history of injuries, Gronkowski's market value diminishes. There was a strong speculation over the winter that he might retire and pursue other endeavors due to health reasons. As of late, Gronkowski has been hinting of a return to football for the 2018 season. If this is true, hopefully he'll retire as a Patriot.