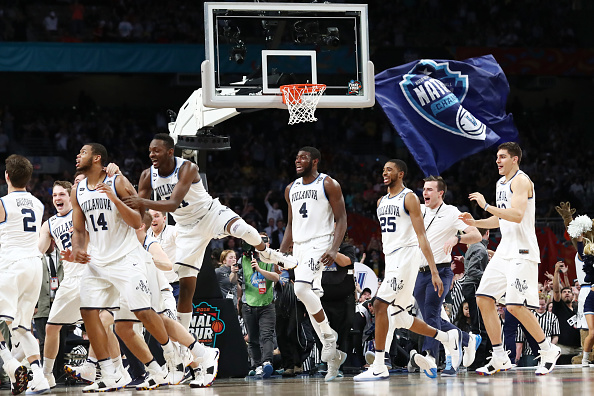 People like to hate on dominant teams and individuals across sports. Let's be honest, not many people picked Villanova to win this tournament. They were too obvious of a pick. Now, Villanova has won. Why didn't we see it coming? People just had to assume that their shots wouldn't fall at some point of the playoff season.
And the inevitable happened. Against Alabama, a woeful first half was kept alive by the efforts of bench player Donte DiVincenzo. Against Texas Tech, they scored a postseason low 71 points, but played solid defense to win the game. Then against Michigan, they're game was kept alive by a 31 point bench performance by DiVincenzo.
Villanova is better then any team this season. Now they own two of the last three college basketball championship trophies. Here's why Villanova won the Tournament.
Why Villanova won the National Championship
The system
Villanova runs a version of the Golden State Warriors head coach Steve Kerr's offense. It's a lot of movement and screens around the perimeter to open shooters and set up three point shots. This system requires a deep roster and a lot of capable players. They have recruited and evolved a capable roster of this system.
Villanova attempted three point shots on almost 50% of their shots this season, and attempted the second most threes in the nation. Villanova won this Championship because they shoot from the perimeter over and over again and refuse to let up. They know that eventually, the basket will get bigger and their shots will fall.
Donte DiVincenzo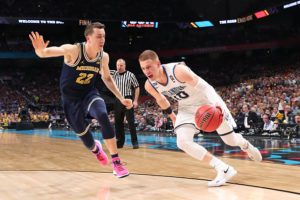 Wanna talk about a player who kept this team afloat through not only the postseason but the Championship game? DiVincenzo looks like a heck of a basketball player. He's provided valuable minutes off of the bench for his team, averaging 13.4 points per game all season.
DiVincenzo's biggest moments have been when the starters have struggled to score and dealt with foul trouble. Mikal Bridges and Jalen Brunson are both excellent basketball players, but often times found themselves on cold streaks. DiVincenzo stepped up in a tough first half against Alabama and scored 18, then did it again in the National Championship.
This is one of the biggest reasons why Villanova won the title this year. When the starters don't perform, someone on the bench needs to step up and be that star. DiVincenzo is that guy.
The winning formula
Colin Cowherd, host of The Herd on FS1, said at the beginning of the tournament that in order to win a championship, every team needs a winning formula;
"In the last fifteen years, here's what you need to win the tournament; an elite coach, and one NBA player."
Cowherd is exactly right. Villanova has an elite coach. Jay Wright is one hell of a basketball coach. He's a mild mannered guy, he leads his team more by example then by yelling and fury. He knows how to motivate his players. Wright knows basketball. He recruits extremely well. High school talent wants to play for him because they know he will develop them.
Villanova has two, maybe three, NBA players. Bridges is going to be a lottery pick this year. Brunson could be a late first round pick, but most likely will be a second rounder. DiVincenzo's stock has nowhere to go but up. Last year, we saw Gonzaga's sixth man have a great tournament and he went 12th overall. That was Zack Collins, an explosive center. Villanova had the winning formula and they won.
What to expect next for Villanova
Wright is going to have NBA teams knocking on his door wanting him to be their next head coach. It's going to happen. Whether Wright leaves or not is the question. If Wright stays, Villanova is going to push for another National Title next year. If Wright goes to the NBA, I would expect most of his squad to follow him.
Villanova is a basketball powerhouse that overcomes adversity year after year after year. Either way, they will find a way to play in the tournament next year. It's just the Wildcat way.
Main Image Credit: Embed from Getty Images
DiVinenzo Image Credit: Embed from Getty Images