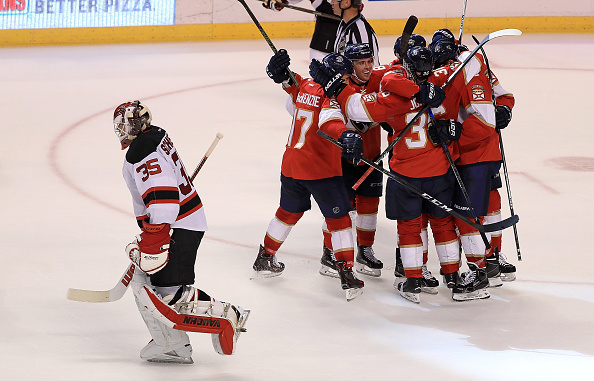 There are currently less than 10 games per team remaining in the NHL season and all focus has turned to the playoff push. Though the team's in question of making it to the playoffs will most likely be lower seeded or wildcard teams, hockey fans only must look as far as last season to know the Stanley Cup Playoffs are a whole other game. In the NHL, if you can get to the playoffs, the Stanley Cup is always in play. This means the last few weeks of regular season hockey loom large for teams just a few points in or out of a playoff spot. These are my Eastern Conference predictions for which bubble teams get a chance to fight for the Hockey's biggest prize.
View my Western Conference picks here.
Eastern Conference NHL Wildcard Predictions
IN: 1st Wildcard – Philadelphia Flyers (Current Point Total: 86 Pts)
The Flyers currently occupy the first wildcard spot in the Eastern Conference and will most likely be staying there. Though they are coming off of a rough March in which they've gone 3-6-2, it would be hard for them to lose their four-point cushion and fall out of the playoffs. Claude Giroux has been incredible in 2017-18 after a less than stellar season prior but needs a bit of help from his supporting cast. Philly's first line has been among tops in the league but the drop off in forward scoring on the Flyers drops from Sean Couturier's 70 points (3rd) to Wayne Simmond's 43 (4th).
Philadelphia also closes out its season against three non-playoff teams that will most likely be playing their farms to gain experience but first, the Flyers play three road games in four nights starting on March 25th against the Penguins, Stars then Avalanche. If they can survive this stint by walking out with two out of three wins, Philadelphia should have no problem closing out their season.
IN: 2nd Wildcard – Florida Panthers (Current Point Total: 81pts)
Opposite to the Flyers, the Panthers have been on fire in March. Florida has gone 8-2-1 since the beginning of the month and has outscored opponents by almost double at 41-23, including three shutouts. All of Florida's core forwards have stayed healthy as Aleksander Barkov, Jonathan Huberdeau and Vincent Trocheck all look like stars, and Roberto Luongo is quietly having a solid campaign when he's healthy. Keith Yandle is having one of the best under the radar seasons of any defender in the NHL and Aaron Ekblad has looked significantly better than his 2016-17 self.
If one player on the Roster embodies the Panthers strong play down the stretch it's Nick Bjugstad. The 25-year-old is a 6'6″ blue collar type player, that despite never tearing up the score sheet in his first five years, is burning it up as of right now. He has 14 points in Florida's 11 March games and has been one of their secret weapons doing damage from the third line.
Picking against Florida right now just seems like a bad idea because of their form. They also have two games in hand on Devils and are just one point back of them for the final playoff spot (foreshadowing).
OUT – New Jersey Devils (Current Point Total: 82pts)
It feels like since the beginning of the season everyone has been waiting for the Devils to fall off and return to looking like the team they were last year. Though that doesn't look like a reality now, the Devils still don't appear to have the talent to hold down their current spot. After getting thumped in Tuesday night's outing against the Sharks 6-2, the Devils now have just eight games left to play. Five of these games come against playoff teams including a dreadful back-to-back at Pittsburgh and against the Lightning this weekend.
The only way the Devils get into the playoffs is if Taylor Hall puts the team on his back – as he's been doing all year – and single-handedly wins a couple games for New Jersey. Corey Schneider has looked rough coming off of injury, failing to post an over .900 SV% in any of his March contests, and Keith Kinkaid hasn't been much better in relief. It's not all their faults considering the lack of defensive depth but that doesn't mean much when you're contending for a playoff spot.
So just a list of things the Panthers have over the Devils: goaltending, forward depth, defensive depth, strength of schedule, and form. Good luck New Jersey…
Image Credit:
Embed from Getty Images