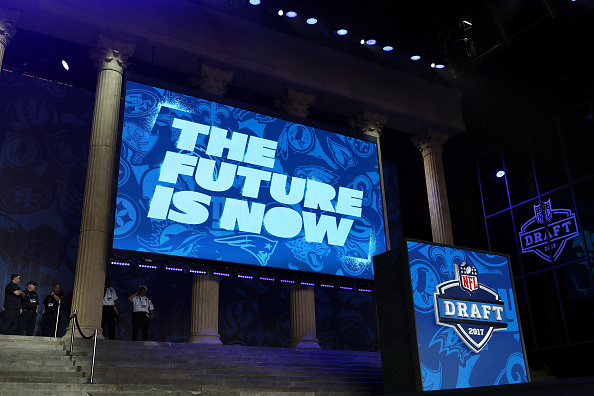 Today's NFL has quickly become a passing league. There are many teams across the NFL that need to add more options in the passing game. However, many team's have a #1 receiver and fare well using an aerial attack. The best way to acquire a #1 receiver is through the NFL Draft.
Here are Five Teams that Need to Draft a Wide Receiver Early:
1. Carolina Panthers
I didn't understand why the Panthers traded Kelvin Benjamin last season. I get that they wanted to get faster and more explosive however, it didn't make sense to trade your franchise QB's #1 target while you're making a playoff push. I like Devin Funchess as a #2 receiver and he's still young so he has a lot of room to grow. Although, I do not see him turning into a #1 receiver.
I was a big fan of Curtis Samuel last year when he was coming out of Ohio State. I think he could be the secret weapon in the Panthers passing game. Carolina also just added Torrey Smith so he'll be a good depth option. They have many options in the passing game and I haven't even named Christian McCaffrey yet. He's a great dual threat at running back for Cam Newton. They have all these options, yet they're missing a #1 receiver.
The Panthers should draft Calvin Ridley from Alabama, if he's available, with the 24th overall pick.
Ridley is an elite route runner who can run any route in the book and has reliable hands. His route running ability paired up with his 4.43 speed will give defensive backs fits while covering him.
The best part about Ridley's game is how instinctive he is. He manipulates opposing backs throughout his routes by always keeping them on edge and never knowing what route he's going to run. He throws in subtle fakes, and can break off his route quickly.
2. Jacksonville Jaguars
Jacksonville might lose two of their top receivers to free agency, Allen Robinson and Marquise Lee. If that's the case, then they definitely need a top receiver for Blake Bortles to throw to. If both Lee and Robinson were to walk, they would still have Allen Hurns, Keelan Cole, DeDe Westbrook and Jaelen Strong. This is a good receiving core but it's lacking a true #1.
Regardless if they're a run heavy team or not, they still need playmakers on the outside. At this point, teams are expecting Fournette to run the ball 20+ times a game. Even when you run the ball that frequently, you are still going to need clutch plays in the passing game every once in a while. If Robinson walks, I'm not sure this team has a player that can consistently make big catches if called upon.
The Jaguars should draft Courtland Sutton from SMU with the 29th overall pick.
Sutton has great hands and can adjust to throws well. He's a big receiver who is much quicker than you'd think. He's a pretty good route runner and isn't overwhelmingly fast but he's quick and reads zones well, so he knows when to sit in between them.
The best part about Sutton's game are his hands and his ability after the catch. He has very strong hands, and he knows how to catch each pass. For example, he'll come back to an underthrown pass or absorb a catch with his body if there is a defender hovering. After the catch, he has good vision and great quickness in space for his size. He's also tough to tackle so he has the ability to break tackles on screens as well as avoid them.
3. Chicago Bears
The Bears need to get Mitchell Trubisky some more targets in the passing game. They have some good depth receivers in Dontrell Inman, Marcus Wheaton, and Kendall Wright and Tarik Cohen out of the backfield. They also have two intriguing receivers in Kevin White and Cameron Meredith.
White seemed like he was going to be a superstar at wideout when he was drafted seventh overall in 2017 by the Bears. However, injuries have kept that from coming true. Meredith had a pretty good year in 2016 with 66 receptions, 888 receiving yards, and 4 touchdowns and was looking like he'd be the Bears #1 receiver with Alshon Jeffery gone but he tore his left ACL in the preseason.
The Bears should draft Christian Kirk from Texas A&M with the 39th overall pick.
Kirk is an excellent slot receiver. He goes out and earns every single yard he gets. He is a good route runner and has very good hands. He's not a blazer but he has good speed and gets to his top speed quickly. While working out of the slot, he's a nightmare for safeties who are playing nickel because he's too shifty for them to cover.
The best part of Kirk's game is his ability to transition from a receiver to a ball carrier while making the catch, securing it and then taking off. It's a very smooth process. A huge bonus to his game is that he's a good kick returner.
4. Dallas Cowboys
It may not seem like it yet, but the Cowboys desperately need a new playmaker for Dak Prescott to throw to. Dez Bryant just isn't the same player he was from the 2014 season. He can separate from corners while he's pressed and it's just not realistic to throw a jump ball to him every play because opposing defenses know that it's coming. Although Terrance Williams is a decent receiver, I don't think he's a starter either. They are fortunate to have two good slot receivers in Cole Beasley and Ryan Switzer; however, they need to find a way to get Switzer the ball more often.
The Cowboys should draft Michael Gallup from Colorado State with the 50th overall pick.
Gallup is a great route runner with good hands, a deadly stride, and possesses the speed to beat corners and safeties deep. He's excellent in and out of his breaks. He uses his head to sell that he's going one way and then breaks violently. He has the jumping ability to go up and climb the ladder and the hands to come down with the ball and make the catch.
The best part about Gallup's game are his release tactics. He beats the press by making a quick and short initial step and then cuts in or out and that gives him the edge against opposing corners.
5. San Francisco 49ers
Jimmy Garoppolo needs more playmakers on offense. Marquise Goodwin and Pierre Garcon are both good receivers but other than them, they don't have much depth there. Goodwin is a receiver that blows the top off of defenses and Garcon is a reliable veteran.
They need somebody to run loose underneath the coverages Goodwin is opening up. To be specific, they need a certain electric playmaker out of Florida. I fully expect San Francisco to pursue top free agent receivers nevertheless, they should draft one early in the draft.
The 49ers should draft Antonio Callaway from Florida with the 70th overall pick.
Callaway is dynamic with the ball in his hands. He has good hands but then he will drop some passes that you want him to hold onto. He's extremely elusive as a ball carrier and has good vision to lead him throughout blocks. He doesn't run a lot of routes at an elite level he can run every route. His best routes are screens, smokes, drags, and go routes.
The best part about Callaway's game is his versatility. He is able to line up anywhere on the field, he's good on motions and he's also an extremely good punt and kick returner.
Main Photo: