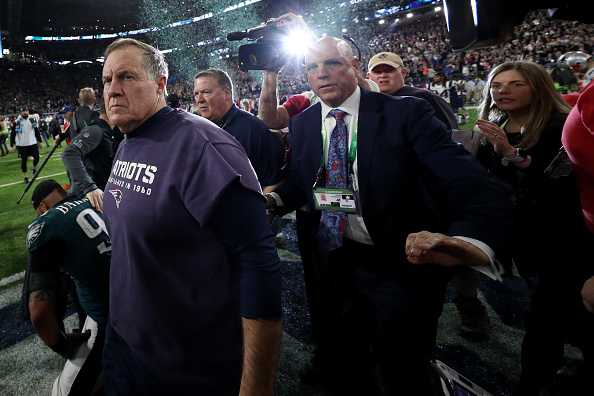 The New England Patriots are waiting for the clock to strike twelve before they decide to act on certain players. After suffering an embarrassing Super Bowl loss at the hands of the Philadelphia Eagles, Head Coach Bill Belichick has issues to resolve. In the post, we'll discuss three areas of need as free agency approaches.
The Gronkowski Status
Since the Super Bowl, Hall Of Fame tight end Rob Gronkowski has had several contract issues. Gronk has been very active on social media regarding his future with the team. Many media people throughout New England are calling this a leverage move. Whether it's a leverage move or not, this does not sit well with Belichick. Gronkowski is coming off one of his best seasons ever as a Patriot. If the tweets keep coming don't be surprised if Belichick trades him for draft picks. New England had a similar problem with Jimmy Garoppolo last season.
Offensive Line
Forty-one year old quarterback Tom Brady continues to be the face of the franchise. However, when your offensive line gives up thirty-five sacks in one season, it's time to rebuild the line. Veteran left tackle Nate Solder is an unrestricted free agent who should get big dollars from another team. The chances of the Patriots retaining him are slim especially since Marcus Cannon is available.
Defensive Issues
One of the most disappointing areas of the team this year was the defense. Overall the Patriots ranked fifteenth in the NFL, a far cry from the past two Super Bowl defenses. Getting back to a championship form is Belichick's first order of business.
Getting linebacker Dont'a Hightower back healthy and productive would be a great boost for the Patriots. Hightower missed twelve games due to shoulder issues. Second-stringer Kyle Van Noy was adequate but nowhere close to Hightower.
Despite several thin areas on the Patriots, don't look for the team to spend a lot of money. With rumors of Richard Sherman maybe coming to New England, fans should not get there hopes up. Keep in mind the Patriots only have five draft picks in this year's draft. Whatever the future holds, hopefully Brady can stay healthy.
Image Credit: Embed from Getty Images