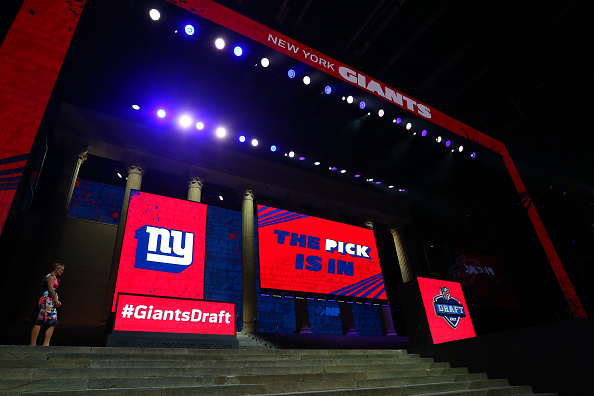 After a very disappointing, nightmarish 2017 season, the New York Giants are sitting pretty with the No.2 pick in the 2018 NFL Draft. The Giants have many area's of need to fill, new GM David Gettleman needs to pick wisely with the Giants draft class, otherwise Big Blue fans will not be happy. Here are a couple of routes I could see Gettleman taking with in his inaugural Giants draft.
The Expected : Draft QB Josh Rosen
As of right now, everyone is expecting the Giants to take UCLA quarterback Josh Rosen with the No.2 pick. Rosen is an elite, NFL ready talent. Head coach Pat Schurmur would have a field day with this kid. With Eli on the way out, Rosen would look to take over as the starter in 2019 the latest. A talent like Rosen seems like a no brainer to open up the 2018 Giants draft class.
The Creative : Trade Down with Buffalo
I have read reports that the Bills are looking to move up to pick Rosen or another top quarterback. If that's the case, and Gettleman wants to get creative, then pull the trigger. Ask for both of Buffalo's first round picks (#22& #23), as well as their second round pick. Also ask for LT Cordy Glenn. Glenn is a significant improvement when healthy, and is one of the top tackles in the game. Take an offensive lineman at 22, then Lamar Jackson at 23. Or you could even take the next two offensive linemen available at 22 and 23. This would be the beginning to a Giants draft class I could get behind.
There are many people high on both Allen and Darnold, however I am not one of them. Allen did not impress me with his Senior Bowl performance at all. He was shaky, and though he has a big arm, his accuracy issues scare me. Darnold just did not impress me in the USC games I've seen this season. If Rosen is already taken at No.2, I would rather the Giants not take one of these two quarterbacks.
The bold, "win now" move for Dave Gettleman would be to go out and draft running back Saquon Barkley. Barkley is a generational talent, as he is an elusive runner and a great pass catcher. An offense featuring Barkley, Odell Beckham, Sterling Shepard, and Evan Engram would be real fun to watch. Although, if Barkley is the pick at two Gettleman better address the offensive line in free agency.
Main Photo: