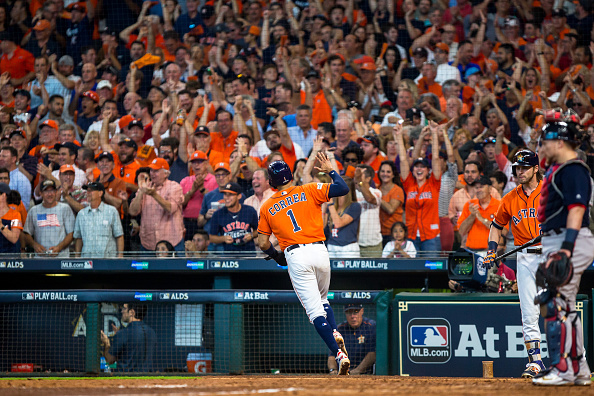 Shortstop is one of the positions with a ton of young and rising talent. We won't even mention the quickly rising top shortstop prospects. The shortstop position is going to be a bright spot in baseball for a long time. Here are the top shortstops in baseball today.
Top Shortstops in MLB
10 Elvis Andrus
Andrus has blossomed into a threat at the plate, hitting .299/.348/.457 over the past two seasons. Last season, he hit 20 homers after hitting only 21 in total over the previous four years. Andrus also uses his speed as a huge part of his game, as he has stolen 20+ bases in all nine years he's been in the league.
9 Didi Gregorious
Gregorious has enjoyed his three years playing with that small porch in New York. Since joining the Yankees, he has hit .276 with 54 home runs and 83 doubles. Gregorious is most known for his breakout during the Yankees playoff run.
8 Brandon Crawford
Crawford is up there with Simmons as one of the best defensive shortstops in baseball. He has won three straight Gold Gloves. Offensively, Crawford doesn't give much away at the plate. He is a .250-.260 hitter with around 10-15 homers and about 75 RBI's. Crawford had a career high in hits (152), batting average (.275), and a league leading 11 triples in 2016. Overall, he has an above average glove and is just starting to scratch the surface offensively.
7 Andrelton Simmons
Simmons is considered one of the most elite defensive shortstops to ever play the game. He is a three time Gold Glover, and has taken home one Platinum Glove. Offensively, he took some major strides forward in 2017. Simmons hit .278/.331/.421 with 14 home runs, 38 doubles, 19 stolen bases, and 69 RBI's. Combine that offensive production with his elite glove, and Simmons is a star.
6 Jean Segura
Segura has come into his own offensively the past two seasons. He recorded a career high 203 hits in 2016. It was the first two-hundred hit season in the majors since 2014. He also became one of only eight players in MLB history to record 200 hits, 30 stolen bases (33), 40 doubles (41), and twenty home runs (20) in one season. In 2017, he came back down to earth a bit but still hit .300 with 30 doubles, 11 home runs, and 22 stolen bases. The addition of Dee Gordon in Seattle is going to improve Segura even more.
5 Xander Bogaerts
The shortstop from Aruba is one of the best in the game. More known for his offensive production, Bogaerts is a two-time Silver Slugger. Last season Bogaerts had a rough year, as he hit to an average of .273 with 32 doubles, 6 triples, 10 home runs, and 62 RBI's. Bogaerts has a long swing, however he has some serious bat speed. Defensively, he has some average foot speed and range, however he makes excellent reads on the ball off the bat.
4 Trea Turner
Turner is one of there fastest guys in the same today. His game is based on his pure speed. Last season, he finished second in Rookie of the Year voting after appearing in only 73 games. He hit to an average of .342 with 13 home runs and 40 RBI's. He also finished fifth in the league with 33 stolen bases and 8 triples. In 2017, he stole 46 bases and hit .284 in 98 games.
3 Corey Seager
At only 23 years old, Seager is the one of the best young shortstops in the league. In his first full season as a Major Leaguer, he was named NL Rookie of the Year, finished third in NL MVP voting, was named to the NL All-Star team, and won his first Silver Slugger award. He finished with 193 hits, 40 doubles, 321 total bases, and a .308 batting average. Offensively, Seager has no real flaws at the plate. In 2017, he continued that success as he hit .295 with 22 home runs and 33 doubles.
2 Francisco Lindor
Lindor is a true baseball rat, the kid plays the game with some serious passion. Lindor is a line drive hitter, but has shown some strokes of power at times. The thing that stands out the most with Lindor is his defense. He has soft hands and is smooth at short. In 2015 he finished in second in Rookie of the Year voting, after hitting .313 with 12 home runs and 51 RBI's in 99 games. In 2016, he finished ninth in MVP voting and was awarded his first (of many) Gold Glove award. This past season he took home his first Silver Slugger and finished fifth in MVP voting after smacking a career high 33 home runs and 44 doubles.
1 Carlos Correa
Correa is the top shortstop in todays game. At just 17 years old, he was the number 1 pick in the 2012 draft. Just three years later in 2015, he appeared in only 99 gamers, and hit .279 with 22 home runs and 68 RBI's, taking home the AL Rookie of the Year. This past season, his second full season, he hit .315 with 24 home runs and 84 RBI's and led the Astros to a World Series berth. Correa is a leader, he carries himself very well for a young guy. Offensively, at 6-foot-4 he has 30-homer power, but his plate discipline needs some improvement. Defensively, he has a plus arm and size, and a good first step on the ball.
Check out the top shortstops from the 2017 season here!
Main Photo: