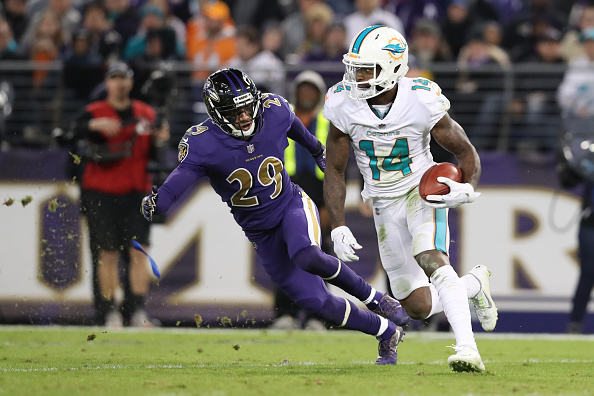 With the 2017-18 season concluded, all eyes in the Baltimore Ravens clubhouse are focused on improving their team for the upcoming 2018-19 NFL season. Perhaps the best team to miss the playoffs in 2017, Baltimore played typical Ravens football last season but couldn't close out their biggest games.
The glaring strength of the Ravens is their defensive football so the 2018 offseason will be spent improving the offence. Ozzie Newsome loaded up on defence at last April's draft when he selected four defensive players in the first three rounds and could do the same with the offence in 2018. Baltimore's offence found it nearly impossible to deal with Joe Flacco missing training camp and couldn't get into a rhythm until late October when Baltimore pounded Miami 40-0 in primetime. The offence would end the year better than they started but still finished 27th ranked in total offence, with a poor average of 305.4 yards of offence per game.
Newsome may love smash-mouth defensive football but even he knows that if the Ravens want to compete for Super Bowl LIII they are going to need to help Flacco out a bit more. 2018-19 could be the final years in the NFL for defensive staples Eric Weddle and Terrell Suggs and the Ravens need to try and send those guys out on top.
5 Baltimore Ravens Offseason Targets
5. Paul Richardson (WR) – Seattle Seahawks
First on the list that includes three wide receivers, Paul Richardson might not be the sexiest signing for the Ravens, but he is probably the most likely of the free agents. Richardson is coming off a breakout year with Seattle where he totalled 703 yards, 44 catches and six touchdowns — by far the best of his career. The fit with Flacco makes a lot of sense because he is good at getting open and creating chances for himself in the open field. Richardson is also good at finding separation downfield, catching five balls for over 35 yards.
The only big red flag on Richardson would be his drops. The fourth-year player was tied for fifth in drops in the entire NFL and could scare off the Ravens if they are trying to avoid another player with similar problems to Breshad Perriman. However, the Ravens need someone to catch the ball and there aren't a lot of options in their current passing game. If the Ravens do not feel comfortable waiting for an experienced veteran to cut get (i.e Jeremy Maclin), Richardson could definitely be on Baltimore's radar in March.
4. Mark Andrews (TE) – Oklahoma
Everyone knows that Flacco loves his tight ends. The Ravens made the tough call of releasing Dennis Pitta last offseason and noticeably missed his presence in the middle of the field. Pitta's career was heavily on the decline at the time of his release but no one on the current Ravens roster could make their presence known like he could in his prime. Baltimore typically loves to keep tight ends on their roster – they would have kept five on their 2017 depth chart had Crockett Gillmore been healthy – and are losing their top receiver in Benjamin Watson to free agency in March. That means that a tight end is going to be added be it during the draft or in free agency.
Mark Andrews from Oklahoma fits the Ravens needs the most. Andrews has a solid 6'5″ frame for a tight end and lines up mostly outside to make himself one of the best pass-catching tight ends in the draft. He was Heisman Trophy winner Baker Mayfield's favourite target at Oklahoma, catching a team-high 62 balls and finishing ninth in Big 12 receiving yards. Those kinds of hands could benefit Flacco greatly not only next year but for years to come as he loves to check the ball down and has lacked a true red zone threat. The Ravens already have two blocking tight ends in Nick Boyle and Vince Mayle and should bulk up their passing attack with Andrews.
If Andrews slips into the early second round, look for Newsome to take him at #52 or trade up to get him higher on the board.
3. Ryan Jensen (C/OG) – Baltimore Ravens
Ryan Jensen may technically still be a Raven, for the time being, but Baltimore needs to make sure that he stays right where he is. Coach John Harbaugh and the rest of his staff looked like geniuses when they moved Jensen from guard to centre in training camp and immediately benefited. Jensen was one of the NFL's most consistent centres despite it being his first season at a new position and having the teams two starting guards go down with injuries.
The great year could mean Jensen demanding a lot of money in free agency but if his price is fair then the Ravens will bring him back. Baltimore brass has always made a point of keeping their developed talent and do not want to see Jensen go after a breakout season. The other potential outcome is that Jensen prices himself out of Baltimore and the Ravens will not overspend. Harbaugh and his staff typically find centres in obscure ways and would probably be happy to do next season.
Jensen certainly has a lot of value to Baltimore and would round out (if healthy) a very impressive offensive line in 2018 but he is also coming off the best season of any OL UFA. The Ravens want Jensen back but money could force him to walk.
2. Jarvis Landry (WR) – Miami Dolphins
Jarvis Landry has been a model slot receiver in the NFL ever since he stepped in with the Dolphins in 2014. He has topped a thousand yards twice, topped a hundred catches twice and is set to become one of the biggest fish in the free agent pool come March. Not to mention he will not turn 26 until late November. All those traits show you why he is a three-time Pro Bowler and will demand a lot of money as a UFA. The rumours say he wants something near what Davante Adams received from the Packers at four year(s)/$58 million which could be a problem for Baltimore as they are already close to the cap limit.
But much like Jensen, if the price is right, why not match it?
Landry would fulfil a similar middle of the field role like Andrews and with Michael Campanaro potentially leaving in free agency, he is exactly what the Ravens need in a receiver. Flacco would finally have a volume receiver, someone who can take the ball on sweeps and reverses, and returns kicks. He checks off every box in the Ravens notebook.
Even Ravens safety Tony Jefferson has taken note of the perfect fit responding to tweets about the potential pairing, attempting to recruit his services, not to mention the Ravens were rumoured to have tried to trade for the receiver last offseason. Much like how Jefferson stated Weddle's persuasion was a huge factor for his landing in Baltimore, he is trying to do the same with Landry. Financially the fit looks tough but like Jefferson said: "if teams want it to happen, they'll make it happen".
1. Calvin Ridley (WR) – Alabama
If Calvin Ridley is available when the Ravens pick at #16 on draft night, I do not foresee any situation in which the Ravens pass on him. He fits the need at wide receiver, he went to Alabama (Newsome's former school and frequent target program) and is fast, has good hands, and quality route running ability.
Ridley finished the year third in SEC receiving with 967 yards, 63 receptions and five scores — solid numbers for a receiver who plays in a run-heavy college style offence. His last few college games weren't eye-popping but he did catch a key touchdown in the national championship game. He has big-play ability, which suits Flacco's arm talent, and would help soothe the presumed departure of Mike Wallace. Ridley can make moves in the open field, something that the Ravens lacked in 2017 and would make sure Flacco doesn't have to do all of the offence work himself.
Don't think that the signing of Landry would prevent the Ravens from selecting Ridley either. Similar to the way the Eagles revamped their receiving core in 2017, the Ravens could do the same in 2018. Even if it is ambitious, I see a scenario where the Ravens begin 2018 with a starting three of Ridley and Perrimen on the outside while Landry plays in the slot.
Unless Ridley is selected before the Ravens pick, there is no way Newsome passes on a needed talent from his alma mater.
Image Credit:
Embed from Getty Images