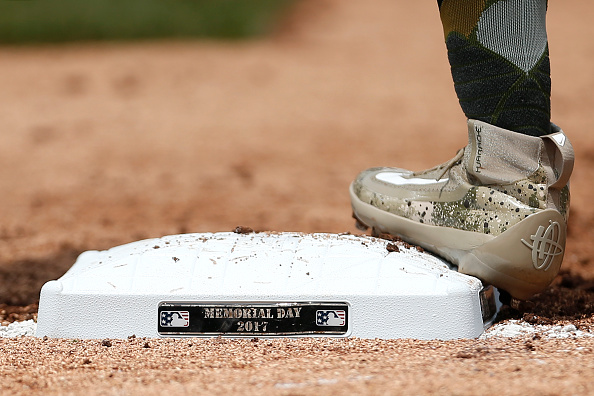 According to
Baseball Savant
, Sprint Speed is Statcast's foot speed measurement. It is defined as feet per second in a player's fastest one second window. The MLB average is 27 ft/sec. Here are the top ten speedsters in MLB today based on Statcast's Sprint Speed.
Top 10 Speedsters in MLB
At 37 years old, Rajai Davis is still flying around the bases. In his twelfth season in the league last year, and stole a total of 29 bases.
9 Manuel Margot – 29.3 ft/sec
Margot is a budding star in San Diego, and it is just a matter of time until he breaks out. In his first full season with the Padres he hit 13 home runs and stole 17 bases.
8 Keon Bronxton – 29.5 ft/sec
Bronxton is a rare case of power and speed, as he had 20 home runs and 21 stolen bases last season. However, he needs to cut down the strike outs.
7 Delino Deshields – 29.6 ft/sec
Deshields has certainly showed the Rangers he has some wheels, as he has stolen 25+ bases in two of his three big league seasons.
Amed Rosario had a slow start to his big league career in 2017, however eh certainly showed he can fly around the bases.
Just to put into perspective how fast Turner is, he has 81 stolen bases in 198 career games.
Dee Gordon is one of the best base stealers in the game today, without a doubt.
Bradley Zimmer is just scratching the surface for the Indians, once he earns regular playing time watch out.
Billy Hamilton has been, and always will be one of the fastest guys to play the game of baseball today.
Buxton has had a slow start to his MLB career, however one thing that hasn't started slow is his speed.
Main Photo: