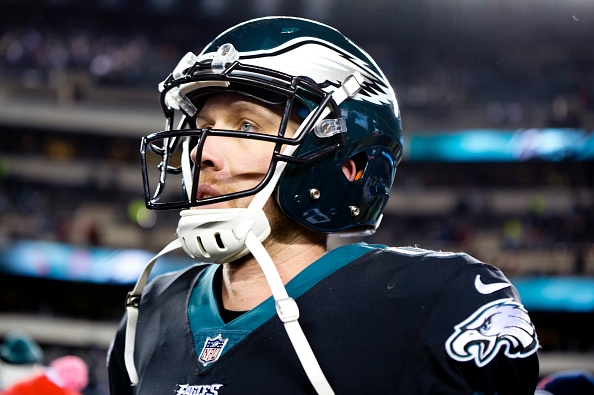 The Philadelphia Eagles have finally made it back to the playoffs. For the first time since 2013, Gang Green will be competing in January football, holding the best record in the NFC. BUT is their reason to be concerned?
Well, yes and no. There are endless takeaways from the past few weeks without Carson Wentz (who still leads the NFL in passing touchdowns and deserves to be MVP). Lets start with the negatives so we can end on a positive note.
Should the Philadelphia Eagles Worry?
Reasons to Worry
Identity, identity, identity. The Eagles 2017 season was characterized by unbelievable situational football and a balanced team. That means high percentages when it counts on 3rd down, 4th down, and in the red zone, a good balance between running, passing, and not leaning heavily on the offense or defense to win a game completely. Since Wentz's injury… well things have been quite the opposite. The Giants game was characterized by the offense getting it done and the defense letting up endless big plays. In fact, the Giants finished with 504 yards of total offense. Meanwhile, the Raiders game was characterized by Nick Foles' endless high and poorly timed throws and lockdown defense, especially in the last quarter.
Potential Fixes
The Eagles have to get back to what they were like with Wentz. Not in terms of depending on Foles becoming Wentz, but in terms of dominating stats associated with winning. The Eagles have to put themselves in more 3rd and short situations to make it easier for Foles and the offense in general. They still have an extremely talented run blocking offensive line. Use it and keep Foles from dropping back 40+ times. Having a more balanced attack will also freeze the defense. This will give Foles more time to see the field and go through his reads. Get the ball into the hands of playmakers like Alshon Jeffery, Nelson Agholor, Jay Ajayi, and Zach Ertz. Get the ball out of Foles hands quickly to take the pressure off of him and let the playmakers make their money. The Eagles have nothing to worry about if they can get the ball into the hands of the playmakers and play good, balanced, situational football.
Positives
The Eagles are 13-2.  They locked up first place in the NFC.  They can sleep in their comfy, home beds til the Super Bowl. The Eagles have overcome adversity many times this season. Foles has a much needed break coming up to gain chemistry with his receivers.  With all of these positives, things should start to come back together for the Eagles in time for the playoffs.  For all you negative Eagles fans out there, RELAX. Super Bowl hopes are still alive. They are slightly dimmer, but still alive. Doug Pederson is a coach of the year front runner and Roseman is an executive of the year front runner. If anyone can step up in this moment, it's the Eagles.
Image Credit:
Embed from Getty Images