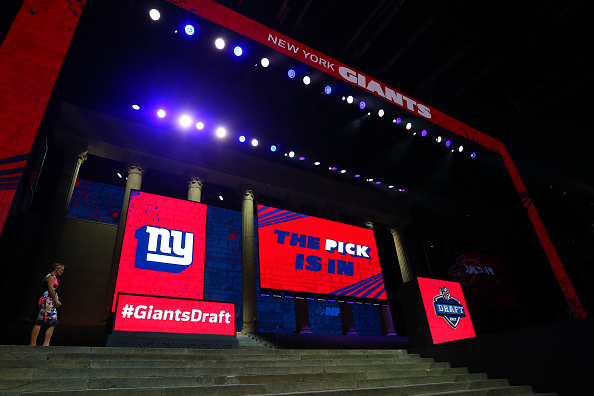 The Giants have just about secured a Top-3 pick in the 2018 NFL Draft. After a very disappointing 2017 season, Big Blue has some major changes to make. Here are five potential members of the 2018 New York Giants draft class.
Quenton Nelson is one of the best offensive linemen in college football today. He was a team captain at Notre Dame his senior year. He is a two-time All-American, and a two-time Notre Dame Offensive Lineman of the Year. Nelson became the first offensive lineman since 1975 to take home Team MVP honors when he won it for the 2017 season. With the Giants offensive line as depleted as it is, Nelson has NFL ready talent and would be a tremendous addition. However, I could only see New York selecting an offensive lineman in the first round if they trade back.
2017 Stats: 71.0 Completion Percentage, 4,340 Passing Yards, 11.8 Yards/Attempt, 41 TD's, 5 INT's, 310 Rushing Yards, 5 TD's 
The 2017 Heisman Trophy winner is certainly an interesting piece. Mayfield is a very skilled quarterback. He is an accurate passer and adds scrambling ability and toughness. Mayfield, like Russell Wilson, is undersized but buys time and makes plays with his feet. Baker has an excellent touch on his deep over-the-top ball, and is accurate on the underneath routes. The problem with Mayfield to the Giants is his immaturity, the New York media circus would have a field day with him. Mayfield certainly has the talent and leadership ability to quarterback the New York Giants, it's just a matter of if he can grow up or not.
2017 Stats: 1,134 Rushing Yards, 5.7 AVG, 16 TD's, 47 REC, 594 REC Yards, 3 TD
There is a whole lot to like about Saquon Barkley as a runner. Barkley has tremendous field vision and very quick feet. He has the ability and skill set to break off a long run on any play. Barkley also has the shiftiness to make defenders miss in the open field. The Penn State product also fits as a receiving back, as he is a good route runner and has some good hands. I hear your concerns with taking a running back behind this offensive line, however Barkley is used to running behind a not so great line. Saquon Barkley is a rare skill set, and would add another threat to this Giants offense.
2017 Stats: 63.7 Completion Percentage, 3,787 Passing Yards, 8.7 Yards/Attempt, 26 TD's, 12 INT's
There are questions about wether or not Darnold will stay at USC for his junior year. However, his skill set is certainly there. Darnold is a very accurate passer in both the short check down game and the down the field passes. Though he isn't the most mobile QB, Darnold showed the ability to scramble around and create plays with his feet. Darnold is a gamer, and showed some tremendous leadership abilities this past season. The USC product has room to grow, but is definitely a candidate to be the next franchise quarterback of the New York football Giants.
2017 Stats: 62.5 Completion Percentage, 3,717 Passing Yards, 8.2 Yards/Attempt, 26 TD's, 10 INT's
Rosen is one of, if not, the top quarterbacks in this years draft. Rosen certainly has the physical skill set to be the franchise quarterback of the New York Giants. He has the accuracy to make throws into tight windows and the arm strength to make big throws down the field. There have been questions about Rosen's leadership abilities, however that should not keep the Giants away from the UCLA star. New York could consider taking Rosen as signing Jim Mora Jr – his recently fired coach at UCLA – to fill their head coaching void.
Main Photo: