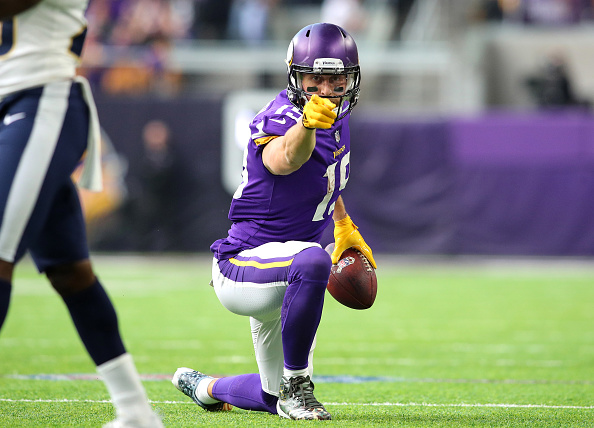 Eleven weeks down; only six to go and the NFL is continuing to produce teams with serious identity crises. Very few teams have established themselves as elite football squads and ones that have, have continually dropped the ball in the following weeks. However, it does make for amazing football.
Besides to the likes of the Patriots and Eagles, no teams have really established themselves as 'true' contenders. The league has been riddled by injuries and teams like the Packers and Seahawks have almost completely been knocked out of playoff contention solely because of a lack of bodies.
Whatever happens over the next six weeks is anyones guess, but expect this list of teams to follow the patterns they have trapped themselves in over their first 11.
Disclaimer: For this list I have left off obvious every year playoff contenders and chose teams that have surprised and disappointed in 2017.
NFL Playoff Contenders and Pretenders
CONTENDER – Minnesota Vikings (8-2)
Every Vikings fan has been trying not to get ahead of themselves after last years undefeated start. The Vikings started the year with a league best 5-0 record but were quickly brought back to earth as they proceeded to drop their next four games. The difference this year, is their ability to stay healthy. The Vikings lost both their starting quarterback Teddy Bridgewater, running back Adrian Peterson, and both outside tackles, Andre Smith and Matt Kalil to injury in 2016. It seemed like more of the same for the Vikings this season when star rookie RB Dalvin Cook suffered a torn ACL during Minnesota's week four matchup.
But the Vikings have not only found life after Cooks injury, but excelled on offence. Under stand-in QB Case Keenum, the Vikings offence has been explosive. Minnesota currently ranks 5th in total offence (YPG) and ended the surging LA Rams four game win streak last Sunday. Keenum owns a completion percentage over 69% since week four, has throw for 280+ yards in his last three contests and has powered the Vikings to a six-game winning streak. Obviously lending their hands are the Vikings powerful receiving duo of Adam Thielen – second in league receiving yards – and Stefon Diggs.
Also, shoutout the O-line for only letting Keenum get sacked once during their win streak.
The offence has defined the Vikings but it is also important to point out the Vikings second ranked run defence. No player can run on Minnesota and with Xavier Rhodes locking down a teams top target, finding space on against Minnesota's defence has been nearly impossible.
The Vikings have all the essentials to be a Super Bowl contender but will be tested over their next three games; away at Detroit, Atlanta then Carolina.
PRETENDER – Buffalo Bills (5-5)
The Nathan Peterman experiment failed quick and failed hard. Sitting at 5-4 and in possession of the 2nd AFC wildcard spot, Head Coach Sean Mcdermott took the ball out of his starting quarterback Tyrod Taylor's hands and put it into the hands of a fifth round rookie. That same quarterback would go onto throw five picks in the first half of his debut and get benched to start the second.
Peterman jokes aside, the Bills are no better than their record shows. Buffalo has been bad on both sides of the ball through their first ten games, but have somehow still managed to squeak out victories. This includes a defence and offence both ranked in the leagues bottom ten.
Buffalo's brightest spot on defence has been rookie Tre'davious White. In E.J. Gaines absence, the 27th overall pick has done a decent job making sure the secondary isn't in shambles but has been force paired with frequent burn-ee Shareece Wright. It is also no help to the defence that management shipped Buffalo's best run stopper Marcell Dareus to the Jaguars. You would think this mean't the Bills knew they were out of it? Wrong. Acquired later that week was wideout Kelvin Benjamin — a move made to push for the playoffs. Benjamin has since injured his knee — the same area where he suffered an ACL injury that forced him tom miss all of 2015.
The Bills are a circus and it is truly is baffling that after it's all over, they could still potentially make the playoffs with an 8-8 record with no wins over plus .500 teams. If somehow Buffalo finds their way into the AFC playoff picture – due to lack of competition – do not expect them to stick around for very long.
https://www.youtube.com/watch?v=_qgDipm0ezE
CONTENDER – Baltimore Ravens (5-5)
The Baltimore Ravens are the team that stole the Bills wildcard spot with a convincing 23-0 victory over the Aaron Rodgers-less Green Bay Packers. The Ravens may have the same record as the Bills, but they are a completely different team. The offence may sputter like Buffalo's but their defence is in the leagues most elite class. The Ravens D has pitched three shutouts in their first ten games and could throw in a fourth with their remaining schedule.
The @Ravens are the fifth team with three shutouts in a season, in the last 30 years.

Three of the other four won the Super Bowl. pic.twitter.com/TZKc6Zl2bU

— ESPN Stats & Info (@ESPNStatsInfo) November 19, 2017
The defensive revamping started at the draft. Baltimore spent it's first four draft choices on defensive players and each one have contributed in different ways — specifically Marlon Humphrey. Humphrey has been part of (debatably) the leagues best secondary, whom have picked off a league leading 16 balls in 2017. Seven of which have been picked off by the combination of corner Jimmy Smith and safety Eric Weddle. The pass rush may not be 'elite' like in years past, but the relatively young core (obviously minus Terrell Suggs) is finding their footing nicely. That includes Matthew Judon — having had a break out performance last Sunday, notching two sacks, an extra tackle for loss and a forced fumble.
For Baltimore to get into the playoffs, Joe Flacco and the Ravens offence just needs to be serviceable. The Ravens passing attack is currently ranked last in the NFL and needs playmakers – besides Flacco – to step up. That could start this week in Houston if Baltimore can utilize the deep ball and then check it down to recent IR returnee Danny Woodhead.
John Harbaugh's team may not have had a particularly glamorous 2017 yet, but watch out come January.
PRETENDER – Atlanta Falcons (6-4)
Despite holding off the Seahawks on Monday Night, but this is not the same Atlanta Falcons team that was so close to winning Super Bowl LI. The Falcons currently occupy the NFC's second wildcard spot but do not look nearly as explosive on offence as in 2016.
Julio Jones has had a good 2017, but has struggled to find the endzone. Through ten games, the wideout sits in fourth in receiving yards and yet has only caught a single touchdown pass (even if he did 'son' Malcolm Butler). Touchdowns are not the greatest defier of a receivers performance, but one is not enough for a player who is frequently part of the 'NFL's best receiver' conversation. Couple that with the addition of Devonta Freeman's continuing concussion and it looks like Matt Ryan and company are going to have to use new tricks to find the endzone.
Julio Jones is on pace for…well…one touchdown this season.

— Ryan McDowell (@RyanMc23) November 21, 2017
What makes the Falcons such a precarious team is their inability to decisively win games. Atlanta have only won two games by more than one score. They also blew a 17 point lead in their week six matchup with Miami and narrowly escaped huge upsets due opposing teams negligence — week one against the Bears and week eight against the Jets. Their victory in Seattle was a step in the right direction, but if not for a terrible fake field goal attempt and a short Blair Walsh kick, Atlanta could be sitting at 5-5. Not to mention, the Hawks were also minus two of their three best defensive players: safety Kam Chancellor and corner Richard Sherman.
The Falcons record is not good enough to suggest they're a playoff contender and their personal is not performing at a level that will convince you otherwise.
Image Credit:
Embed from Getty Images