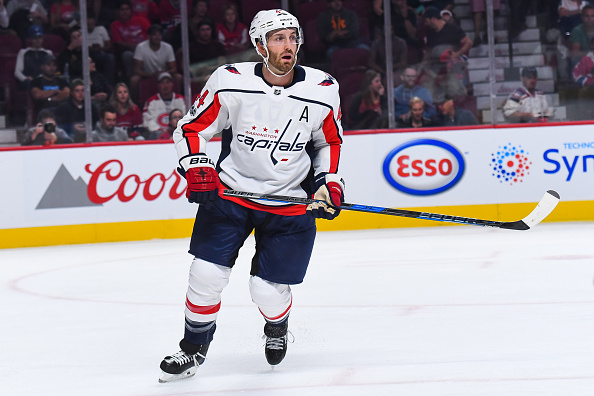 Every year, we witness big contracts handed to players. It's only a matter of time before some general managers start scratching their heads concerning their decisions. To the point where the feeling of excitement will turn into regrets. It's hard to realize that you are overpaying an underachieving player despite the fact that as a general manager, you ardently hoped the complete opposite scenario. Especially after many desperate attempts to finally convince the owner to get the cheque book out. Here is an example of some of the players who could make their general managers could eventually consider the buyout option.
Back in summer 2013, the Los Angeles Kings were considered a cup contender. This was a strong reason that Dustin Brown re-signed an eight-year contract at $47 million. Unfortunately, today, the team and player are obviously not the same. The consequences of the salary cap era backfired on them. Many players that took part of those Stanley Cupconquests are not on the roster anymore.
At 32 years old, right winger Dustin Brown isn't the same player he once was. He still has four years left on his contract. Brown does not play in the top six anymore due to his lack of production and his work ethic. In this case, unless a team is willing to take the risk and trade for him, the Kings could look into the buyout option.
Brooks Orpik is known for his defensive prowess especially in the physical aspect of the game. Unfortunately, nature is catching him up. At 37 years old, needless to remind everyone that he is not a top pairing defenceman anymore. Last year in the playoffs, he played on the third duo throughout the second round. For the first time in his career, his ice time dramatically dropped. His best moments are now something of the past.
At $5.5 million per year, Orpik's contract is becoming a burden. They even had to let Karl Alzner walk away due to the lack of cap space. Further, they also have to plan some cap space to re-sign defensemen John Carlson and Madison Bowey next summer. They are both in the last year of their respective contracts. A buyout is becoming imminent in Orpik's case.
When Glen Sather signed Marc Staal to a six-year contract extension, he mentioned that he sees him as one of the team's cornerstones. At $5.7 million per year, the elder brother is being paid to block shots and to kill penalties. In other words, he never met the team's expectations and has never proved that he could move the puck  as part of the top pairing. However, he still is that prototypical big stay-at-home defenceman at 6'4″ and 205 pounds. With this size and being only 30 years old, he still can help. Many teams in the league would love to have him. Especially the fact he could easily log between 18 and 20 minutes per game.
Matt Beleskey – Boston Bruins – 29 years old
Matt Beleskey's time in Boston has been very disappointing and frustrating. He was never able to earn a top six spot on the roster, and he even dropped to the fourth line.  He finished the season with three goals and five assists in 49 games. Production-wise, he has not played up to his contract value other than his first year in Bean Town. Although, he has mostly been criticized for his work ethic issues, his willingness to shoot, his speed and his play around the net.
At $3.9 million a year and the fact he is in his third year of his five-year contract, the Bruins could strongly consider a buyout option as more and more young players are trying to earn their spot on the roster. Depending on the circumstances, he could be the easiest target.
When Marian Gaborik arrived in Los Angeles, he had an immediate impact during the 2013-2014 playoffs. His 14 goals and nine assists in 26 games earned him a lucrative contract ($31 million over 7 years). Through the last two years, he battled through many injuries. He is currently coming back from a major knee surgery that did cost him much of the 2016-2017 season. With four years left on his contract, it's hard to believe the team would keep him until 2020-2021. Let's not forget that he is on the declining side of his career. The team will look to get younger as the offensive core is aging. Although, keeping him until the end of his contract is also a possibility. New general manager Rob Blake  mentioned he has no intention of buying him out throughout the off-season.
Main image credit:
Embed from Getty Images