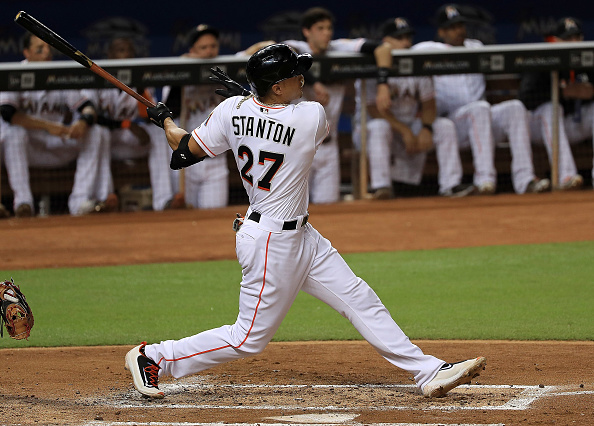 It's no doubt that Giancarlo Stanton has had a career year to this point; launching a total of 57 home runs and totaling 126 RBI, he is making the Miami Marlins feel good about signing him to a 13-year $325 million contract which began in the 2015 season. However, with the Marlins likely to be sold by November; the team could look to trade the all-star right fielder to a team that could take on the remainder of his contract. For a team like that, look no further than the post-Jose Bautista era Toronto Blue Jays.
Now part of Stanton's deal is a full no trade clause, however he did clear waivers this season, meaning he could have been traded to any team for their post-season push. With Derek Jeter and his group of investors set to take over, they may want to start with a new face of the franchise. This is intriguing for Toronto. Before next season the Jays could lose Jose Bautista, the face of the franchise for almost ten seasons.
Miami Marlins Giancarlo Stanton only fit for Toronto Blue Jays needs post-Jose Bautista
Of course the big topic of trading Stanton is the contract. Stanton is set to make $25 million next season. He will also make as much as $32 million per year in the years of 2023 to 2025. Now as crazy as this sounds, the Jays can definitely afford the risk. Stanton is just entering his prime at age 27. He would be 37 when his contract expires (sound familiar Jays fans?).
Now why does this make sense for the Blue Jays? Well for one it allows the "window of opportunity" to remain open for the foreseeable future, plus how much easier would it be to resign a player like Josh Donaldson telling him he will be hitting in front of or behind Stanton.
Also, the AL East is a huge hitter friendly environment especially for home run hitters. Stanton's 56 home runs have come in the more pitcher friendly NL East. Just imagine him hitting in the Rogers Cenre, and say Fenway Park and Yankee Stadium 20-30 times a season.
What Would It Cost?
The real question is though; what would the Jays need to give up to acquire a Giancarlo Stanton? Well of course it would require some prospects, but mainly more on the pitching side. The Marlins rotation has consistently been near the bottom of the league in rotation ERA. Perhaps a few of MLB Pipelines best prospects in the Jays system. Essentially the Jays would be required to give up perhaps Sean Reid-Foley (Toronto's number 6 prospect) and likely Connor Greene (Toronto's number 11 prospect) and maybe a lower level prospect in exchange for the all-star right fielder. Which considering all options is not too bad of a deal.
Stanton gives you the opportunity now, and as well for the future of being a cornerstone in the outfield. Also, the Jays could become a pitching powerhouse, having pitchers come to Toronto just so they don't have to face a lineup featuring Donaldson, Stanton and Justin Smoak. The Blue Jays were again one of the top teams in MLB in attendance, and local tv ratings. They also did well with merchandise. There is significant cash flow at Rogers and Bautista's $19 million is coming off the books.
Presently, the idea may seem asinine. However, if the Marlins are looking for a team that needs a new right fielder long-term; could afford and be willing to accept the bulk of the contract that remains (10 years and $310 million); that could be a match made in heaven for yet another Marlins – Jays supertrade.
Main Photo: MIAMI, FL – SEPTEMBER 19: Giancarlo Stanton #27 of the Miami Marlins hits a solo home run during a game against the Washington Nationals at Marlins Park on September 19, 2016 in Miami, Florida. (Photo by Mike Ehrmann/Getty Images)