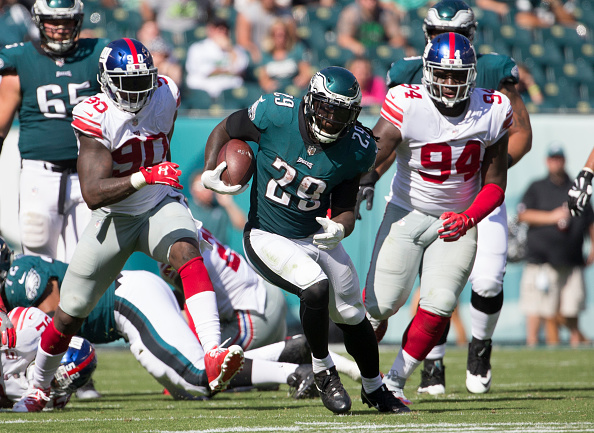 The Philadelphia Eagles had a huge victory over the New York Giants on Sunday with a huge 61-yard field goal from rookie kicker Jake Elliott. That wasn't the only huge headline from this game. It was confirmed on Monday from head coach Doug Pederson that Darren Sproles is out for the season with a torn ACL and a broken arm. What makes this even more cringe-worthy is that it all happened on the same play. It will be up to the remaining Eagles running backs to pick up the load in Sproles' absence.
Darren Sproles Out For The Season And What It Means For The Eagles
One of the so-called big pick-ups for Eagles this off-season was former New England Patriots running back LeGarrette Blount. I say, "so-called big pick-ups" because there was so much hype coming into this year that Blount was going to go off as a huge play maker for the Eagles. It has not turned out that way so far. Blount was brought in to bolster the Eagles running game and add some much needed pop. Blount has just 26 carries for 113 yards and two touchdowns in three games this season.
The good news is that Blount came alive last game against the New York Giants where he ran for 12 carries for 67 yards and a touchdown. He showed the same style of running that everyone saw in New England. Blount's power running up the middle with knockout hits getting everyone out of his way was on display. This was the reason why Philadelphia went out and got Blount in the first place.
It is worth noting though that it's not all Blount's fault why he hasn't been that explosive player until now. The Eagles offensive line has not done the best job of run blocking for Blount. Too many times there have been plays where the holes are clogged up and no wiggle room for him to bounce off and find another hole. The line did show up for him against the Giants as he had his longest run of the season with a 20-yarder. The Eagles are going to need more of his power running now with Sproles out for the season.
It looks like that Wendell Smallwood will be getting the majority of Darren Sproles carries for the rest of the season. We have not seen much of what Smallwood is capable this season but it did come out in the last game against the New York Giants. One drive in particular that caught my attention was when Smallwood was the primary running back and he had three straight first down runs, one of which was for 20 yards, his longest run of the day.
After Darren Sproles went down with his injury, Smallwood was the primary runner. He  carried on 69% of all run plays, according to fantasy football expert Matthew Berry. Smallwood will take most of the passing plays out of the backfield and will be a prototype Sproles for the remainder of the season.
We saw a bit of Corey Clement for the first time this season in the game against the Giants. Clement came up big for the Eagles. He had a 15-yard touchdown run that tied the game at 21. This came after the Giants scored 21-straight points.
Clement has shown that he is able to make plays in pressure situations. He is ready to go in and make plays after not having a single carry in the first two games. Clement was in a battle with Donnel Pumphrey for the fourth running back position. The Eagles ultimately decided to keep five running backs. Clement will be seen as a buffer running back for when Blount and Smallwood need a break. This is similar to what Smallwood's role was when Sproles as healthy.
It is worth noting though that the Eagles did pick-up Kenjon Barner to the team to be the return specialist. Barner is fully capable of being a return specialist. He returned a couple of punts in pre-season and last season. Barner may get some carries on offense, but it wouldn't be a shock if he was only used on special teams.
Main Photo:
Embed from Getty Images