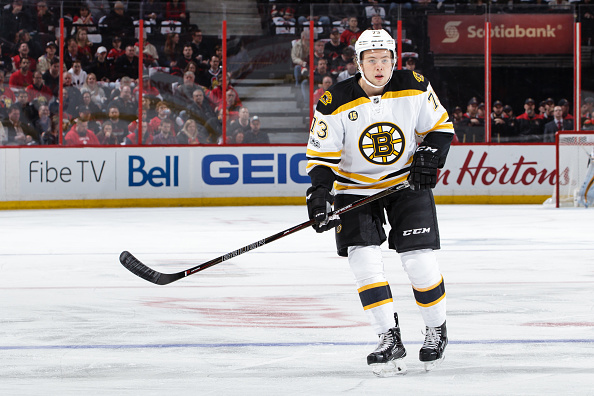 There are a few top NHL rookies to watch this upcoming season. Many of these rookies come from the 2015, 2016, and 2017 NHL Draft classes. Many hockey fans will want to keep an eye on these rookies this season. A couple of these names we can see in the Calder contention come later in the year, for now here are the top rookies to watch, part one.
Clayton Keller was selected seventh overall in the 2016 NHL Draft. Keller was a highly sought out prospect despite being 5"10 and having a smaller frame for a forward. As we've seen size has slowly meant nothing in regards to production, performance and overall ranking order. Keller played one-year at Boston University where he had 45 points in 31 games (21 goals, 24 assists). Keller seems to be cracking the Coyotes roster this upcoming season and should be sporting a second line winger role.
As it is perceived right now, Keller will be paired with Dylan Strome and Tobias Rieder. Paired with those two will definitely help the rookie forward see production right out off the bat. Keller is capable of producing at a high level, he's been the leading scorer for the U.S. Developmental team many times before and produced more than a point per game with BU. Next season I would not be surprised to see Keller reach 45-50 points. As far Calder trophy winning, it is an unlikely chance with the other great talent in consideration.
The projected No.1 pick was selected by Philadelphia second overall in the 2017 draft. Patrick has dealt with his fair share of injuries at the WHL level. He will have a tough time staying healthy at an even more competitive level in the NHL. Patrick's already missed some training camp due to an injury. However, as it seems now Patrick will crack the Flyers top six and be paired with Wayne Simmonds and Valtteri Filppula. The two will be a good pairing for Patrick. Simmonds is gritty and has goal scoring ability and Filppula is a veteran playmaker. If Patrick holds on and maintains that top six spot than he'll fare well for the Flyers.
In the WHL, Patrick played three seasons and 160 games with the Wheat Kings. In 2015-16, Patrick put himself on the map and his first overall projections emerged. Patrick scored 91 goals and 204 points at his time in the WHL. Patrick is a great two-way forward with good goal scoring and penalty kill ability. However, I cannot see Patrick crack the list for the Calder Throphy.
The 1st overall pick in the 2017 Draft by the Devils, Hirschier will be immediately thrown into the fire. He is one of the few players in the draft that was NHL ready from the get-go. Hirschier dominated the QMJHL in his first and only season with the Halifax Mooseheads. He scored 38 goals and 86 points in 57 games. However, Hischier has spent much of his time at the Switzerland International level playing for the U-18 and U-20 teams. Hischier's situation in New Jersey is tricky, but he should be paired with a top player in the league, Marcus Johansson. Johansson, a skilled veteran should help the rookie forward find his groove.
Hischier is an excellent two-way forward and has unbelievable hockey senses. As his time in the NHL goes on, Hischier has the potential to be a top line center and one of New Jersey's best forwards. Hischier is a player I could see winning the Calder, given the Devils more than likely poor season to come. Hirschier will see some success and possibly enough to win the Calder Trophy.
McAvoy was selected fourteenth overall in the 2016 NHL Draft by the Boston Bruins. The Bruins wasted no time introducing McAvoy to the NHL as he was brought up last season in the playoffs as the team faced some injuries. It was evident right away that McAvoy was going to be a dominant defenseman in the league after that series. His puck-poise, skating ability, and offensive talent ranks him among some of the best young defensemen in the game. McAvoy will be cracking the Bruins lineup, but if Zdeno Chara is still healthy and 100% he will be sporting a third line defensive role with Kevin Miller. Luckily though, we'll see McAvoy's offensive talent and awareness put to display on the second power play unit.
Boston has a more solidified defense in the league among other teams. McAvoy will not see major minutes each game, but he will see enough minutes for others to recognize his talent and ability. McAvoy is in the running for the favorite to win the Calder right now. Between him and Josh Ho-Sang it will be an interesting race to watch all season.
Main Photo: