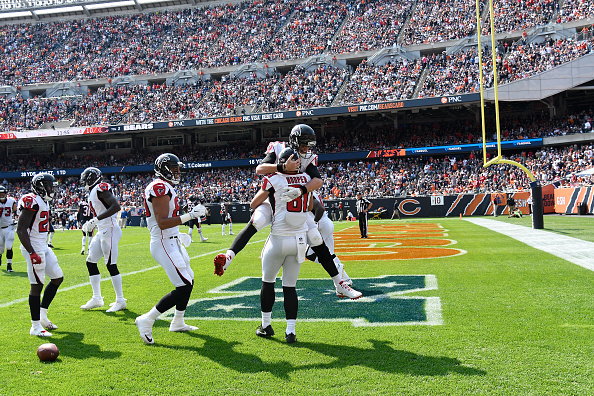 NFL kickoff has finally arrived and for just about every team and its fan base the excitement could not be contained. The NFL community was more than ready for their teams to do two things; either each team would avenge a losing record last season, or improve on a playoff caliber roster.
However, out of all 32 teams, nobody in the league was more ready than the Atlanta Falcons and their fans after hearing about the blown Super Bowl lead all offseason.
As the Falcons traveled to take on the Chicago Bears in week one, they looked to start the season with a win to build on last season's momentum and start their path to redemption. The Flacons did just that with a 23-17 win over an improved Bears team that is looking to get back in the hunt in the NFC North. Here are five takeaways from a sloppy win for the Atlanta Falcons.
Sluggish Run Game and Run Defense
Coming off a dominant season in which they topped all running back duos in several categories, the one-two punch of Devonta Freeman and Tevin Coleman struggled to be as explosive as fans are used to seeing. Both combined for 20 carries, 53 yards and a score. It wasn't necessarily their fault, though. The offensive line struggled to provide the big lanes that they usually do for these two to plow through.
On the other side of the ball, the defense based on speed struggled to stop a new standout in Tarik Cohen and second year back Jordan Howard, who put up a combined 118 rushing yards and a touchdown. They also put up 11 receptions for 61 yards and a touchdown together. There were missed tackles in what seemed to be a lack of effort throughout the game that allowed the defense to be gashed for big gains on multiple plays.
The Revamped Offensive Line Struggled
This offseason Chris Chester retiring didn't seem to be the end of the world for Atlanta. However, as displayed in week one apparently it was enough for the offensive line to look shaky as they struggled to open holes and protect Matt Ryan early. In the first half, Akeem Hicks dominated Wes Schweitzer on almost every play. The Bears front seven were either snubbing the plays on the ground, or plowing through the line to take a shot at Matt Ryan, which they did amassing two sacks and five hits on Ryan. Several times, Schweitzer was knocked back causing many plays to fall through. If he wants to continue protecting the defending league MVP he, along with the rest of the line, is going to have to show up in bigger games against tougher front sevens.
Get Offensive Coordinator Steve Sarkisian Off the Sidelines
Put Steve Sarkisian in the box. He needs to be able to see the match-ups better. The league saw what the Falcons were capable of doing when former offensive coordinator, Kyle Shanahan, was up calling plays from the coaching box. There were a few times where the play calling and match-ups were questionable. This prompted Falcons fans to utter a little concern for Sarkisian being on the sideline. Although the offense picked up in the second half, he should try calling plays from up in the booth to see if the results are different.
A New Star is Born
He goes by the name of Austin Hooper. Hooper looks like he could be the best tight end Atlanta has had since Tony Gonzalez retired in 2013. Although his ability was previewed last season, Hooper mostly sat behind then starter Jacob Tamme. Now, it's Hooper's time to shine, and he did so in a big way against Chicago. Despite only catching two passes, one was a momentum swinging touchdown for the offense.
On third and three from deep inside their own territory, Matt Ryan stepped up to avoid a sack and found a wide open Austin Hooper for an 88-yard touchdown. Hooper delivered a nasty stiff arm to Quintin Demps before barreling into the end zone. He would also catch another 40-yard pass while delivering another mean stiff arm in the process. Hooper is exactly what the Falcons were looking for in a receiving tight end when they drafted him. Expect Hoop to play an even bigger role in the offense moving forward.
Onto A Bigger Test
Falcons fans hope this contest featured a lot of first game jitters. This would provide an explanation for some of the sloppiness possessed during the game. Those jitters should now be gone. Next week in prime time football, Aaron Rodgers leads his 1-0 Packers to Atlanta, fresh off a home victory over the Seahawks. Last season, the Packers fell to the Falcons in the NFC Championship game. This time, Rodgers wants to redeem that loss. This game has a lot of interesting story lines. The main one is how the young Falcons defense will perform against a fully healthy Packers offense.
Main Photo: