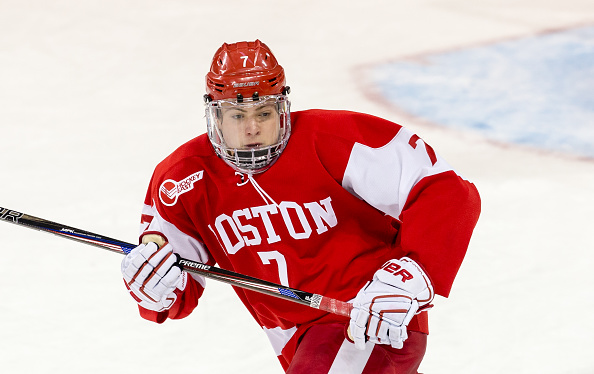 In recent years, the NHL draft has produced some of the greatest prospects in the history of the NHL. Stars such as Connor McDavid, Auston Matthews, Nathan MacKinnon and many others developed from the draft. Today we will be looking at the eight NHL prospects most likely to make their debut this season.
Nico Hischier was drafted first overall by the New Jersey Devils in this June's draft. Hischier was second on the Halifax Mooseheads of the Quebec Major Junior Hockey League in scoring. He had 86 points in 57 games, while Maxime Fortier had 87 points in 68 games. Had Hischier played a full season and continued putting up points at the rate he was, he would have recorded around 102.5 points. Hischier is NHL ready this season, and will probably be playing second line center behind Adam Henrique in New Jersey.
Nolan Patrick was the Flyers second ever, second overall pick. He was selected ten years after James Van Riemsdyk, the Flyers second overall pick in 2007. The rookie is expected to join the Flyers at the beginning of the season. Patrick played in less than half of the games last season for the Brandon Wheat Kings. Patrick still had 20 goals and 26 assists totaling 46 points. Even having missed so many games, Patrick finished fifth on the team in points, only 25 behind Reid Duke. Nolan should play 3rd or 4th line center in Philly, behind veterans Claude Giroux, Sean Couturier, and possibly Valtteri Filppula.
Calle Rosen will probably be making his NHL debut for the Toronto Maple Leafs this season. Rosen is the seventh best defenseman on the Leafs this season. You will see this 23-year old lefty defenseman on the third defensive pairing at least once this season. Last season with Vaxjo Lakers HC, Rosen had just under a half a point per game. Those numbers are probably comparable to current NHLer's Nick Leddy, Nikita Zaitsev and Travis Hamonic. Definitely look for Rosen the next time you are watching a Leafs game.
Henrik Haapala is a 23 year old left-handed shooting winger in the Florida Panthers organization. Haapala will probably be playing on Florida's second or third line this season. Haapala has played both the right and left sides for Tappara in the Finnish Elite League. He finished last season with 60 points in 51 games. Those are even better numbers than Patrik Laine had with Tappara two years ago, as he finished his draft year with 33 points in 46 games. We saw how Laine turned out this season, recording 64 points, so you can expect to see Henrik Haapala take the ice in the sunshine state this season.
At the 2016 NHL Entry Draft we heard the Columbus Blue Jackets select Pierre-Luc Dubois with the third overall pick. Dubois played for two different teams in the Quebec Major Junior Hockey League last season. Dubois played for both the Cape Brenton Screaming Eagles and the Blainville-Boisbriand Armada. He finished last season with 55 points for those two teams in a combined 48 games. Dubois will probably be playing on the third line for the Blue Jackets, this season.
Will Butcher was signed as a free agent this offseason by the New Jersey Devils. Butcher captained the Denver University Pioneers to the 2017 NCAA Championship. He also won the 2017 Hobey Baker Award, other winners include Jack Eichel and Johnny Gaudreau, two NHL stars. Butcher finished the season with 37 points in 46 games in his final season with Denver. He was drafted in the fifth round of the 2017 NHL Entry Draft by the Colorado Avalanche. Will will probably play on the second or third pairing this season in Newark.
You have already heard the name Reid Duke mentioned in this list. Duke was the leading scorer on the Brandon Wheat Kings with 71 points in 59 games. The 21-year old will probably make his NHL debut this season, with a team making their NHL debut. Duke was the very first Vegas Golden Knight when was signed to an entry level contract for 3 years at $770,000. Duke will probably be in the AHL for parts of the season, but he will probably get some playing time on Vegas' fourth line.
McAvoy, a Boston University graduate, will probably return to Boston this season, this time at the TD Garden. McAvoy had 26 points in 38 games for Boston University this season. He was also a +12. Last season, McAvoy debuted in six games during the playoffs for the Bruins. He recorded three assists and was a -2 in the series against Ottawa. McAvoy will probably be getting third pairing time during his first full regular season as a Bruin.
Those are the eight prospects most likely to make their NHL debuts this season, you can read more articles like this one at LWOSports.com, follow us on Twitter @LastWordOnSport.
Main Photo: