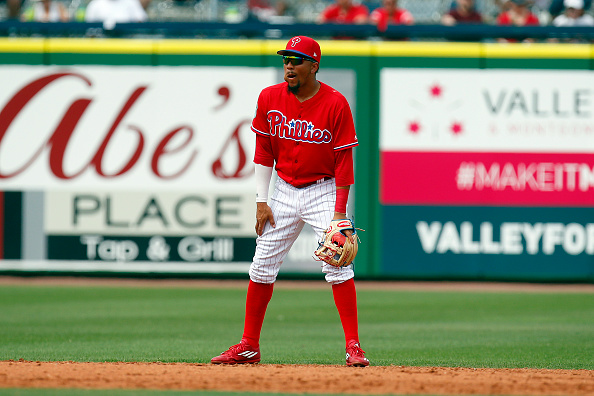 With the MLB season coming to an end, and rosters expanding we're beginning to see prospects get called up from the minors. Many Phillies prospects have been called up this year and have made an impact already. Rookies such as Rhys Hoskins and Nick Williams have already solidified their spots on the team for next year. There are still a number of prospects that are good enough to get the call for next season, or even receive a September call-up.
3 Phillies Prospects That Should Get Called Up
Scott Kingery has shown the most improvement of all the Phillies prospects in their system. Last season, Kingery hit only five home runs, 46 RBI's, and a .281 average. This season, Kingery has a stat line of 26 homers, 64 RBI's, and a .306 average. He earned a promotion from class AA-Reading to class AAA-Lehigh Valley after batting .313 with 18 RBI's through 69 games. Kingery will be talked about a lot in the upcoming off-season due to the fact that Cesar Hernandez's future with the team is unknown. Kingery's improvement this season will be a reason why Hernandez might be out the door next year.
Another player that can impact the middle of the infield for the Phillies in the future is former No. 1 prospect J.P. Crawford. Crawford was a first-round pick in the 2013 MLB Draft ahead of Kingery, who was drafted in the second-round. The shortstop isn't known for putting up big offensive numbers. However, he is someone who can get on base, is a weapon on the base paths, and is a great fielder. Talks have started that Freddie Galvis will be getting some playing time in the outfield with Crawford on the way up. Crawford is hitting .237 this year, with 14 home runs and 57 RBI's in Class AAA-Lehigh Valley.
It would be a surprise if Cozens comes up this year, however you will more than likely see him next year because of his tremendous power. If you think that Rhys Hoskins can hit, just wait until you see Cozens. In 2016, Hoskins hit .281 with 38 home runs and 116 RBI's, while Cozens hit .276 with 40 home runs and 125 RBI's. To me it makes no sense that Hoskins came to Philly before Cozens, however it is likely because of the struggles of Cozens' batting average this season. Cozens is currently hitting .214 with 26 home runs and 71 RBI's. Expect to definitely see Cozens up with the big league club next season.
Conclusion
With the slew of prospects that have come up this year, these three prospects shouldn't have a problem making an impact. With the way the middle infield is looking, Kingery and Crawford could be the new second baseman and shortstop respectively. Cozens could be the next big bat that the Phills bring up, like Hoskins. At any point that these three prospects come up, they will make an immediate impact to the Phillies.
Main Photo: