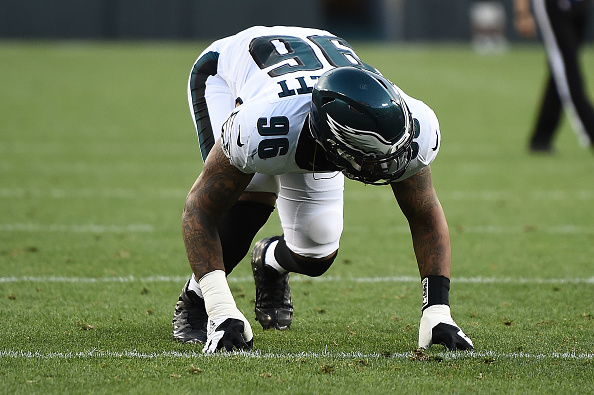 Five Eagles Players To Watch For This Preseason
Eagles Preseason is underway after a disappointing 24-9 loss to the Green Bay Packers. Now, I know what you're saying; this is the preseason and the games don't count. However, these games are certainly still worth watching. This is a time for players to get their barrings right for the regular season and for younger players to develop. You won't be seeing much of the first team players, but you will be seeing a lot of players either trying to make the team or to solidify their case to get more playing time. Here are five players to watch this preseason.
First, we begin with newly acquired defensive tackle Timmy Jernigan, who was traded from the Baltimore Ravens. This isn't just a great pick up because Jernigan is an overall great DT. By trading for Jernigan, the Eagles now have taken some of the heat away from veteran DT Fletcher Cox. The acquisition of Jernigan has solidified the defensive line as the best positional group on this team. Jernigan has plenty to offer to this unit as he recorded five sacks, including an interception and 3 pass deflections for the Ravens last year.
It's going to be exciting to see how Jernigan and Cox work together. These two big guys in the middle of the Eagles' DL can shut down the runs up the middle and cause pressure on the quarter back. Jernigan will cause chaos to any offensive line, as teams won't know who to double team, him or Cox.
2. Donnel Pumphrey
It appears the rookie running back out of San Diego State will be the guy replacing Darren Sproles in Philly. That sentence alone is a lot to take in for anyone, including Donnel Pumphrey. Pumphrey was put on display a lot in the Eagles first preseason game, and he looked a little sluggish. The rookie fumbled in a key point in the game, with the Eagles inside the opponent's 30 yard line. Fortunately, the Eagles were able to recover the ball, however the troubles continued for Pumphrey. Later in the game, he also muffed a punt, which was recovered by the Eagles as well.
All the negativity aside, Donnel Pumphrey had an impressive college career as the NCAA all-time rushing leader in Division 1 football. He finished his four years at SDSU with a total of 6,405 yards, and averaged 6 yards per carry. In his senior year at San Diego State, he rushed for over 2,100 yards. Scouts have said Pumphrey and Sproles are similar for a reason. Like Sproles, Pumphrey is a 5'8 running back who weighs just under 180 lbs, and can be a problem for defenders when he is behind his offensive line. I expect Pumphrey to be in the rotation for carries with Blount and Sproles if he shows he can live up to the expectations.
The time has finally come for Agholor to show up on the field and get it done or get out of Dodge. With Jordan Matthews being traded to the Bills, Agholor will now step into the role of slot receiver. This sounds scary to read for any Eagles fan. Since Agholor was drafted as the 20th overall pick in the 2015 NFL draft, he has only recorded 59 catches and 648 yards with just 3 TDs. Those statistics alone are atrocious for any receiver for just one season, regardless of where they got drafted.
While there has been a lot of hype going into this preseason that Agholor is legit, there are many receivers on this team competing to take over the role that was filled by Jordan Matthews. The next three preseason games will provide insight into whether or not the hype surrounding Agholor is justified.
4. Mack Hollins
Speaking of receivers trying to fill the void left by Jordan Matthews, here is one of them. Mack Hollins provided fans with a glimpse of what to really expect from him with his first ever catch in the NFL. Hollins reeled in a 38-yard touchdown in which he had two huge stiff arms back-to-back. The Eagles drafted Hollins in the 4th round of this year's draft purely for his special teams skills, but I believe there is way more to him than that.
In his college career, he averaged 20.6 yards per catch. In 2015, he averaged a NCAA best 24.8 yards per catch. Hollins looked promising in his first outing as an Eagle. However, the expectation for the rest of the preseason is that he will primarily be a special teams player. However, I do assure you if Hollins puts in performances like he did against the Packers, we could be in for a battle between Agholor and Hollins for the slot receiver.
5. Derrick Barnett
Saving the best for last, we have the 14th overall pick Derrick Barnett. The Eagles first round pick in this year's draft put on a clinic in his first outing. Barnett recorded 2 sacks for -20 yards, 2 QB hurries and 2 tackles for loss. If there were any questions on who would be replacing Connor Barwin, I think the answer just became a bit more difficult. I will put in my answer that it should be Derrick Barnett. Vinny Curry is a solid pass rusher, however, Barnett can bring so much more to the table.
During the first preseason game, footage was shown of Barnett in college transitioning from his downed position on the line to pass coverage of the slot receiver. Did he disappoint? NO! Barnett stayed on his coverage of the receiver for about 15 yards and broke up the pass. Barnett is the all-time leader in sacks at Tennessee with 33, breaking former Eagle Reggie White's record. Now I'm not saying that Barnett is as good as White, but anything is possible.
In conclusion
For many people, preseason games aren't that fun to watch. However in my opinion, when you have players to watch and see how they develop, it makes it all worth it in the end. With our offensive players it's all about development and getting in your groves for the regular season. With our defensive players, it's all about causing a ruckus on the offensive line and getting to that quarterback. Hopefully Eagles preseason will be as exciting for you as it is for me! Try to enjoy the preseason and GO BIRDS!!!
Main Photo:
Embed from Getty Images