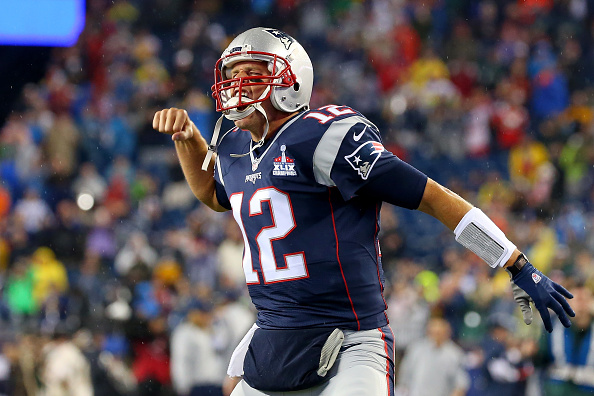 When David Lee Murphy debuted his hit song Dust on the Bottle in 1994, it rose to the top of the charts. The song talks about the aging of a fine wine and even though it's old, that doesn't mean it's bad. Now obviously there's a difference between a bottle of wine and NFL players. A bottle of wine isn't hit by 300+ pound linemen over and over again. Many NFL players retire before they reach the age of 30. However, there have been some who have defied father time and continue to do so. Here are five NFL stars who have "gotten sweeter with time."
The sure handed receiving product from Pitt has been an elite NFL player ever since he stepped onto the field. Drafted third overall by the Arizona Cardinals in 2004, Fitzgerald made his first pro bowl in just his second season, going over 1,000 yards for the first of eight times in his career. He would make the Pro Bowl nine more times in his career, and he is still going strong. In 2016, Fitz led the NFL in receptions with 107 catches. He is currently fourth all time in receiving yards per game, with a ridiculous 76 yards per game in his career, trailing only Andre Johnson, Marvin Harrison and Torry Holt.
At age 33, many fans and analysts think that he will start to decline as early as this upcoming season. However, with a newfound run game star David Johnson and a veteran quarterback in Carson Palmer, Fitzgerald can smell a Super Bowl run. He deserves it, as he has stuck with the team that drafted him for his entire career, something very rare in professional sports. He has shown no signs of slowing down, but when Fitzgerald eventually does hang up his cleats, his next stop will certainly be Canton.
4. Antonio Gates, Los Angeles Chargers, 37
The touchdown machine that is Antonio Gates started his run to the pros as a basketball player. Gates attended Michigan State to play both football and basketball under legendary college coaches, Nick Saban and Tom Izzo. However, Saban wanted his big tight-end to only play football so Gates transferred to Eastern Michigan. For his junior and senior season, Gates transferred a second time, this time to Kent State to play basketball. His jersey number, 44, is now retired for the Golden Flashes at Kent State. After being told he did not have the right size for the NBA, he tried his luck as an undrafted free agent in the NFL.
The then San Diego Chargers signed Gates, realizing his potential despite never playing a down of college football. Gates would go on to make eight Pro Bowls and three All-Pro First teams. He is tied for the most touchdowns ever by a tight end (111) with future first ballot Hall of Famer Tony Gonzalez. In 2013, Gates added over 500 yards and 7 touchdowns to his long resume. There has been debate that he is the greatest tight end of all-time, and once he breaks the record for touchdowns (PREDICTION: he does it Week One) he will be the greatest at the position. Gates has also spent his entire career with the Chargers.
3. Drew Brees, New Orleans Saints, 38
Drew Brees is arguably the most underrated quarterback ever. Brees was drafted out of Purdue with the first pick in the second round by the San Diego Chargers. Brees would spend five mediocre seasons in San Diego before being replaced by Philip Rivers. He would then move onto New Orleans, where his career would explode. With the Saints, Brees has made 10 Pro Bowls and led them to a Super Bowl title in 2009.
Brees holds the record for the most consecutive seasons throwing for over 4,000 yards with 11. Brees has also thrown for over 5,000 yards in a season five times, a feat that no other quarterback has accomplished more than once. The veteran gunslinger has shown no signs of slowing down. Last season, Brees threw for the second most yards in his career (5,208) and set the NFL record for the most completions in a single season with 471. He also holds the record for both career completion percentage and yards per game. Brees isn't only a first ballot Hall of Famer, he is a Top 10 quarterback of all-time.
2. Frank Gore, Indianapolis Colts, 34
Frank Gore is the epitome of consistency from the running back position. Gore was drafted 65th overall out of Miami by the San Francisco 49ers. The five-time Pro Bowler played his first ten seasons in San Francisco, where he ran for 11,000 yards and 64 touchdowns. Gore then joined the Indianapolis Colts in 2015, teaming up with Andrew Luck.
Gore is an old fashioned, between the tackles workhorse back. He has nearly 3,000 rushing attempts in his career and has averaged 4.4 yards per carry. While many think that Gore will end up falling off in the near future, he is still pounding the rock. Last season he ran for 1,025 yards and averaged nearly 4 yards per carry behind an abysmal offensive line.
1. Tom Brady, New England Patriots, 40
If you are surprised at Brady's name on this list, do some research. Everyone knows the story, the legend, of Tom Brady. The proclaimed "GOAT" of football was drafted at pick number 199 out of Michigan by the New England Patriots in the 2000 draft. Brady spent his first season backing up Drew Bledsoe. However, when Bledsoe went down with an injury, Brady stepped up. He started 14 games in 2001 and led New England to his first of many Super Bowl titles and his first Super Bowl MVP. He would again win Super Bowl MVP in 2003. And for the third time in four years, the Pats would win the title in 2004. Brady and the Pats would go on to win two more super bowls, in 2014 and this past season.
Brady has made 12 Pro Bowls, won 2 NFL MVPs and has thrown for over 61,000 yards in his career. The craziest thing about all this? He had arguably his best season this past year at age 39. Suspended for the first four games, Brady started his tear in Week Five against the Cleveland Browns when he threw for over 400 yards and three touchdowns in his season debut. He would not slow down the entire season, and ended the year by leading the greatest comeback in NFL history against the Atlanta Falcons in the Super Bowl. Brady threw for 466 yards in that game and won his fourth Super Bowl MVP. On the season, Brady had an absurd 28-2 TD-INT ratio. The obvious Hall of Famer will enter 2017 as the top quarterback in the game, in search of his sixth Super Bowl ring.
Dust on the Bottle: https://www.youtube.com/watch?v=uNkF_ZpQ4eg
Main Photo: