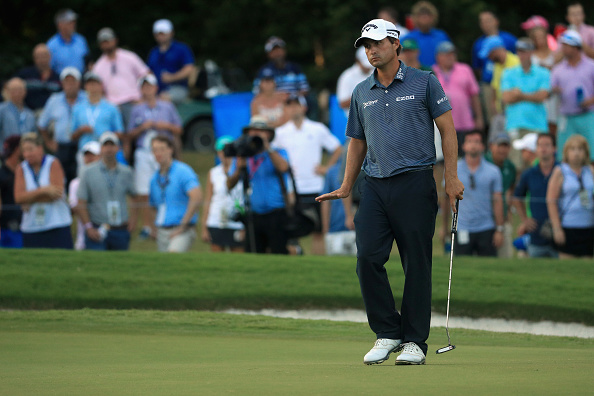 With "Moving Day" concluded and everything unpacked, it's time to stack the leaders and prep for PGA Championship Sunday. Twas survival of the fittest yesterday, as Quail Hollow went all "Sleepy Hollow" on the Tour's best. It left a trail of carnage along the "Green Mile," as many a hope was dashed. Only 19 of 75 players were under par and the rest did their best to stay even.
PGA Championship Sunday
It's hard to fathom what transpired on the way to the clubhouse, but sufficed to say, it was UGLY! Whether we talk about Jason Day going Bogie-Quad to finish Even for the tournament, or Rickie Fowler's Bogie-Double-Bogie finish, to end up -1 for the event, it left a bad taste in your mouth. Heck, those two were leaking strokes like a colander leaks water. It got so deep at one point, Day rolled up his pant leg. Obviously, that was to get a stance for an awkward shot, but you get the gist. So Saturday, a day usually reserved for advancement on the Tour, turned out to be a form of endurance training.
All the horror aside, there were some positives. Local favorite Kevin Kisner fired a 72, which was enough to give him the 54 hole lead (-7). In addition, relative unknown and last man into the championship, Chris Stroud continued his solid play and is sitting in T2 with a -6 total. Also in T2 is Hideki Matsuyama, who is trying to become Japan's first Major winner. Right behind them is Justin Thomas, who shot a pretty strong 69 (-5 in T4 position) and Louis Oosthuizen (-5), who's looking to add another Major (2010 Open Championship) to his repertoire.
Round of the Day
The best story of Saturday however, came not from an American, but a Canadian. Graham DeLaet, a 35-year-old from Weyburn, Saskatchewan, Canada, lit up Quail Hollow with an electric 68. The score itself wasn't the amazing part. It was the fact he went Birdie-Eagle-Eagle-Birdie in a four hole stretch (holes 13-16) on the back nine of a major. It literally was unlike anything seen on that big of a stage. With that said, he's two-under-par and will have to go low again today to have any chance at hoisting the trophy.
Don't anticipate someone running away and hiding from the field. These greens are flat NASTY and even three-footers will give them pause. Couple that with the stress of a final round at a major and you get a combustible situation. Individual stocks will rise and fall with the passing holes, but in the end, Quail Hollow itself will be the determining factor. If history plays any part, an underdog will have a shot. Seven of the last sixteen winners of the PGA Championship have been such (David Toms 2001, Rich Beem 2002, Shaun Micheel 2003, Yang Yong-eun 2009, Keegan Bradley 2011, Jason Dufner 2013 & Jimmy Walker 2016).
Main Photo:
Embed from Getty Images