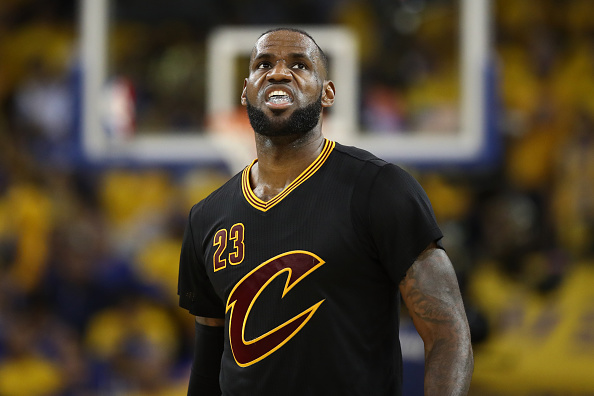 LeBron James is going to be the top free agent of the 2018 off-season, and because of that, there are already plenty of rumors spreading on where he might go or if he will stay with Cleveland. Here are the four potential landing spot for LeBron James.
LeBron James Landing Spots in 2018 Free Agency
4. Cleveland Cavaliers
Cleveland has to be a potential spot for James because that is his hometown, and current team. With that being said Cleveland does not have the flexibility to win now which is what James wants to do. With a Kyrie Irving trade looming and with Golden State being the juggernaut that it is, LeBron James needs more to win a finals.  LeBron also did what he set out to do, win Cleveland a championship. All of this considered James is still a business man who wants to win and Cleveland doesn't fit that bill.
3. Oklahoma City Thunder
The thunder are a dark horse candidate but an interesting one none the less. With Russell Westbrook playing record breaking and historic basketball this season, you expect that level of play to continue for the next few seasons. With the recent acquisition of Paul George and rumors swirling around about mutual interest between Carmelo Anthony and the Thunder, you would think that this is a no brainier for LeBron James. If Oklahoma City wants a chance to sign James, They have to resign Paul George and Russell Westbrook. If they could sign Anthony that would be another asset to attract James but they have to keep a core of George and Westbrook. Retaining two top ten players would give James a good chance to beat Golden State, and getting Anthony would just be icing on the cake.
2. San Antonio Spurs
The Spurs are this High on the list because of Gregg Popovich and basketball phenom, Kawhi Leonard. You can never count out the spurs when it comes to the playoffs and winning.  Since James entered the league the Spurs have won 50 or more games every single season. They are the gold standard for consistency in the NBA. The draw for James here is the winning and not any business. The Spurs are in a smaller market, in an area that is not a media hub like Los Angeles.
James knows that joining the Spurs gives him a great opportunity to win. Teaming up with the two-time defensive player of the year and finals MVP in Kawhi Leonard, who is still young and just entering his prime, would be a great move. Keep an eye out for this team when James hits the market.
1. Los Angeles Lakers
The Lakers are on the forefront of the LeBron James rumor train. With his recent appearance at the NBA summer league to watch Lonzo Ball play, everyone is speculating on a move to Los Angeles for James. The big draw here is the after NBA career. LeBron James already has a house in LA and has mentioned before how he doesn't have anything left to prove on the court. Los Angeles opens a lot of after NBA opportunity for James and if he is playing the long game, it might be a good fit. Basketball wise, the Lakers are not the worst option. With two young players in Ball and Brandon Ingram and cap space to accommodate other players (George? Westbrook?), the Lakers could make a run in the playoffs if they signed James.
Main Photo
OAKLAND, CA – JUNE 12: LeBron James #23 of the Cleveland Cavaliers reacts against the Golden State Warriors in Game 5 of the 2017 NBA Finals at ORACLE Arena on June 12, 2017 in Oakland, California. (Photo by Ezra Shaw/Getty Images)