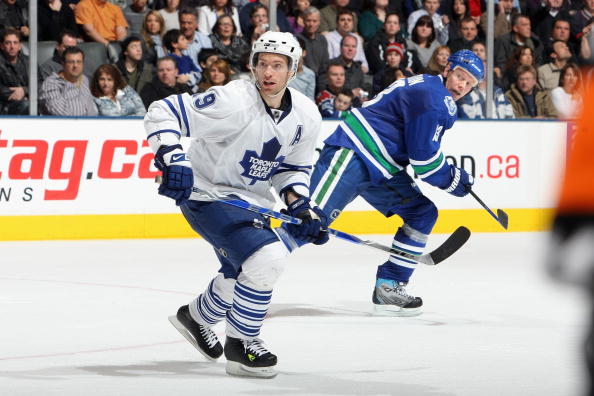 Some players can go their entire careers only playing for one NHL franchise. Others may play with three or four teams. That being said, some players have journeyed around the NHL with different teams in order to win the Stanley Cup. Who are two of the most notable journeyman? Mike Sillinger and Dominic Moore.
The Battle of the Journeyman: Mike Sillinger vs Dominic Moore
Mike Sillinger was drafted 11th overall in the 1989 NHL Entry Draft by the Detroit Red Wings. He played for 18 seasons. Over the 18 seasons he would play for 12 different teams, which is an  NHL record. He was traded mid-season eight times.
Those 12 teams are the Detroit Red Wings, Anaheim Mighty Ducks, Vancouver Canucks, Philadelphia Flyers, Tampa Bay Lightning, Florida Panthers, Ottawa Senators, Columbus Blue Jackets, Phoenix Coyotes, St. Louis Blues, Nashville Predators, and the New York Islanders.
Over his career, Mike scored 240 goals and 308 assists for a total of 548 points in 1049 games. Those totals are very impressive for a player who moved around a lot. He was probably never able to establish strong chemistry with any of his teammates.
In the 2006-07 season, Sillinger had his most productive season. He scored a total of 26 goals and 33 assists for 59 points in 82 games with the New York Islanders.
Despite playing for 12 different teams over an 18 year career, Sillinger never won the Stanley Cup. He retired following the conclusion of the 2008-09 season.
Although he has never won the cup, Sillinger still had a successful hockey career. Not everybody gets to play in the greatest hockey league in the world.
Dominic Moore was drafted 95th overall by the New York Rangers in the 2000 NHL Entry Draft. He has played for 12 seasons so far. In those 12 seasons, Moore has played for 10 different teams. He was traded five times mid-season.
Those 10 teams are the New York Rangers (2003-2006, 2013-2016); Pittsburgh Penguins; Minnesota Wild; Toronto Maple Leafs (2007-2009, 2017-Present); Buffalo Sabres; Florida Panthers; Montreal Canadiens; Tampa Bay Lightning; San Jose Sharks; and the Boston Bruins.
Moore's most productive season was in 2008-09 with the Toronto Maple Leafs/Buffalo Sabres. He scored 13 goals and 32 assists for 45 points in 81 games. Over his entire career, Moore has produced 100 goals and 170 assists for 270 points in 847 games.
Moore is known for being a faceoff and PK specialist. That is also why a lot of teams have used his services to help improve their depth. Also, Moore has some leadership qualities that can help teams going for a cup run.
Like Mike Sillinger, Moore has never won the Stanley Cup but came close in the 2013-14 playoffs with the New York Rangers when they made it to the finals, but ultimately lost to the Los Angeles Kings in five games.
Despite never winning a cup, Moore still has time. After joining a promising Leafs team he could potentially win a cup in the upcoming years.
Who's Better?
Sillinger and Moore have both played for 10 or more teams in their respective careers, but one is a better journeyman than the other.
While Moore is a faceoff as well as PK specialist he doesn't offer much skill or grit to the lineup. In some ways that could also make him a liability.
Sillinger, on the other hand, could fit in the top 9. He could also substitute for an injured player in the top 6. He has had a somewhat productive career.
For those reasons, Mike Sillinger is the winner of this battle. He was more productive in his career and played for more teams than Moore, though Moore still has a bit of time to tie or break Sillinger's record.
Main Photo: