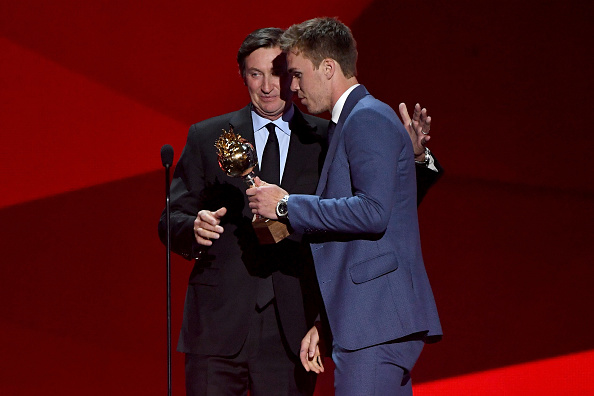 Every now and then the NHL has a player enter it's league that is like no other. They see the game like nobody else does. These players will typically lead their team to greatness and will go down in history as legends of the game. But who do you think will be the greater player? Enter, Wayne Gretzky vs Connor McDavid.
The Battle of the Captains: Wayne Gretzky vs Connor McDavid
Wayne Gretzky was never drafted into the NHL, with the fall of the WHA Gretzky's Edmonton Oilers joined the NHL and since he was under contract with them they were able to keep him, on his 18th birthday they signed him to an NHL contract.
Gretzky entered the NHL during the 1979-80 NHL season and he came in with fury. He scored a total of 137 points (51 goals and 86 assists) in 79 games. That was tied for first in the NHL and this was only the beginning.
Over Gretzky's 20 year career he went on to score 100+ points 14 times (13 in a row) and 200+ points in a season four times with his highest point total being 215 points in the 1985-86 season. He earned the Art Ross Trophy 10 times, the Hart Memorial Trophy nine times, and won the Stanley Cup four times (all with the Edmonton Oilers).
The Trade
Gretzky was traded after the 1987-88 season to the Los Angeles Kings alongside Mike Krushelnyski and Marty McSorley for Jimmy Carson, Martin Gelinas, and 1st round picks in 1989 (was traded to New Jersey who drafted Jason Miller), 1991 (Martin Rucinsky), and 1993 (Nick Stajduhar), and $15,000,000 (equivalent to $31,381,975.74 in 2017).
After the trade Gretzky only made it to the Stanley Cup Finals once with Los Angeles in 1993 but ultimately lost to the Montreal Canadiens in five games.
Gretzky also played for the St. Louis Blues and the New York Rangers but never played in the finals with either team.
He retired after the 1998-99 season after scoring 62 points in 70 games (his first season being below a point per game).
Final Statistics
Gretzky finished off his career with 894 goals, 1,963 assists, and 2,857 points in 1,487 NHL games leading the NHL all time boards in each category. Also if Gretzky never scored a goal in the NHL he'd still lead the NHL in points with 1,963 which is 49 points more than 2nd place Jaromir Jagr who has 1,914 points.
Connor McDavid was drafted 1st overall by the Edmonton Oilers in the 2015 NHL Entry Draft. Before being drafted McDavid was being called the "Next One" in referring to him being the next Wayne Gretzky.
McDavid entered the league during the 2015-16 NHL season and he produced 48 points (16 goals and 32 assists) in 45 games. McDavid only played for 45 games because of a broken clavicle.
In McDavid's 2nd year he produced a league high 100 points (30 goals and 70 assists) in 82 games. This earned him his first Art Ross Trophy and Hart Memorial Trophy. The 2016-17 season showed the league and it's fans what McDavid is capable of and has set new standards for what player development should look like.
Overall McDavid has 148 points in 127 games which in the current NHL is very impressive for such a young player.
Who's Better?
Both players have their own strengths an weaknesses but one is to great to be surpassed. Wayne Gretzky is the greatest player to play the game and unless McDavid can find a way to come close to Gretzky's point totals he will always be seen as less than Gretzky.
Gretzky is the all timer leader in goals, assists, and points so McDavid has a large hill to climb if he wants people to question who the better player is.
That being said, McDavid is still an amazing player and is on pace to be inducted into the Hockey Hall of Fame one day.
Main Photo: