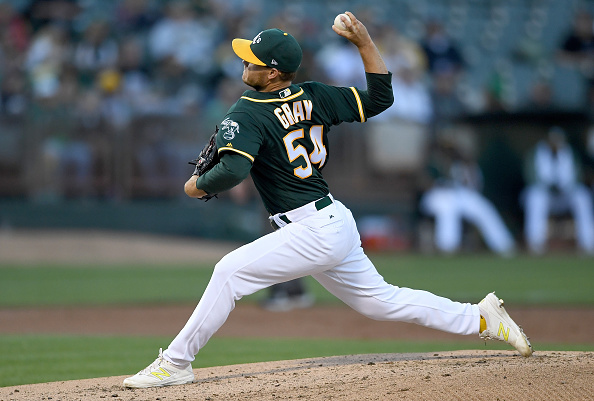 The Los Angeles Dodgers have been one of the best teams, if not the best team in baseball. They look unstoppable and have been a strong team since May. With star power and depth, this team is 65-29 and on top of the entire National League.
Three Los Angeles Dodgers Trade Deadline Targets
As dominating as they look, they aren't a lock to make the World Series come to October. They have a few areas that may need to be addressed before the regular season ends.With the trade deadline coming up on July 31st, they have a chance to make the right moves to give them an even better chance to make a deep run in the Fall.
These are the players the Dodgers should look to make a trade for:
Sonny Gray and the Dodgers seem like a perfect match for both sides. Gray should be one of the targets for the Dodgers.
Acquiring Gray will help solidify the Dodgers' rotation for the foreseeable future. This season, Clayton Kershaw and Alex Wood have led the way and dominated opposing batters. Wood has exceeded everyone's expectations. Brandon McCarthy has been solid while Kenta Maeda and Hyun-Jin Ryu have had ups and downs.
If the current rotation keeps up or gets better, Gray may not be needed right away this year but the future isn't crystal clear. Julio Urias injured his throwing shoulder and needed surgery. His career might derail and never reach the potential he has. Rich Hill is 37 so someone will need to replace him soon.
Gray is 27 and is controllable until 2019. This year, he's 5-4 with a 3.72 ERA and 1.16 WHIP. He is averaging 8.4 strikeouts per inning, second highest since his rookie year. Gray's been pitching well this season and he should be a nice upgrade for the Dodgers. It might cost a pretty penny but it could be worth it.
Zach Britton is one the baseball's best closers. Wait, don't the Dodgers also have one of the best closers in baseball as well? Yes, they do in Kenley Jansen.
The Dodgers are reported to have an interest in Britton per Jon Heyman of FanRag Sports.  A tag-team with Jansen is unthinkable. A talented dynamic duo that gives Jansen goosebumps thinking about it.
Talking to Heyman, Jansen expressed what he thinks about the Dodgers' interest in Britton:
"Man, that would be awesome," said Kenley Jansen, the game's best closer when informed the Dodgers had at least had a conversation with the Orioles. "You just gave me goose bumps."
Britton recently returned from an arm injury and has pitched in 13 games. Last year, Britton had one of the best seasons for a closer ever. In 64 innings, he had a 0.54 ERA and only gave up four runs the entire season.
With the season Jansen is having himself, adding Britton for the eighth-ninth inning combo is devastating for opposing teams.
Another potential ace for the Dodgers to consider. Gerrit Cole has a ton of potential and he is only 26.
While his season stats aren't pretty, (7-7 with 4.35 ERA and career high 20 HRs given up) Cole has shown his talent and potential in the past. He is controllable until 2020 and should fall right into being the 3rd pitcher in the rotation.
Hill has pitched well as of late but his slow start is a bit of a concern. However, with Cole's performance this season, is it worth the risk with the Dodgers rolling?
The former 1st pick out of UCLA is an intriguing player for the Dodgers to look at. It could out really well and set the Dodgers for a long time or end horribly and the team is left with less big-name prospects.
In the end
The Dodgers are the best team in baseball. While other teams make trades to catch up, the Dodgers can make trades to solidify them a World Series appearance. All theses three targets are really good pitchers and will cost a lot to get.
With that in mind, the Dodgers might not bite and go for lesser name players instead. Even if it doesn't happen, adding Gray, Britton or Cole would improve the team drastically.