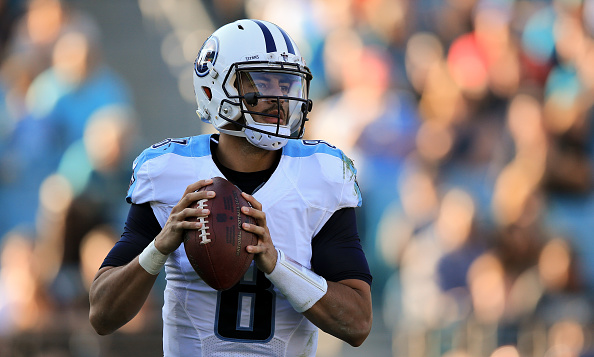 The quarterback position is the most coveted position in sports. The spotlight is always on the signal-caller, with many games being won or lost directly because of his decision making. The same can be said for fantasy football as well. Quarterbacks score the most points out of any position player in fantasy. For this reason, most elite options at quarterback are taken early in drafts. Players such as Tom Brady, Aaron Rodgers and Drew Brees are going off draft boards almost immediately. If you are not able to grab an elite option like one of those three, don't panic. Quarterback is also the deepest position in fantasy. Here are three options who are ranked outside the top 10 of ESPN.com leagues that could easily finish as elite fantasy options.
Three Fantasy Quarterback Bargains for 2017
Marcus Mariota, Tennessee Titans, Rank by ESPN.com: QB 16
Mariota is coming off a broken leg that he suffered against the Jacksonville Jaguars at the end of last season, and that is the only thing hurting his draft stock. Mariota's athletic prowess and his ability to escape the pocket helped him finish the 2016 season with the sixth most QB rushing yards. His powerful yet extremely accurate arm gave him an impressive 26:9 touchdown to interception ratio. He finished last year as the number 13 ranked quarterback on ESPN.com with his best wide receiver being former Dolphins Rishard Matthews. This offseason, the Titans added rookie Corey Davis out of Western Michigan in the draft and former Jets red zone threat Eric Decker in free agency. Decker is a huge addition for Tennessee, supplying them with another big target along with tight end Delanie Walker. Mariota was already incredibly impressive the red zone, as this stat from NFL.com shows.
Stat of the Day:

In his career, Marcus Mariota has 33 TDs and 0 INTs in the red zone pic.twitter.com/90W7meBcDZ

— NFL Stats (@NFL_Stats) 6 July 2017
With the addition weapons and his continued growth, there is no reason why Mariota won't finish as a top 10 fantasy option and it is absurd that he is being ranked as a mid tier backup in most formats. Mariota will be the steal of your draft at this asking price.
Philip Rivers, Los Angeles Chargers, Rank by ESPN.com: QB 14
Rivers is one of the more consistent quarterbacks in the NFL, yet every year he is always underrated. He has not missed a start since becoming LA's starter in 2006, showing his great durability. His field vision allows him to find receivers with impressive accuracy, completing over 60 percent of his passes a season ago. Some may be scared because of his age (35), but just last season he threw for the second most touchdowns in his career.
One of the questions surrounding the Chargers as a whole is the health of their receiving corps. Keenan Allen has all the makings to be an NFL star, but can't seem to stay on the field. Their first round pick Mike Williams from Clemson missed most of OTA's due to a back injury. If these receivers can stay healthy, the Chargers could have one of the best passing games in the league. Allen and Williams are only part of a stack receiving corps, also featuring Tyrell Williams, Travis Benjamin and Dontrelle Inman.
Then there are the tight ends. Antonio Gates will go down as one of the greatest in league history and is most likely going to hang up the cleats soon, but still has plenty to contribute. The real buzz from the tight end spot has been coming from second year player Hunter Henry. Henry caught eight touchdowns last season playing second fiddle to Gates. This year, the stage is all his and it should be almost expected for him to catch double digit touchdowns.
What does all this mean for Rivers? Simply put, it means that you can expect another top 10 season from one of the best game managers in the league.
Carson Wentz, Philadelphia Eagles, Rank by ESPN.com: QB 17
Wentz was drafted second overall by Philly last season, and made an immediate impact as a rookie. He was taken right after LA Rams quarterback Jared Goff and clearly outperformed Goff this past season.He threw for nearly 3800 yards and 16 touchdowns as a rookie. He would have generated a lot more buzz, but he was outshined by Dallas Cowboys QB Dak Prescott. Wentz has all the tools to make a second year leap. His big build allows him to take hits in the pocket and still deliver the ball to his receivers, while his cannon of an arm can hit them anywhere on the field. His athleticism is also extremely underrated, as he is able to scramble and hit his targets on the run with ease. He is also not always seen as the most accurate quarterback, but that was in large part due to other circumstances, according to ProFootballFocus.
Carson Wentz was more accurate on targeted passes than his completion percentage would suggest as a rookie pic.twitter.com/oO7TkQX1Fq

— Pro Football Focus (@PFF) 8 July 2017
Last season Wentz finished low in the quarterback scoring ranks, but his best option at wide receiver was Jordan Matthews. This offseason, the Eagles went out and signed former Bears receiver Alshon Jeffery and former 49ers receiver Torrey Smith. Add them to a lineup that includes Matthews and stud tight end Zach Ertz and the Eagles made a very formidable passing game. They also added running back LeGarrette Blount to their backfield. Blount was a touchdown machine last season, scoring 18 touchdowns on the ground with the New England Patriots.
The Eagles offensive line is also great, being ranked the top O-line in the league by ProFootballFocus. Wentz could see a number jump similar to Raiders' quarterback Derek Carr in between his rookie and sophomore seasons. Carr's fantasy numbers increased 41% in between those two seasons. If that happens for Wentz, he would finish with 301 points, which would have been good for QB5 last year, according to ESPN's senior fantasy analyst Matthew Berry's article 100 Facts for the 2017 Fantasy Football Season. While a jump of that magnitude might be a little far-fetched, it is easy to see Wentz finish as a top 10 quarterback this season.
Main image credit: