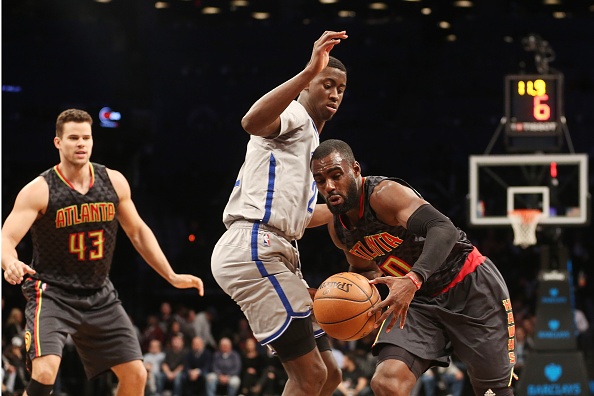 The Knicks signed restricted free agent, and son of former Miami Heat point guard, Tim Hardaway Jr. to a four-year, $71 million offer sheet last week. The Atlanta Hawks refused to match the offer, making Hardaway Jr. a New York Knick. The deal also includes a player option for the fourth year and a 15% trade kicker. This means that if Hardaway is traded, his contract will go up by 15%. Social media was full of negative reactions, indicating that the Knicks overpaid on the deal. However, this is what has to be done to sign a restricted free agent.  Here are five reasons this was the absolute right choice by Knicks.
Signing Tim Hardaway Jr. is Perfect for the Knicks
1. Hometown Loyalty
It is important to know that Tim Hardaway Jr. is actually from Miami. However, he does have a connection to New York, as he was drafted by the Knicks with the 24th pick in the 2013 draft. Hardaway was a rookie sensation, posting 10.2 points on 1.6 three pointers made per game. He also did well in his second season. Hardaway put up 11.5 points, with 2 rebounds and assists per game. Hardaway was considered the best player on the team that year, as Carmelo Anthony only played in 40 games due to a knee injury.
The following summer, in the 2015 draft, Phil Jackson decided to make a trade. A three way trade was made, where Hardaway was sent to the Hawks, and Jerian Grant went to the Knicks, who was traded a year later for Derrick Rose.
At first, Hardaway struggled in Atlanta, but in the 2016-17 season, after the All Star break, he was able to put up 20 points per game, showing his scoring touch.  It is a risky move to leave a team you break out on, as the different offense may slow you down, but it looked like Hardaway didn't care. Hardaway reportedly cried when he heard he was traded away by the Knicks. He loves the franchise and now, he is back with them.
2. Scoring
In the second half of the 2016-17 season with Atlanta, Hardaway managed to light up the score boards, scoring 20 points per game. It currently does not look like the Knicks need scoring, but this might change. As of now, he is a Knick, but the Carmelo Anthony trade rumors are heating up. If the Knicks lose their dynamic scorer, they will need someone to help Kristaps Porzingis carry the load on offense.
Hardaway has shown the ability to do that. Even on the Knicks there were some games where he looked completely unstoppable. The Knicks need this as Porzingis can be ininconsistent. If Porzingis is having an off-night, and Anthony is in a different uniform, the Knicks would have no high end scoring options. Now with Hardaway back, he will be able to fill that role. This is all a what-if scenario, as currently, Carmelo Anthony is very much a Knick. If the Knicks can work out a deal with the Cavaliers or Rockets, this what-if scenario become reality.
3. (Semi) Big Name Free Agent
First of all, no, Tim Hardaway Jr. is not an all-star, and for a while this past season he was not even a starter. Starting 30 out of his 79 games played does not make him a big name free agent. However, he does have some recognition. Hardaway made a name for himself with some exciting dunks during the playoffs. He is still very young, at 25 years old and it was his first time in playoffs, Hardaway did not do badly at all.
After the first round playoff loss, Hardaway returned to New York, where his name was everywhere. He was a fan-favorite in New York, and people still wore his jersey after he was traded. Knicks fans saw hi potential as a scorer. They thought of him as the successor to Carmelo Anthony.  Knicks fans felt they were losing something special when Hardaway left the team. They watched Hardaway suit up every night, as they saw their only scoring option not named Carmelo Anthony.
Knick fans also cheered him on when in the rising stars game, he battled it out against Dion Waiters. Another reason why this was such a painful blow to every Knick fan when Hardaway got moved, was Carmelo Anthony publicly stating his sadness on Hardaway leaving. Anthony saw the potential. So, no, Hardaway is not a big name free agent, but he is to Knick fans.
4. A Different Man
In the 2015-16 season, Tim Hardaway Jr. was in and out of the NBA G-League (then known as D-League). The reason for this was his defense. Hardaway was thought to be Carmelo Anthony's successor, and that meant, like the current Melo, very little defense. He was told time and time again by Hawks head coach Mike Budenholzer, to step his game up on defense.  Hardaway Jr. lacked defensive ability, and lacked his care on defense.
This is another reason why the Hawks were shy to bring him back. Though, throughout last season and this current off-season, Hardaway has worked tirelessly to end his defensive problems. Timmy has devoted his summer to becoming a defensive presence, which is something the Knicks are desperate for. Expect Hardaway to give it his all on defense when he comes back in October.
5. Youth Movement
This summer, the Knicks started to do something that has not been done in a while. They are improving their future. General manager Steve Mills has put youth as the most important factor in this Knicks team. Right now, the Knicks starting 5 looks like it will be Ntilikina, Hardaway, not Carmelo Anthony, Porzingis, and Hernangomez.
Anthony is still scheduled to suit up in the Orange and Blue, for now. The Knicks are in serious talks with the Rockets and Melo could be traded in the upcoming days. With this, the Knicks will probably receive a nice young wing. This will either move Hardaway to small forward or having their new wing play the 3. Either way, the Knicks small forward will probably be in his 20s. To make matters better, the terrible Eastern Conference means a super young Knicks team can go to the playoffs. This would give them playoff experience early on, and it will be helpful down the road.
The Knicks have been doing the right things this off-season, both exiling dictator Jackson, and getting young.  For the first time in 30 years, the Knicks front office is competent.
Main Photo: