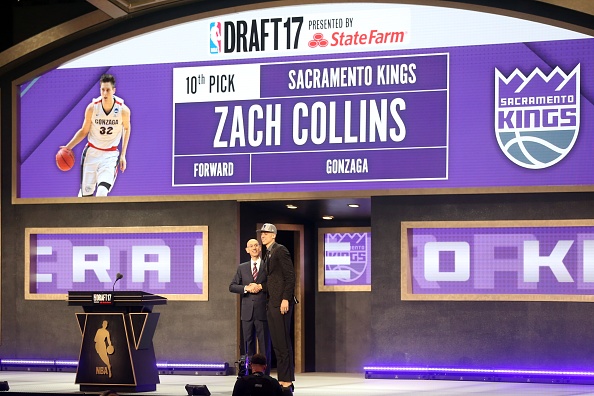 The Sacramento Kings have been the NBA's wasteland for nearly a decade.
Despite having some great players, there was little team success. They were unable to build a team around DeMarcus Cousins and the franchise overall was dysfunctional—to the point where there was a legitimate threat of relocation.
Sacramento Kings Finally Going in the Right Direction
But Kings general manager Vlade Divac appears to be correcting the course.
He traded DeMarcus Cousins to the New Orleans Pelicans for then-rookie guard Buddy Hield and a first-round pick in the 2017 draft. It was clearly a lopsided deal, but it was a sign the Kings are ready to commit to a rebuild.
In the very short term, Hield blossomed in the final months of the season. In the short term, it gave the Kings two of the first ten picks in the draft. Those picks became De'Aaron Fox—a fantastic young point guard—and seven-footer Zach Collins.
In the draft, they traded with the Portland Trail Blazers to get their first-round pick, small forward Justin Jackson. This was clutch for two reasons: 1) Rudy Gay is on his way to San Antonio, Jackson can replace his slot. 2) Jackson becomes their third lottery pick.
Then, they picked up Frank Mason III—a point guard with a great shot—in the second round. It's one of the biggest steals of the draft.
Those draft picks alone would be enough to set a solid foundation, but Divac wasn't finished.
As mentioned, Rudy Gay is leaving Sacramento, which is probably more of a good thing, given his style of play.
Vince Carter, Zach Randolph and George Hill have all reportedly agreed to sign with the Kings and Javale McGee is scheduled to meet with the Kings, according to NBA Free Agent tracker.
Those four players have experience and McGee is the only one who hasn't held a leadership roles. This means they'll be perfect mentors for the up-and-comers, but they can also produce – George Hill especially, who could've had an all-star year if not for injuries. These are qualities the Kings didn't always have in previous years.
Given the NBA landscape, Sacramento likely won't be in the Western Conference playoff picture for at least two seasons. But the Kings have finally set a solid foundation to attain the NBA throne.
Main image credit: