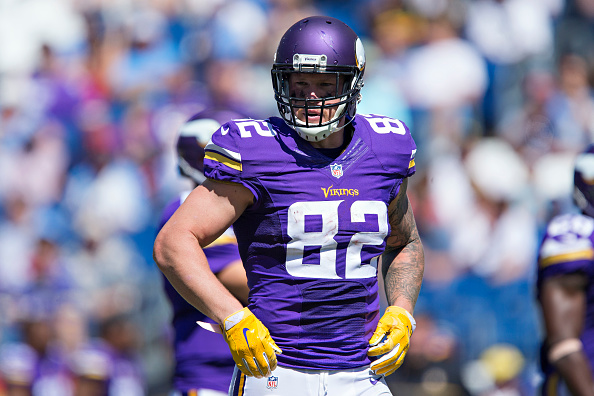 Sometimes great NFL players can go unnoticed by national sports media when their other teammates are getting the majority of the coverage. They may not be the most talked about or best player on their team, but here are 10 players who make huge impacts on their team and are "under the radar" stars. This is based largely on production last season and how much media coverage each of them received.
10 Under the Radar NFL Players
Kyle Rudolph (Minnesota)
Kyle Rudolph had the 3rd most receptions among Tight Ends in the NFL (83) while also snagging 7 touchdowns, and protecting the football with no fumbles. Rudolph had the best season of his career with 840 receiving yards. He also caught 62% of targets. On the Vikings, he had the 2nd most receptions and 3rd most receiving yards, behind wide receivers Thielen and Diggs. Expect him to have another big season as QB Sam Bradford continues in his 2nd season on the Vikings.
Pierre Garcon (San Francisco)
Garcon had 79 receptions and over 1,000 receiving yards in the 2016-2017 season on the Redskins. He also caught 69% of his targets. Garcon will likely have a starting role at his new home on the San Francisco 49ers. Garcon's production could decrease as the 49ers will have a new quarterback in the system, Brian Hoyer. It is also possible that he sees increased targets as he will no longer be competing with Desean Jackson and he is the most veteran WR on the 49ers. We will have to see how Hoyer adjusts to the system, with this being his 6th different team over the past 8 seasons.
Cole Beasley (Dallas)
Even though Dez Bryant is the favorite Cowboys WR, Beasley led the Cowboys with 75 receptions (22nd among WRs), and 833 yards. Beasley managed to stay healthy and played in all 17 games. He averaged 52.1 yards per game which helped take some pressure off Dez Bryant and opens up the running game for RB Ezekiel Elliott. He caught 77% of his intended passes to the 52% of Dez Bryant. This was the best season of Cole Beasley's career, and is largely overshadowed by the great seasons had by Zeke Elliott and Dak Prescott.
Frank Clark (Seattle)
Clark only started 5 games this season yet, was able to rack up 10 sacks which is tied for 15th in the NFL—right behind rookie sensation Chargers defensive end Joey Bosa, who had 10.5 sacks. Clark also managed 2 forced fumbles and 1 fumble recovery. Frank Clark did all this in only his 2nd season in the NFL. He also had 47 combined tackles, which is 7th most on the Seattle Seahawks. It will be interesting to see what Clark does next year, as the Seahawks hope to make a deep playoff run.
Matt Bryant (Atlanta)
Regular season MVP QB Matt Ryan and stud wide receiver Julio Jones get all the love but what about their kicker? Bryant managed to make a remarkable 92% of his field goals (4th highest of kickers) and his longest FG made was 59 yards (2nd longest FG made last season). He made 98% of his extra points as well, only missing one. Did I mention he kicked 56 extra points, 7 more than any kicker in the NFL last season? Let's not forget the Atlanta Falcons were the #1 scoring offense and played in Superbowl 51, of course relying on the help of their great kicker. Did I mention he has a mean beard game?
Carlos Dunlap (Cincinnati) – Carlos had 15 passes defended last season which was the 13th most in the league. That stat lands this defensive end in a group of defensive backs. This was also 7 more than the next player at his position. Dunlap also had 29 defensive hurries which was the 8th most in the NFL. Carlos Dunlap sacked the QB 8 times which was 2nd most on the Bengals. In a league with very talented DE's and in Dunlap's 9th season, I wouldn't suspect he will be at quite the same level next year.
Benardrick McKinney (Houston)
Playing on the same team as Jadeveon Clowney, JJ Watt, Whitney Mercilus, and Brian Cushing means you will be neglected in media coverage. McKinney managed to lead the #1 defense in tackles and was 11th in the NFL with 129 total tackles. He also had 5 sacks and 1 forced fumble. Benardrick made huge strides, having twice as many tackles in his 2nd NFL season as compared to his rookie year (63). He also blocked 2 passes. McKinney did all this and managed to play all season without injury. I think we can expect big things from him next season as JJ Watt returns to the limelight—I mean lineup.
Steven Nelson (Kansas City)
Steven is easily overlooked as he plays on a stacked defense with Justin Houston, Eric Berry, and Marcus Peters. In 2016, the Chiefs defense allowed the 7th least amount of points per game. Contributing to this, Steven Nelson managed to defend 16 passes, the 9th highest in the NFL. In his second season in the NFL he also started in 16 games. The Chiefs defense also boasted the 3rd lowest percentage of opponent completion percentages (their opponents only caught 59.9% of their passes). One of these factors is Steven Nelson and his ability to deflect the pass. We should expect to see more of this talented CB next year as well.
Kenny Stills (Miami)
Remember that Kenny Stills plays on the same team as Jarvis Landry and Jay Ajayi. These two received more of the NFL press coverage, especially after the incredible season Ajayi had. Stills' impact on longer passes was great, ending up 3rd in the NFL with 17.29 yards per reception while Landry had 12.09. Stills only caught 51% of the passes intended for him but hopefully with a healthy QB he can improve. His 726 yards and 42 catches are 2nd best in his career. Kenny Stills was the 3rd leading receiver on the Dolphins and we can expect even better from him next year with QB Ryan Tannehill back.
CJ Mosley (Baltimore)
On the Ravens defense, CJ Mosley was tied for 1st in interceptions (4) with Safety Eric Weddle. This last season he showed that he's a linebacker with some hands. He also tied for 2nd in passes defended (8). CJ Mosley also had the 3rd most tackles on the team. In addition, Mosley had a forced fumble and a fumble recovery on his stat sheet. The Ravens may have gone hard in the draft for defense (5 of their 7 picks were defenders) but don't forget about Mosley when watching Baltimore's defense next season.
Do you agree with these under-the-radar NFL players? Are there others that belong on this list? Be sure to comment below.
Main image credit: