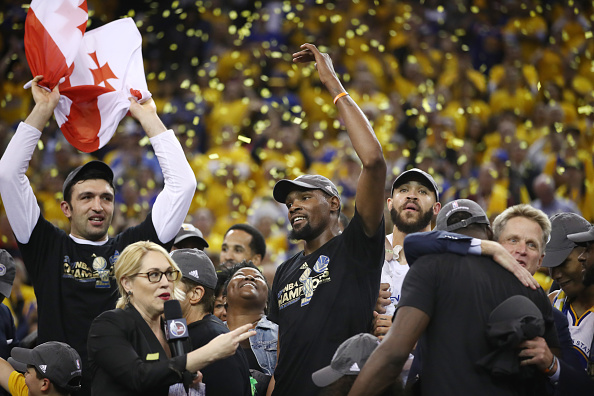 Some people are down on Kevin Durant and the Golden State Warriors. However, neither K.D. or the Warriors started this "super teams" trend. Many will point to LeBron James with a judgmental finger and blame him and the Miami Heat. People will say that he, Chris Bosh, and Dwayne Wade put this all in motion. Or perhaps, one will go back even further and point that judgmental finger at the Boston Celtics. After all, they employed Kevin Garnett, Paul Pierce, and Ray Allen. Aren't they behind this?
3 Future Repercussions of "Super Teams"
The truth is we are behind this. The fans, media, and the Hall of Fame voters. This is a dilemma we have brought upon ourselves as a collective whole. We only consider a player great based off the number of championships they have won. That is why we all have to endure hearing Joe Namath tell his tired story over and over again. We know Joe, you "guaranteed victory." We also know that you threw nearly 50 more interceptions than touchdown passes. Who cares about that though? He won a Super Bowl and looked good in pantyhose so they put him in the Hall of Fame. We brought this on ourselves and it is a trend that may be here to stay with some long lasting effects.
The Rich Will Get Richer
The easy thing to do is frown upon the Warriors. Truth be told, they drafted most of their roster. They used the draft to get Stephen Curry, Klay Thompson, and Draymond Green. Did they need a player like Kevin Durant to put them over the proverbial top?  They absolutely did not. However, can you name a team that would turn down signing Durant if he knocked on their door?
Small market teams will continue to lose players because they cannot afford to build a team around a top tier drafted talent. The chances of Anthony Davis staying in New Orleans are slim and none and slim may have left town with his mistress. The same can be said for Andrew Wiggins in Minnesota. These players are premier talent that their teams cannot afford to sign a strong supporting cast around. After their rookie contracts expire they will leave the teams that drafted them. The ripple effect is that those teams must once again start from scratch and remain in the basement of the NBA.
Mind Numbing Amount of Roster Change Each Season
What happens when these teams can not afford to build around a drafted talent? Rather than let that player walk away via free agency, they proactively trade him instead. The trade usually consists of draft picks, expensive aging veterans, or an assortment of lesser talent. One can not blame these teams for reacting this way. If they are aware of the players intentions to leave after their contract ends why not get something for the player instead? Sure, they are getting nowhere close to what they should for these players but at least it is something.
This is only going to become a more prevalent practice as "Super Teams" gain in popularity among players looking to get over that championship hump. Thanks to the current thinking this is the only way a player can attain that legacy level that places them in the "GOAT" discussion. Trading for this elite talent is a way for teams get out from under aging veterans expensive contracts or get rid of a player that did not develop as they thought he would. This leads to a copious amount of moves each season for each roster. This in effect trickles through the franchise from the coaches, to the players, and ultimately to the fans. There is no continuity anymore and rarely does your team's hero stay there for their respective career.
Possibility of the NBA Using Franchise Tags
The only tool that small market teams have in retaining their talent is they can offer more money to the player than any competitor is allowed. In today's NBA, players can make significantly more money in endorsements than their NBA contracts. The extra money is not a big enough deterrent for these players to stay. Eventually there is going to need to be a system in place that allows teams to keep the elite talent players they draft.
Enter the dreaded franchise tag. Players deserve the right to negotiate their contracts and make as much money as possible during their brief careers. It seems superfluous to argue over a few million dollars when fireman, teachers, and nurses make significantly less. As a nurse I feel this too but, thirty thousand people do not fill my hospital to watch me wipe asses and Nike has not issued any shoe deals to medical professionals so-it is what it is. Anyone working for a living deserves the right to negotiate their worth and these players are no different. The franchise tag will rob them of that right but allow for smaller market teams to be competitive. This will help raise revenues for this smaller market teams and possibly eventually allow them to compete in the global market.
Closing Thought
As a Philadelphia 76ers fan I have known, for nearly the past 20 seasons, that my team had zero chance of competing for a title. There are significantly more teams that reside in this purgatory than you would think in the NBA.
In evaluating the past 10 NBA seasons a pattern emerged. 43% of NBA franchises have had losing records at least five seasons over the past decade. In the same decade 23% of these franchises have had losing records for at least seven seasons. Two franchises have actually possessed losing records for the entirety of the decade. To make that simple, nearly one-half of the all teams in the NBA have ended the season with a losing record five seasons out of the past ten. I understand that this isn't an issue related solely to the NBA. However, no other sport in the world is affected by a single player greater than the NBA.
The NBA has nearly priced itself of a majority of fans pockets to see a live game. Unless you want to watch one of the hapless teams play, see there is that dilemma I was speaking about above. So why have such a lack of disparity that nearly half the fans of the NBA know, with the entirety of their souls, their team has zero chance of winning a title a each season?
Main Photo: