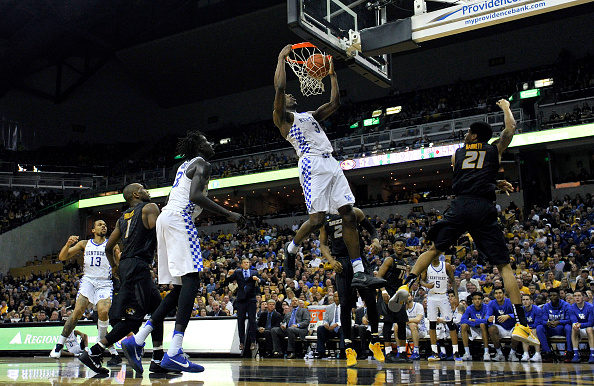 On June 22, the Miami Heat used their draft pick, number 14, to select Edrice Bam Adebayo, from the University of Kentucky. This pick was met by jeers from Heat fans worldwide; questions by regular NBA fans; and doubt of the 6'10", 243 pound center. Despite all of this, Pat Riley once again made a marvelous decision. Here are five reasons why:
Bam Adebayo is the Perfect Pick for Miami
Environment
Anybody who is familiar with the Heat, knows about their amazing second half of the season. They finished the year with a 30-11 record, second only to Golden State's 32-9. They composed one of the league's top five defenses and offenses during that span. The Heat found diamonds in the rough in Dion Waiters, James Johnson, Tyler Johnson, Wayne Ellington, Luke Babbitt, Willie Reed, and others. Of course a lot of this can be contributed to coach of the year candidate, Erik Spoelstra. Without doubt, he will be coaching the Heat again next season. Adebayo has a history of great coaches, learning from the great John Calipari. Calipari and Spoelstra are currently two of the elite basketball coaches in the world.
Adebayo flourished in Calipari's system, putting up 13 points, eight rebounds, and two blocks on a nightly basis. Although in Kentucky, he only put up 13 and eight (still fantastic numbers), he did so while the team averaged 84.9 points and 39.8 rebounds per game. In Miami, despite backing up Hassan Whiteside, he is sure to put up better numbers, being given more chances. Under Spoelstra's coaching, the Heat averaged 103.2 points and 43.2 rebounds per game. Both of these stats are set to definitely improve with a guy like Adebayo coming in.
Miami is known for giving young players a chance to blossom. They showed this all year long, with a group of "nobodies" coming together to form a great nucleus. Adebayo will find great opportunity with this Heat team, for sure.
Improving the Team
The Miami Heat locked down opponents all of last season. They held teams to the least three-point attempts and makes this season, as well as the lowest percentage. Teams shot 34.3% against the Heat this season, showing a spectacular perimeter defense already in place. The Heat's opponents also had the fifth-least two-point percentage, at 49%. Imagine how much better this can get with another shot blocking, rim protecting center when Whiteside steps off. Adebayo will be able to help the defense improve. He averaged 1.5 blocks a game and lowered his opponents field goal percentages in college.
The Heat were also 15th in the league in rebounding last year. Their opponents averaged the same exact rebounds per game as they got against other teams (43.6). The Heat need a player alike Adebayo. He can box out other players, reach for the ball, (with his 7'3″ wingspan) and out hustle other players.
Free Agency effect
Per ESPN, Gordon Hayward and the Miami Heat have mutual interest in each other. Adebayo was drafted over several power forwards and small forwards. Some by the name of OG Anunoby, Justin Jackson, D.J. Wilson, T.J. Leaf, Harry Giles, John Collins, and Terrance Ferguson. These guys are great talents, but if Miami were to draft them, it could ruin their shot at Hayward, as well as the Heat's desire to re-sign James Johnson and Dion Waiters. Justin Patton and Jarrett Allen were the only real other considerations for Miami. They chose Adebayo over them because his style matches Miami better, and he fulfills their needs.
The Heat were in need of a center, and with Willie Reed looking for a big contract, they resolved that problem. They won't overpay Reed. With Adebayo in Miami, he's as good as gone. Having only $35 million in cap room, the Heat have to find a way to keep their guys, and get Hayward. Having Adebayo solves the backup center issue. It also prevents a log jam at the forward spots. Assuming Hayward signs for a maximum contract (which would be $29 million with the Heat) the team will be left with approximately $6 million to work with. The Heat could use that on James Johnson. They could also opt not pick up Wayne Ellington's option and be left with another $6 million for Waiters.
The Heat could potentially have a contending team. The starters would include Goran Dragic, Waiters, Hayward, Johnson, and Whiteside. They would also have a ton of depth with Justise Winslow, Tyler Johnson, Josh Richardson, Luke Babbitt, and of course, Adebayo.
Growth
Pat Riley said when they brought in Adebayo for a workout, he was shooting threes. Not only was he shooting them, but he was making them. According to Riley, he shot 30/50 threes, and showed a consistent jumper. Adebayo had lost fifteen pounds from college to the NBA combine. He went from 258 pounds, to 243, which will definitely help in coach Spoelstra's system. He also has an improved wingspan of 7'2 and 3/4″. His college measurement was 7'1 and 1/2″.
Franchise Youth
The Miami Heat now have a very nice looking future. As Whiteside is 28, having a great, 19 year old center is important for the future. Not only do they have Adebayo, but they also have young guards in Richardson, Waiters, and Johnson. Neither of the three are above 26 years of age. Lastly, Winslow, the former tenth overall pick in the draft, and one of the better defenders in the game, is a consistent jumper away from a fantastic player. Winslow is 21- years-old and a very bright prospect. Not only can the Heat be great now, but can be in the future too. The organization is set for at least the next few years.
Main Photo: