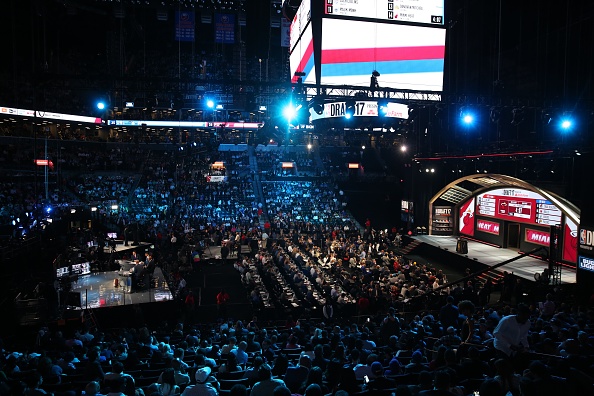 After 60 picks, many teams in the NBA will have some news looks. Here are the biggest winners and losers following NBA Draft night.
Winners and Losers From the NBA Draft
Winner: Charlotte Hornets
The Hornets acquired Dwight Howard along with the 31st pick in the draft in a trade for Miles Plumee and Marco Belinelli earlier this week. Howard looks to be an upgrade at center over Roy Hibbert. They also picked Malik Monk with the 11th pick in the draft.
Monk was widely regarded as a top seven pick and the best shooter in this year's draft. His shot is lethal because of his quick trigger. He is effective as a spot up shooter or off the dribble in the pick-and-roll game. Monk has a nice floater and some athletic traits to work with to help him improve his ball handling. Pairing him with Kemba Walker in the back-court and Dwight Howard down low should make Charlotte a lot more fun to watch this season.
Loser: Chicago Bulls
The Bulls traded star guard Jimmy Butler and the 16th pick in the NBA Draft for Zach Levine, Kris Dunn, and the seventh pick. They used the pick to select Lauri Markkanen.
The package they received for Butler seemed underwhelming on its own, but they made it a even worse by reaching for Markkanen with the seventh pick. Kris Dunn had a disappointing rookie year and Dennis Smith Jr. was on the board at seven. The Bulls would have been better off with a deal that did not include Dunn and kept the 16th pick.
With the Bulls going into rebuilding mode, keeping the 16th pick would've been huge. They could've ended up with Dennis Smith Jr at seven. They then could have taken D.J. Wilson, John Collins, or T.J. Leaf at 16. Granted, Markkanen is a better prospect than any of those options, but Wilson, Collins, or Leaf at 16 is better value than Markkanen at 7.
The Bulls will now be betting their future on Kris Dunn at point guard, Zach Levine at combo guard, and Lauri Markkanen at the stretch four and that's not a safe bet to make.
Winner: Minnesota TimberWolves
The T-Wolves already had a bright future with Karl Anthony Towns and Andrew Wiggins highlighting their starting five. Now they added three time all-star Jimmy Butler to take them to the next level. Along with Butler, they also managed to get the Bulls 16th pick in the draft where they selected Justin Patton to add depth to their front court.
Butler is one of the top shooting guards in the league and he will fit into Minnesota's offense like a glove. Now Andrew Wiggins won't have as much pressure on him to be THE man. Karl Anthony Towns can continue his development towards becoming one of the top big men in the league.
Loser: Sacramento Kings
The Kings had the fifth and 10th picks in this year's NBA draft. Two picks in the top 10 for a rebuilding team should be a dream come true. However, the Kings left a lot of talent on the board. Picking De'Aaron Fox at 5 is too risky and not worth it, given the talent they are getting.
Fox gets John Wall comparisons because he's fast and can not shoot. Wall was a better shooter and faster coming out of college so, those comparisons aren't fair. Fox really struggles playing off the ball which is important in today's NBA. His lack of shooting will limit his production as a driver. Picking Jonathan Isaac or Dennis Smith Jr. would have been a better move.
The Kings also passed on Malik Monk to take Zach Collins. Collins is a much safer pick than Fox, but Monk is a more talented player. They could have ended up with either Isaac or Smith at 5 and Monk at 10. This would have let the Kings come away a big winner. Instead they took players in Fox and Collins who yield an improper balance of talent, risk, and reward.
Winner: Philadelphia 76ers
The Sixers traded the third pick in this years draft and either the Lakers 2018 first round pick or the better of the Kings and Sixers 2019 first round picks to the Celtics for the top pick in this years NBA Draft. Both the Lakers and Kings picks are top one protected. They picked the the top player in the draft in  terms of both talent and fit in Markelle Fultz.
Fultz is the perfect modern NBA guard offensively. He is an excellent ball handler; can create his own shot; can shoot from the perimeter; works the pick-and-roll to perfection; and can play off the ball. He would not only fit in nicely alongside back-court member Ben Simmons, but would would be a thing of beauty running the pick-and-roll and pick-and-pop with center Joel Embiid.
Health is now the only thing standing in the Sixers way as a lineup of Ben Simmons, Markelle Fultz, Robert Covington, Dario Saric, and Joel Embiid. They should surface as one of the top teams in the East once the team gels.
Loser: Everyone but the Warriors
The rich get richer as the Warriors picked up the best interior defender in the draft in Jordan Bell, 38th overall. The worst part about it is they didn't even give up any players or picks. They spent $3.5 million to obtain his draft rights.
The Warriors were already building a dynasty with Stephen Curry, Kevin Durant, Klay Thompson, and Draymond Green leading them to a second championship in the last three years. Now they've addressed arguably their only weakness in front court play. Good luck everyone else.
Main Photo: