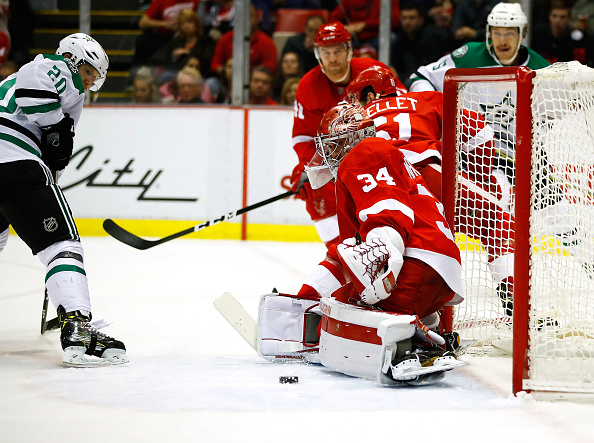 Early Sunday afternoon, The Las Vegas Golden Knights got their first look at who will be available to select for their first ever official roster. On June 21 2017, the NHL's newest franchise will unveil it's inaugural roster. Among the obvious players about to selected are Predators winger, James Neal and Penguins goaltender, Marc-Andre Fleury. After them and a few others it gets a bit trickier. Teams like the Ducks have more than one more than capable and unprotected player and there is not much time to fret on which players will become the first faces of this franchise. So it is time for everyone to play GM for a couple days.
5 Not-So-Obvious Players Vegas Should Select
Cody Eakin – Centre – Dallas Stars
Eakin had a down year during the 2016-17 campaign but is still a perfect player for Vegas. Every team needs good depth down the middle of the ice and Eakin has developed into an optimal 3rd-line centre. He may have to play in a heightened role in his first few years in Vegas but there is a good chance he could use that opportunity to improve his game and possibly develop into more than just a role-player.
Eakin is still relatively young; having turned just 26 this past May. Just one year from removed from three straight 35+ point seasons, his point totals are just the surface of what makes Eakin great for Vegas. His two-way game has consistently improved and can play on both the powerplay and penalty kill units. Eakin's all around ability and youth should make him a great addition to the Golden Knights.
Coming into 2017, Boedker had just signed a fresh new 4yr/$16,000,000 deal with the Sharks but a year later, he finds himself exposed to the Golden Knights. Even though Boedker did not become the ultimate, complimentary piece the Sharks were looking for, he still has skill and a ton of speed. The Sharks had a lot of offensive mouths to feed last season and Boedker should return to his usual self if selected to Vegas.
Boedker is one of the few players available that is a proven scorer and not past their prime. During his last four seasons with the Coyotes, Boedker never failed to put up less than a PPGA of 0.54; a good portion of which came with the man advantage. Boedker would be guaranteed powerplay time in Vegas; a luxury San Jose cannot offer him. Vegas is going to need someone to score goals and Boedker could become that guy.
Josh Anderson – Winger – Columbus Blue Jackets
There have been rumblings that the Blue Jackets are trying to work out a deal to keep Anderson from the Golden Knights but until confirmed, he would make a great addition to the team. Vegas GM, George McPhee has stressed that he wants to build a team that will become competitive in the future and at only 23 years of age, Anderson could become a quality part for the later years.
Anderson's sample size may be small but he has continued to work hard in every year of his hockey career. Since junior, Anderson has shown progression in almost all seasons he has played. After working through the AHL, he played his first full season with the Jackets in 2016-17. Anderson amassed 29 points and 17 goals as a rookie. His numbers have the potential to jump into the 40's in 2018. If the Jackets do not manage to work out a deal to keep him, Anderson could have the potential to become the Golden Knights first rising star.
Marc Methot – Defenseman – Ottawa Senators
Vegas is going to need leaders, shutdown defenseman, and the selection of Methot fits both criteria. Fresh off an appearance in the eastern conference finals and an overtime goal away from the Stanley Cup finals, Methot is only getting better with age. Now 31 years old, Methot has became a very dependable defensive defenseman and would be a perfect role model for any developing blueliner.
It is hard to see the full picture of Methot based on his stats but if Vegas has watched him play over the past three seasons,it is easy to see his value. Methot makes smart plays, eats minutes, can penalty kill and will block shots if he has to. He displayed what makes him good during the Senators playoff run and would make a perfect second-pairing defenseman. The alternative option from Ottawa would be Bobby Ryan, but his cap hit would cost nearly 2.5 million more than that of Methot's.
Petr Mrazek – Goaltender – Detroit Red Wings
One of the most surprising players left unprotected, Mrazek has the potential to be a great backup or part-time starter if selected to the Golden Knights. Mrazek was left unprotected due to reported 'attitude issues' but it would be hard for anyone to be happy on the worst Red Wings team of the past 20 years. Not to mention Mrazek has been a fiery guy since before he came into the NHL (see 2012 IIHF World Juniors).
Despite the reasons for his exposure, Mrazek will fit well in Vegas. Coming into last season, Mrazek was partially pegged as the Red Wings goalie of the future. A slow start to the season forced him out of the starters role and he had trouble regaining his form afterwards. However, a change could benefit Mrazek. Prior to 2017, Mrazek was spotting a career save percentage of .920 and should replicate similar numbers with a better defensive core around him. Vegas would be foolish to pass on a 25 year old with starting goalie potential.
Image Credit: