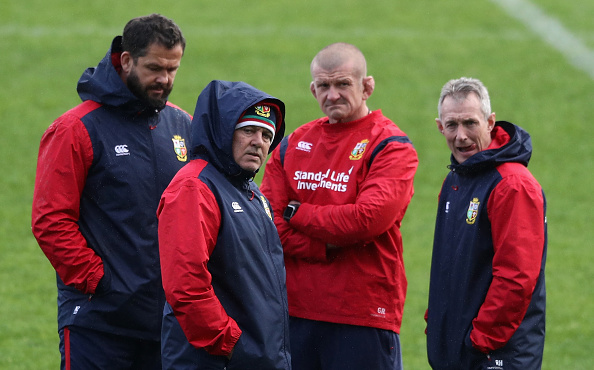 After two games, the British Lions hare finding that to beat New Zealand on home soil is going to be a sterner task than they imagined. A reality check was given from Auckland Blues in a 22-16 loss for the Lions. They now have a run into the first Test on June 24th with games against Crusaders.
What has been learned so far?
There will be many combinations that Warren Gatland can play, though one can anticipate his game plan will be much the same as those for Wales over the years: Big centres, powerful runners, and bullying up front. He will need a little extra of each at his disposal if he is to look to win the series.
One of the most underperforming areas has to be the attack. The Lions just look stagnant with lack of creation. Attach coach Robert Howley has mentioned it being "rugby chaos" — perhaps a fitting description for what we're seeing. It is one of the key facets of the game—to get over the gainline, breaking down solid defences where opposition having to play behind the back foot.
When you look at the offloads that come through the New Zealand game it can create huge openings with players running onto the ball. For all the Lions pressure, their ball is fairly static, and the tempo needs to be raised.
Much will be written on players' performances, but what about coaches chosen by Gatland with his game plan in mind?
3 British Lions Coaches Who Are Pivotal
1/ Graham Rowntree
Rowntree's role will benefit from not only having become a Lion as a player, but his contribution as a Lions coach on the last tour to Australia. The scrum has to function well and secure a platform in creating a dominant set piece. Rowntree will be working hard to get his scrum functioning well from the first game. Under his England spell from 2011-2015, as forward coach he learnt so much and gained huge experience, which he is now taking into Harlequins as their forwards coach. A great player in his own right with Leicester Tigers, "Wiggy" was a coach on the last British Lions winning tour in 2013.
2/ Steve Borthwick
Steve Borthwick was a formidable lock forward with Saracens and went into coaching with them. His time with Eddie Jones in Japan coaching the national side reached new heights and brought the attention of public. He will be forever known for his contribution to Japan's win over South Africa in Brighton at the 2015 World Cup. Jones and Borthwick formed a formidable partnership inspiring Japan and Borthwick's coaching skills through his line out calls was key to their historic win. It was no real surprise when he was chosen to coach England with Eddie Jones. Borthwick is the ideal coach for the line out and players need to get up to speed fast and learn the calls—probably have some extra bedtime reading to do!
3/ Andy Farell
Farell played in Rugby League with Wigan. Known as a person who commands respect on and off the field, he transferred to Rugby Union to join Saracens. One can see where his son Owen Farrell gets his competitiveness from. Andy's role will be defence coach and we will have to wait and see if the rush defence will be implemented, further cutting off the point of attack. Farrell played a big part under Stuart Lancaster with England and has now gone on to become defensive coach with Ireland. One would think that he had a major part to play in Ireland's win over All Blacks in Chicago and he again will be have a major part to play here. You need to stop New Zealand at source—drop tackles and they will punish you. His link with attack over defence and the combination of Farrell and Robert Howley (Attack) will now be the most crucial.
So many Questions
What will Gatlands's Game plan be ? What the coaches influence and input have ? Can players withstand the schedule ? This will be answered over next few weeks in one of the toughest schedules of any Lions Tour.
It's going to be an interesting build-up to First Test and Gatland and his team will not be dealing their full hand in the opening exchanges of this tour. Make no mistake that the coaches will be playing a vital role to the success of the Lions.
Main image credit: