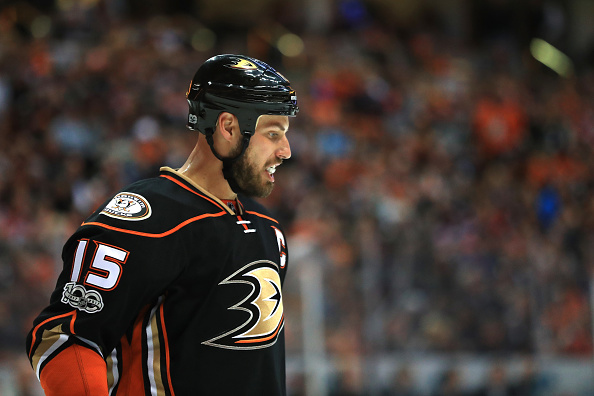 Every round and series has been ruled by a different, new, individual player. However, only one will walk away with the Conn Symthe. Each year, the Conn Smythe Trophy is awarded to the MVP of the NHL Playoffs. All remaining NHL Playoff teams have had contributions from their entire squads but a few individuals have separated themselves as frontrunners for the award. After two rounds, it is anyones guess who will walk away with Lord Stanley's Cup and playoff MVP honours.
Conn Smyth Favourites on Each Remaining Team
Nashville Predators – Pekka Rinne (G)
Every year in the playoffs one goalie stands out among the rest. This year it has been Pekka Rinne. The 6'5″, Finnish goaltender has been outstanding in both rounds of the playoffs and has been the biggest reason that the Predators have become a force in this years playoffs.
Rinne's stats speak for themselves. Over 11 starts these playoffs, Rinne has posted a 1.41 goals against average and a .950 save percentage. Nashville's stellar defence and ability to block shots has contributed to Rinne's success but he has also come up with big saves when it matters. He did it against Chicago in the first round and then again on Friday night against the Ducks.
Down 2-1 in the third period with the Ducks pressing hard, Rinne made an incredible pad save to keep the Predators in the lead. Hampus Lindholm would tie the game minutes later but with out the save by Rinne, the Ducks would have most likely left the game one with a 1-0 series advantage.
If the Predators can successfully knock off the Ducks and make it to the Stanley Cup Finals, there is a good chance that Rinne will have played the biggest role.
SOMEBODY CALL THE COPS pic.twitter.com/8GGlKeqFYs

— NHL on NBC (@NHLonNBCSports) May 13, 2017
Predators Honorable Mention: Ryan Ellis
Even though Karlsson did not have a four goal game, he has quietly led a huge underdog team into the Eastern Conference Finals. Karlsson has proven time and time again that he is the definitive leader of this Senators team and has played his role accordingly. He leads by example with ease and has performed tremendously in his two key roles: playmaker and defender.
As a playmaker, Karlsson has been setting up his teammates in classic fashion and has come up with pivotal and clutch goals. Karlsson only has two goals throughout the playoffs but they have both been game winners. Not to mention he leads all defensemen in scoring. Ottawa's captain has 13 points through 12 games; four more than any other defender over the playoffs. Karlsson's 13 points also put him 8th in total league scoring.
On the defensive side of the puck, Karlsson has been just as impressive. Over the playoffs, Karsson has logged heavy minutes in all situations. Since the first round, Karlsson has led the playoffs in total ice time per game even though he is playing with 2 hairline fractures in his left foot.
If Karlsson has been asked to do something; he has excelled at it. He is the total package on defence and is playing his best at the most crucial time.
https://www.instagram.com/p/BT6r95LFwuX/?tagged=karlsson&hl=en
Senators Honorable Mention: Jean-Gabriel Pageau
Getzlaf has not only been the best player throughout the playoffs for the Ducks but maybe in the entire league. Over 12 playoff games, Getzlaf has been a force everywhere on the ice. He has done just about everything that you can ask for from a centreman and has separated himself as the most dominant player when he is on the ice.
Getzlaf has contributed in almost every statistical category, from how much he plays to how much he scores. Through two rounds, Getzlaf has amassed eight goals, seven assists, and sits third in playoff league scoring. For someone who scores as much as Getzlaf, he also logs a ton of minutes. Getzlaf plays an average of 30.2 shifts a game and has an average ice time of 24:17. He sits in first in both of those categories among forwards.
One of the main reason why Getzlaf is on the ice so much is because he has been incredibly effective in the faceoff circle. Getzlaf holds a 54.1% in at the dot, including a 65.5% in the defensive zone. His ability to play at all ends of the ice has been a contributing factor as to why the Ducks have put on the ice as much as they possibly can.
If the Ducks can complete their run to a Stanley Cup, Getzlaf has shown that he should be the favourite to take home his first Conn Smythe.
Ryan Getzlaf had 1 of the best playoff series in #Ducks history, providing the leadership & offence that they needed to fend off the #Oilers pic.twitter.com/WZV0kI560e

— StatsCentre (@StatsCentre) May 11, 2017
Ducks Honourable Mention: Jakob Silfverberg
It always seems that Malkin is at his best when he needs to be. The Penguins have not faced much adversity so far in these playoffs but Malkin is stepping up at the right time. Malkin has quietly jumped out to the league lead in playoff scoring, with Sidney Crosby being occasionally sidelined with injuries.
Through 13 games, Malkin's bid for Conn Smythe is perhaps the most obvious. The biggest factor leading to Malkin's success has been his ability to score when he needs to. Malkin has 19 points but seven of his assist have come on the powerplay. Over the first two round of this series Malkin had a 1.5 points per game, equalling the exact same stat he had when he won his last Conn Smythe in 2009.
One underrated stat that Malkin has posted in the first two rounds has been shots blocked. Not known for his two way game, Malkin has blocked 12 shots, only 4 less than his total at the end of last years playoffs. 12 shots blocked was his total in 2009. Malkin has had a stellar playoffs and if he continues to create plays at such an elite level, him and the Penguins could be taking home more hardware than just the playoffs MVP.
Penguins Honourable Mention: Marc-Andre Fleury
Image Credit: