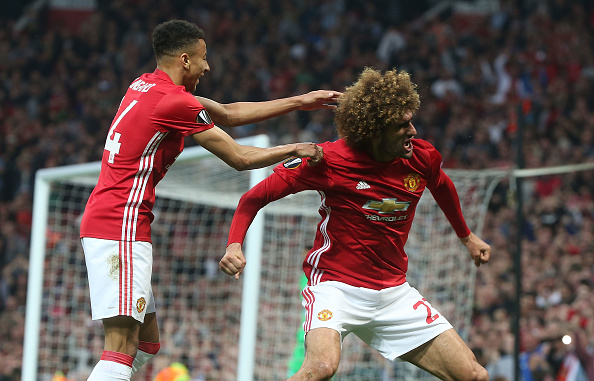 Manchester United survived a late scare on Thursday Night as they defeat Celta de Vigo for a spot in the Europa Final. The win helps keep hopes alive of winning the only major trophy missing from the clubs collection.
United drew the second leg of their anxiety filled semifinal 1-1 to advance 2-1 on aggregate. Celta had two chances in the final seconds to grab the biggest win in the clubs history.
Manchester United Stumbles into the Europa Final
Celta dominated the second half, as United almost seemed to fall apart. Fecund Roncaglia had a marvelous header giving Celta the chance to finish the game in their favor.
Tension grew between both teams, causing a mass melee. Eric Bailly would go on to punch John Guidetti in the face during all the chaos. Fecund Roncaglia who just scored for Celta, wouldn't stand for that as he went after Bailly. This was all ridiculous and seemed embarrassing for everyone as it took five officials to calm everyone down. This now means Bailly will miss the Final through suspension, which is a major issue for the Red Devils. They really can't afford to lose anymore good, and valuable players.
The game went on still looking to be in Celta's favor. With the final seconds approaching Celta brought the ball down to their scoring end. Claudio Beauvue seemed to have a nice shot on goal, with only the goalkeeper to beat. Instead he chose to cross over to John Guidetti, who still just couldn't wrap his feet around the ball with goal at his mercy. United was able to take hold of the ball, clearing it from danger.
Just moments later the final whistle was blown. Celia's players slumped to the ground. Some holding their head in hands, others in tears. "I feel really, really sorry for them," said Jose Mourinho. His first reaction was to console the rival manager Eduardo Berizzo rather than celebrate with his players or united fans.
Berizzo said after the game, "They're obviously hurting very much in the dressing room. They're solid, good footballers. They played the game really well, and responded well to the atmosphere and I've told them they will get another chance.
United Must Play Better in Final
This really was too close for comfort though. As United looked nervous throughout the second half, even though they did hold a two goal cushion. They pulled it off though, giving Mourinho and the players United a shot to lift a second trophy for this season. Not to mention it gives them the chance to swear off the Premier League completely, and focus even more on the Europa League to book that Champions League spot the way they insisted.
Manchester United will face Ajax in the Final who also held off a furious comeback. Even though United looks great on paper for this match up. Ajax pressing style and boundless energy will make them a very difficult match-up for the final.
Main Photo: