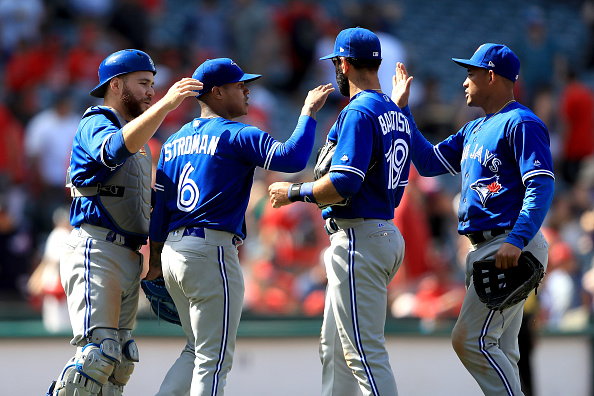 With the Blue Jays not getting off to their start they wanted to their season. We count down the five things needed to change the Blue Jays season around.
Five Things Needed to Turn Around the Blue Jays Season
Limit the strikeouts
The Blue Jays have struggled so far in the strikeout category, with eight hitters in double-digit strikeouts. Obviously strikeouts will happen, but when the team is hitting .223 as a team, strikeouts should not be tolerated. Players need to start battling with two strikes and taking walks, not swinging at pitches in the dirt. Only then will the offense start turning it around. The Blue Jays have struck out 115 more times then they have walked during this 19-game stretch, and with some patience at the plate more walks should come.
2. Wait for the roster to get healthy
It's pretty clear by now the Jays rushed Donaldson back from injury, and with Tulowitzki also on the shelf the lineup doesn't appear as strong. Relying on contributions from guys like Ryan Goins, Chris Coghlin, and Darwin Barney on a consistent basis is not something you would typically want to ask for.  However, when this lineup starts to get healthy again, the Jays should receive a much needed offensive boost. Also with Aaron Sanchez and J.A. Happ being on the shelf with injuries, their return should allow the Jays to play with more confidence.
3. Get more innings from the starting rotation
Sticking with starting pitching will be important. Currently, Marcus Stroman has been the only pitcher to pitch into the eighth inning. Normally seven innings is a quality start, but the Jays have been seeing too many five and a third and six-inning starts. The reason Stroman is able to pitch late into games is his ability to limit the amount of pitches he throws in an inning. In his last start against the Angels, he threw 99 pitches—11 pitches per inning. That is what they should expect from most of their starters as many pitch to contact. But 100 pitches in six innings will not cut it and will be putting continuous strain on your bullpen arms.
4.  Acquire a few depth pieces
The Jays have been relying on guys like Ryan Goins and Chris Coughlin to perform most of their depth position rolls. However, with the injuries it's only a matter of time before fatigue sets in. Toronto should look to acquire a few depth pieces in the infield, and perhaps in the starting rotation. Mat Latos and Casey Lawrence will be expected to carry the load as the Jays are without Happ and Sanchez. The likelihood that Latos and Lawrence will be able to handle a bigger role for some time is unlikely. If Toronto can acquire a few depth pieces without selling their big names. It should help turn the season around.
5. Just play the game
The thing the Jays need to focus on right now is not trying to break out of their slide. Their focus should be on just playing the game. If anything, allowing them to relax and just play the game they love and not putting unnecessary pressure on themselves should allow them to produce much needed runs. Trying to make a third straight playoff appearance is hard, but it doesn't mean that they need to let the pressure control them.
Main image credit: