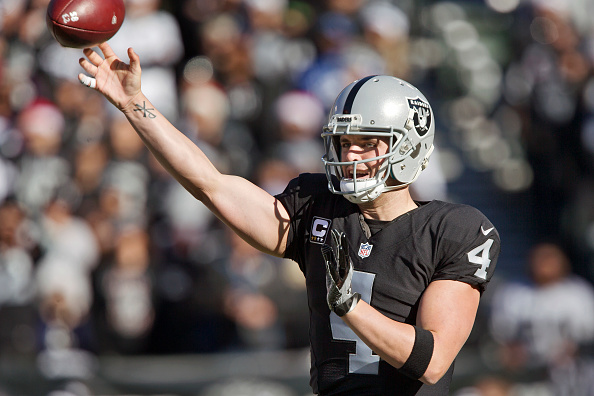 NFL fans typically have their own teams that they like for their entire lives. Some were born into it, others chose their city's team, and some became fans because of a player. Then there are the bandwagon fans. People that start following a team once they become good. There are certain levels of bandwagon fandom. There is the person who jumps on the team who won the Super Bowl, the guy who only knows one player, then there is the smart bandwagoner.
This person looks ahead to the future and decides that they should become a fan of this team now so they don't seem like a bandwagon fan before the team wins in the next season. In this series of articles, the top teams to jump on their bandwagon now will be revealed. First up is the soon to be Las Vegas Raiders. For now though, they are in Oakland.
Jump on the Oakland Raiders Bandwagon
Reason 1: A Good Young Quarterback
Derek Carr was drafted in the second round of the 2014 draft, behind quarterbacks Blake Bortles, Johnny Manziel, and Teddy Bridgewater. At Fresno State, Carr threw for almost 13,000 yards and 113 touchdowns. Carr was drafted with the hope that he could be the Raiders franchise quarterback, something they had not had since the late 1990's with Rich Gannon, and even he was a borderline franchise player. Oakland was really looking for their next Ken Stabler.
They hit the jackpot with Carr. In his rookie season, Carr threw for 21 touchdowns with his best receivers being Andre Holmes and James Jones. Jones is currently a free agent and Holmes is deep down on the Buffalo Bills receiving depth chart. Even with this little receiving talent, Carr was able to throw for 3200 yards. In his sophomore season, Carr exploded, throwing for nearly 4000 yards and 32 touchdowns, earning himself his first Pro Bowl selection. Last year Carr threw for 28 touchdowns, with just six interceptions, finding himself selected to his second straight Pro Bowl.
Carr is also a great story. His older brother David Carr was the first overall pick by the Houston Texans in their inaugural season in 2002. David was the victim of terrible circumstances, playing behind a newly put together offensive line and poor play around him. He never turned into a franchise player and was recently called the Texans biggest draft bust by ESPN.com.
At the time of David's selection, Derek was just 10 years old. That did not stop people from comparing him to his brother, scaring teams away from the Fresno State product. Analysts questioned his toughness, his big game ability, and what his play would be like out of a different offense. Despite being a projected first round pick, Carr slipped to day two, where Oakland snagged him with the 36th pick.
He has been through his fair share of adversity in the NFL as well. Carr suffered a broken fibula late last season against the Indianapolis Colts and was unable to play in their first post-season since they made the Super Bowl in 2002. Carr has proven he has what it takes to be a top quarterback in this league and that's something that bandwagon fans should love to hear.
Reason #2: Old and New Offensive Weapons
One of the main problems with the Raiders after drafting Carr was the lack of talent around him. So, in 2015, the front office brought in some weapons. They drafted wide receiver Amari Cooper out of Alabama and signed Michael Crabtree away from the San Francisco 49ers, making a terrifying receiving duo. The two have a combined three 1000 yard seasons in the past two years, combining for over 4000 yards. Cooper has made the Pro Bowl in each of his first two years in the league.
The two were complemented by a three-headed monster of sorts at running back last season, with Latavius Murray at the head. Jalen Richard and DeAndre Washington rounded out the backfield. The three ran behind one of, if not the best, offensive lines in football, carrying the rock for a combined total over 1700 yards in 2016. If that was done by just one back, that back would have had the most yards in the NFL last season. Both Richard and Washington were rookies, and will continue to grow as backs behind Carr and the offensive line.
Latavius Murray moved on to Minnesota this off-season, leaving Richard and Washington to hold down the running back position. That was until reports surfaced that the Raiders struck a deal with 30-year-old Marshawn Lynch, who last played for the Seattle Seahawks. Lynch retired after the 2015 season, but reports have been circulating for a while that he could make a return. Just a couple of days ago, it was reported by multiple NFL analysts and reporters that Lynch had agreed in principle to a new contract with Oakland. The deal is not final however, as the Seahawks still own the rights to Lynch. The Raiders and Seahawks are reportedly working on a trade. Once that speed bump is worked out, the Raiders will have a strong veteran running back to play along with and mentor Richard and Washington.
Oakland also went out and signed pass catching tight end Jared Cook and speedy return man/receiver Cordarrelle Patterson this off-season to give Carr a couple more weapons. This offense is loaded and will be very fun to watch, which is crucial for any bandwagon fan.
#3 A Very Underrated Defense led by A Star Pass Rusher
The Raiders defense is led by Khalil Mack, a third year defensive end/linebacker out of the University of Buffalo. Mack was drafted fourth overall in 2014, the same year as Carr. Since being drafted, Mack has taken the NFL by storm. He has 30 sacks, including 15 in 2015, and 226 total tackles over the last three years. He was the first player in NFL history to be selected as a first-team All Pro at two different positions, defensive end and outside linebacker.  In 2016, Mack won NFL Defensive Player of the Year, beating out Von Miller and Landon Collins. He was also named to the Pro Bowl in both 2015 and 2016.
While having a franchise cornerstone like Mack is critical, he can't do it alone. The Raiders have surrounded Mack with some very nice pieces to make a very formidable defense, including linebacker Bruce Irvin from the Seahawks, and two-time pro bowl safety Reggie Nelson. They drafted strong safety Karl Joseph from West Virginia in 2016 to pair with Nelson. At the cornerback, veteran Sean Smith is a great leader to have to mentor the younger players in the locker room. If this defense can draft one more corner and get a little better up front, they can wreck havoc on opposing offenses. They also have one heck of a head coach who knows how to make an elite defense.
#4 A Coach who Knows How to Win
Jack Del Rio started his head coaching career in 2003 with the Jacksonville Jaguars. In his first year with the Jags, Del Rio took over a defense that was ranked 20th in total defense the year prior. Within a year's time they were the sixth ranked defense in the NFL. He coached in Jacksonville for nine seasons, finishing with a total record of just below .500. Since he left Jacksonville however, they have not won more than five games in a season and have been one of the laughing stocks of the league.
Del Rio went from Jacksonville to Denver as a defensive coordinator for the Broncos. He created one of the best defenses in the NFL, helping develop superstar defender Von Miller along the way.
Finally in 2015 he was hired by the Raiders to be their next head coach. In just two seasons, Del Rio has turned Oakland around, putting them into the playoff for the first time in over a decade last season, before signing a four-year extension.
The great thing about Del Rio is his demeanor. He always seems to be fired up on the sidelines and has a key eye for the little things. He developed a reputation in Jacksonville for his phrase "keep chopping wood." He would say this constantly as if to remind the Jaguars that they could not solve all their problems right away and that they would have to just chop away one obstacle at a time. He even put an axe and a piece of wood in the locker room. As a fan, if that's not the type of coach you want, then forget about the Raiders, but Del Rio will give 100 percent to Oakland.
#5 They Have the Coolest Punter in the NFL
Yes, you read that right. The Raiders have the coolest punter in the NFL. His name is Marquette King and he was signed as an undrafted free agent by Oakland in 2012. King currently has over 155,000 followers on twitter, being known for his large social media presence. King is also currently the only black punter in the NFL.
He makes sure people know when he is on the field, due to his monster kicks and his hilarious dance celebrations. King has done things off the field such as punt in a power rangers costume and go shooting, but the targets are his punts. The awesome thing about him is that King knows that he plays a game for his living and loves every single second of it, never wasting any moment. As a bandwagon fan, it is very important that every part of the game is interesting, even the boring parts. King makes punting almost as interesting as a hard hit or a one handed snag, which is a talent in itself.
Main Photo: