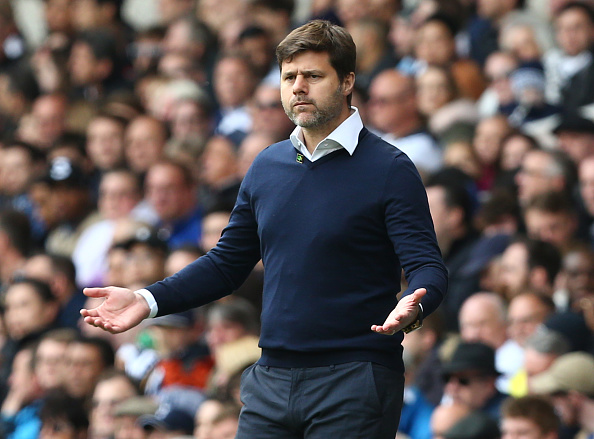 Chelsea's defeat at the hands of Manchester United on Sunday has made the title race even more interesting. The spussy Spurs are not only back in the title race, they aren't spussy anymore—especially under Mauricio Pochettino.  Tottenham played Eddie Howe's Bournemouth on Saturday and closed the leader-gap to four points only with an emphatic win. Chelsea were scheduled to face Manchester United later on Sunday. The Red Devils extended their unbeaten run to 24 in all competitions with a stunning 2-0 win over the Blues.
With only six games left, the title is just in reach for Chelsea but there might be a twist in the tale saved for the end. Even if Tottenham fail to win the Premier League, they have emerged as one of the most improved sides in the Premier League. Previously, they used to lose matches on momentous occasions against sloppy outfits. However, they don't just win now; they dominate.
Tottenham have lost only three games this season; the least by any team in the league this season. The defense powered by Toby Alderweireld, Jan Vertonghen, Danny Rose and Kyle Walker has conceded only 22 goals; again, the least in the league by any team this season. Ben Davies, Kevin Wimmer, and Kyle Walker-Peters also played a crucial role in the back and are mega discoveries of this season.
Similarly, Dele Alli and Son Heung-Min have impressed a lot with their ability to pass the ball back-and-front and convert their efforts into goals. And who can forget Harry Kane, the man with an indifferent start but once again a contender for the Golden Boot.
This isn't the Spurs the pundits had ever seen. That's not the way they used to operate. We have seen Tottenham clawing their way back at occasions but dominating the games like they did this season is a surprise. Mauricio Pochettino has transformed the side into a team destined for greatness. He brought in confidence, teamwork, and most importantly, talent.
Over the past five years, Tottenham fighting for the title was laughable at most, but not anymore. The opposing managers are now forced to take this Spurs seriously. It reminds us of the bet Jack Wilshere had with Spurs' fans five years ago. The Englishmen vowed to donate €3000 if Arsenal failed to finish above Tottenham. Well, if the bet is still in place, the Englishman might have to cough the amount at the end of this season.
Mauricio Pochettino injected two things in the side that were much needed – confidence and a winning mentality. With a win over Bournemouth this weekend, Spurs have now grabbed eight wins in a row. Regardless of whether they can win the league this season, Tottenham have proved they are a unit and will fight like one under Pochettino. If things continue on the same path, we might see a more refined side in the next season.
Main image credit: