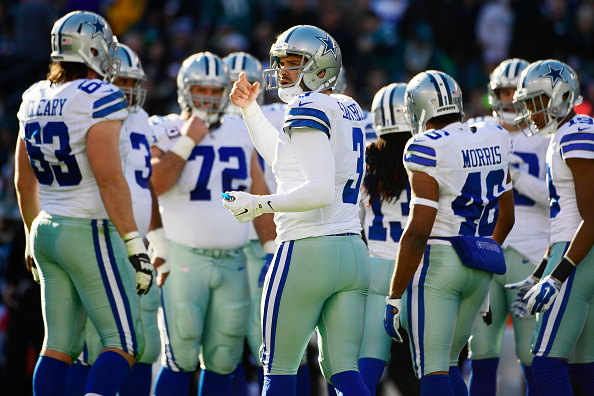 The NFL Draft is now just two weeks away and teams will soon be finishing off their final draft boards. This draft has been pegged as potentially one of the best defensive drafts ever with both the defensive back and defensive end classes being extremely deep. However, not every team is looking for a corner or defensive end. Teams are not usually built from just taking the best player on the board but rather find ways to maximize the value in their picks.
5 NFL Teams That Need To Ace Their 2017 Draft
Cleveland Browns – Last Year: 4th AFC North (1-15)
The Browns might not be trying to become a playoff contender in the coming year but they cannot afford to miss on any more first round picks. If Cleveland want their rebuild to actually go somewhere they have to find stars in the draft. Last year they picked up Corey Coleman with their 15th overall pick and, despite a broken hand injury that cost him a good chunk of his rookie year, looked very promising. Danny Shelton (12th overall in 2015) also took another step towards being an impact starter in 2016.
The main problem with the Browns has been who they are missing out on. First round picks like Barkevious Mingo (6th 2013) and Justin Gilbert (8th 2014) both did not play through their rookie contracts and have found different homes in the NFL. Do not forget about Johnny Manziel (22nd 2014) who partied his way off of the team after failing to become a consistent NFL quarterback. If Cleveland continues to have problems picking in the early rounds, pressure will build for later round picks to become impact starters.
Bottom Line:  Cleveland has a plethora of picks in the next two drafts and that should give them a big advantage moving forward. This gives them the ability to potentially package picks to move up or down for who they want or gives them a significantly larger crop than the average team has to pick from.
Dallas Cowboys – Last Year: 1st NFC East (13-3)
The Cowboys had an incredible 2016 season but the rest of their division took note and made adjustments to boast. The NFC East is historically a modest division and the Cowboys took full advantage last year. This year will be different. The amount of offensive fire power the Giants and Eagles have recruited is not something that Dallas is looking forward to seeing twice a year.
Dallas finished 2016 with a secondary ranked number one by Pro Football Focus but half of it has moved elsewhere. Corners, Morris Claiborne (6th 2012), Brandon Carr (140th 2008, Chiefs) and strong safety Barry Church (undrafted) are all gone and have left a giant space to fill. Aside from Sean Lee (55th 2010), their front seven is not very strong either. The Cowboys need to find impact defensive players and their are few options left besides to the draft. Luckily, the Cowboys typically draft pretty well. Almost all of Dallas's starters on offence in 2016 were drafted by the Cowboys including six members that went to the Pro-Bowl last season.
Bottom Line: If Dallas does not improve their defence in the draft, they are going to become dependent on Dak Prescott (135th 2016) and Ezekiel Elliott (4th 2016) to carry the entire team. The Cowboys will struggle if they do not pick up help in the secondary and in the front seven.
Carolina Panthers – Last Year: 4th NFC South (6-10)
The Panthers were the fall from grace that no one expected but everyone seemed to love. After reaching the Super Bowl 50, the Panthers slid all the way down to last in their division in 2016 and have a steep hill to climb if they hope to get back to the playoffs in 2017. The Panthers need to ace their draft because every year, their division has been getting tougher. Many experts have the Buccaneers as the biggest sleeper going into 2017 and last years division champion: Atlanta Falcons, made it all the way to the Super Bowl.
The good news for the Panthers is that they have been drafting very well over the past five years. Players like Luke Kuechly (9th 2012), Kawann Short (44th 2013) and Trai Turner (92nd 2014) have all become league renowned impact starters and key contributors to Carolina making the playoffs three of the last four seasons. Even though the Panthers are drafting to keep up, they should have faith in head coach, Ron Rivera and GM, Dave Gettleman. Both have proven that they can consistently find good talent in all rounds. The 2017 class is deep at the cornerback position so finding help in the secondary should not be too hard for Carolina either.
Bottom Line: The Panthers have five of the the first 115 picks in the draft and should look to beef up their offensive line and find a cornerback replacement for former Pro-Bowler Josh Norman (207th 2012).
Baltimore Ravens – Last Year: 2nd AFC North (8-8)
The Ravens were an Antonio Brown's arm length away from the AFC North title in 2016 and it does not look like 2017 will be any easier. Though the Bengals and Browns do not look like threats going into 2017, both teams always have the potential to pull off season threatening upsets. The Ravens need to ace this draft because not only is their division always unpredictable but they have many key holes to fill on their roster. Those positions include: pass rusher, wide receiver, cornerback and offensive line. Not only are there a lot of holes to fill but they are large impact positions.
Surprisingly, CJ Mosley (17th 2014) and Kyle Juszczyk (130th 2013) are the only drafted Ravens that have made the Pro-Bowl, while still on Baltimore's roster. The organization may have consistently drafted Pro-Bowlers 10 years ago but they are all reaching the later stages of their careers. The fact that the Ravens historically do not pick very high may impact this but it is obviously one of the key factors of why Baltimore has missed the playoffs 3 three of the past 4 seasons.
Bottom Line: Even though the Ravens have not drafted many Pro-Bowlers to play for them, they pick starters and they find them in later rounds. Marque free agents this year, such as: Ricky Wagner (168th 2013) and Brandon Williams (94th 2013) were picked after the third round. Ravens fans should have confidence in GM Ozzie Newsome to find help with their first three picks.
Denver Broncos – Last Year: 3rd AFC West (9-7)
The Broncos are another team that need to keep up with a growing division. Winners of Super Bowl 50, the Broncos need to come back to form. That form will start and end with this draft. Denver can not keep everyone on their roster every year and the subtractions from that Super Bowl winning team will only continue.
The easiest way for the Broncos to keep up in their division is by finding help for their offensive line. O-line is clearly Denver's most pressing need and the draft is the most direct way to find help. The Broncos have a whopping 12 picks this year (despite the last two of the seventh round) and could funnel around five on just offensive line players alone. The class of offensive lineman this year has a significant drop off in talent after the top four o-lineman so the Broncos must grab one with their first round pick. Finding a diamond in the rough this year will be hard but could be just what Denver needs.
Bottom Line: No matter who starts at quarterback for the Broncos this season they need protection. It would be shocking for Denver to put any other emphasis on another position. If they do, it could be another long year for the young QBs and a waste of Denver's generational defence.
Main image credit: